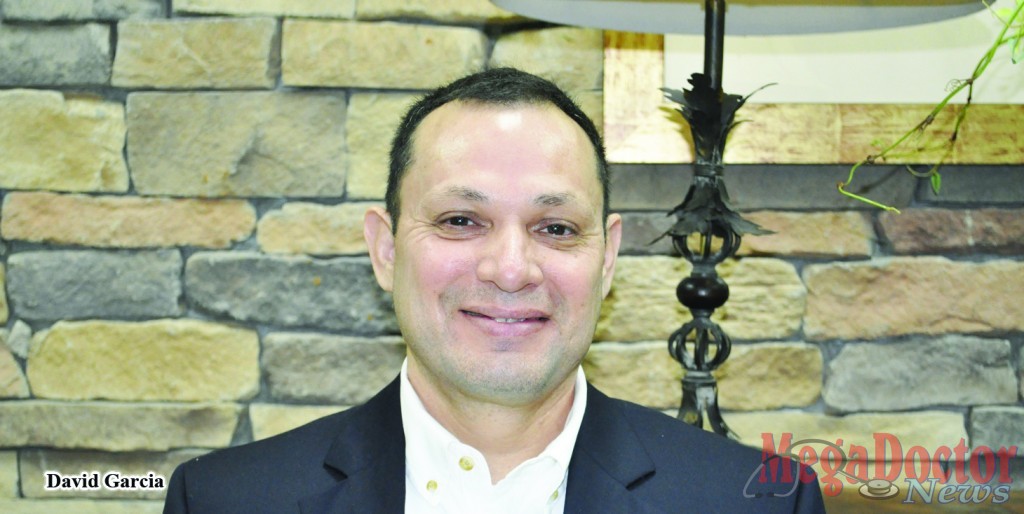 Mega Doctor News – 
By Roberto Hugo Gonzalez
What a great idea to be able to help patients with Parkinson's, post stroke and hypertension to name a few of the conditions. David Garcia is the owner of Nine Dragon Tai Chi & Wushu Institute, which was established in 2002. He brings a unique holistic way of helping people.
David was born in Weslaco and raised in Donna by his parents Jose Aurelio and Rosa Garcia. He graduated in 1985 from Donna High School and in 2012 from Ashford University with a BA in Psychology. He said his parents instilled in him the value of being honest, committed, and punctual, and that it is vital to empower individuals.
"Today I am a teacher educating our future leaders on the subject of math at a local school district and also a teacher of the Chen-style Tai Chi Martial Arts." Tai Chi and also Qigong are mind-body practices whose origins can be traced back to ancient China.
He told Mega Doctor News that Tai Chi is great for rehab. "I have seen it build confidence, strength, increase range of motion, and an overall state of well-being." He said, "Because Tai Chi is holistic it works well in a rehab environment. Currently I provide sessions at the Weslaco Rehab Hospital for their patients and their wellness program."
David became interested in Tai Chi when he was in High School. He watched a documentary about the health benefits that a person can receive by practicing it.
"I began to read books and seek out masters in Texas." He said, "In 2000, I made the trip to Houston to train with Chen-style Tai Chi Grandmaster Chen Jincai and most recently I have been training with Chen-style Tai Chi Master Blue Siytangco."
- Advertisement -

From there on, David knew that the health benefits outweighed a decision to do something else. "I wanted to help individuals who were in physical and occupational rehab due to stroke, Parkinson's, hip replacement, or other reasons." In addition he said, "My own spouse suffered a stroke and this brought me closer to wanting to share the benefits of Tai Chi."
Aside from that, David has a passion for teaching and empowering individuals with knowledge they can use in their daily lives. What excites him about this field is the rewarding feeling of seeing patients improve gait, range of motion, balance, build cardio, stamina, and other areas where they improve in fitness and health.
He also pointed out that in teaching martial arts the reward comes by seeing individuals set goals and meeting these goals especially the one of becoming a black belt.
According to him, he started his business after one of his senior students wanted David to teach him the martial arts. "I gave him a workout so he would not come back but he continued wanting to learn." He said, "At this point, I felt that if a person wants to learn I will teach this person all that I know, thus the Nine Dragon Tai Chi & Wushu Institute was established in 2002."
The challenges that he has are the lack of education on the benefits of Tai Chi for many areas in the medical field. He worries that patients and students may not have access to true Tai Chi or Qigong and may be misguided to other arts that are not Tai Chi.
According to David, many consider Tai Chi a meditation in motion because it requires the practitioner to remain focused while conducting the movements. "Tai Chi is recognized by its slow moving motions accompanied with natural breathing."
He said that in order to understand Tai Chi one must understand Chi. The word by itself means 'breath' in terms of Tai Chi it means 'vital energy'. "Metaphorically it is a type of electrical energy that circulates internally through the body at its own level," he said. "Tai chi is for all ages, kids, teens, adults, and older adults; everyone can benefit from Tai Chi," David finalized.
If you are interested you can call Nine Dragon Tai Chi & Wushu Institute at (956) 624-4519, contact him at garciads1@gmail.com or visit their website at https://openspheretaichi.com/. MDN