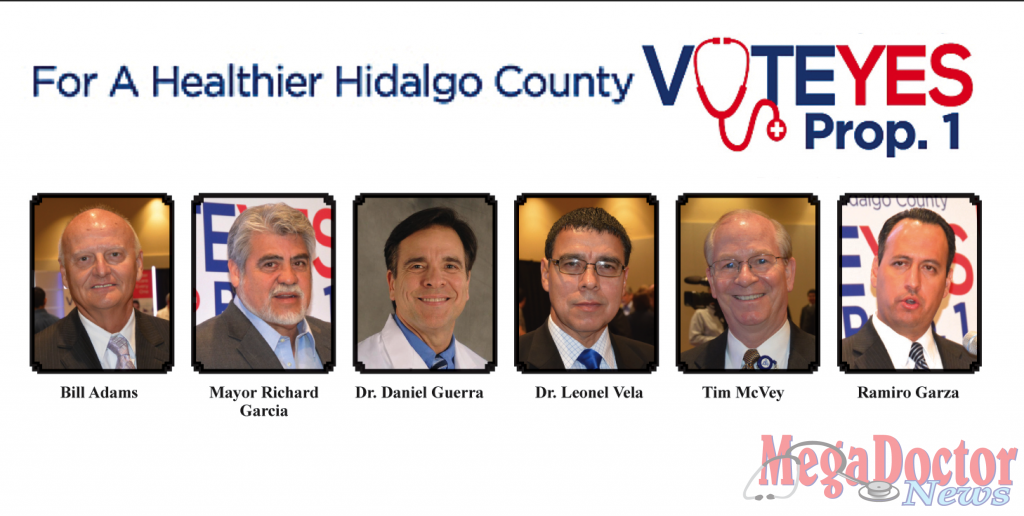 Mega Doctor News – 
By Roberto Hugo Gonzalez
In the past weeks, the topic of conversation has been the creation of a Hospital District for Hidalgo County. For this reason, the Healthy Hidalgo County Campaign was formed to support the creation of a Hospital District being promoted as Proposition 1 (Prop 1).
According to the information shared by Ramiro Garza, Edinburg City Manager, this hospital district will help fund the newly created University of Texas Rio Grande Valley Medical School and will help to bring additional funds for indigent healthcare for the county's poorest residents.
Garza also said that the Rio Grande Valley is one of the fastest growing regions in the State and in the country but this community faces new challenges when it comes to a health unit and creating a hospital district is an essential step towards achieving transformative change in the region.
Edinburg Mayor Richard Garcia has been a very active advocate and is also in favor of the Hospital District proposed for Hidalgo County. "On November the 4th voters in this county are going to decide whether to create a hospital district," he said. The Hospital District will help produce doctors that are sorely needed.
The Mayor said, "It's no secret that we are in an area that has the largest number of persons without health insurance, the largest amount of obesity, the largest amount of diabetes in the nation and with our population growth you know it's going to escalate."
Bill Adams CEO for Knapp Medical Center and Harlingen Medical Center is also in favor of Prop-1, which will create the Hospital District.
He told Mega Doctor News, that the hospital district will significantly benefit the medical school, future medical students here in the Valley, and will allow us to fund indigent help.
He said, "We have a shortage of physicians. That shortage is going to be exacerbated with increase in population that we have and the number of doctors that are retiring. We need a source to train new physicians and then the Valley is growing and a lot of people that are poor and can't afford to pay for their healthcare." He said, "The Hospital District will take care of both of those problems at the same time and remember the hospital district is a common thing you'll see in every single medical school around the state and we want to have a medical school to develop as good or better than any of the other medical schools."
Dr. Leonel Vela, also an academic in medicine and one of the deans involved in the medical school at the University of Texas at the regional campus in Harlingen for the last 14 years is also in favor of the creation of a Hospital District.
Dr. Daniel Guerra, private practicing family physician and also chief of staff at Doctors Hospital Renaissance said, "From my perspective there are several different reasons why I feel Proposition 1 is important to be passed here in Hidalgo County. One is education, with the advent of the new medical school especially; we are going to have many, many students coming through and a whole huge increase in the healthcare sector from an educational perspective. It is important to be able to support that financially." He continued to say, "We have some promises from various municipalities and the county, but all those are just promises. We need something more substantial to be able to support the endeavors, the research, and the education that's going to take place. Our promising new physicians are more likely to settle and stay in the Rio Grande Valley, and practice here, supplying the need that we have for healthcare."
Texas State Senator Juan "Chuy" Hinojosa introduced legislation and authored Senate Bill 24 that created the new UT Rio Grande Valley and also the medical school, and he worked with the legislation for the hospital district as well. He has been a strong advocate of the creation of the medical school for years and said, "The Hospital District will be able to allow us here in the Valley to leverage our local tax dollars otherwise we'll not be able to receive matching funds from the federal government and avoid raising property taxes."
He explained that a Hospital District and a medical school would work together to maximize resources. The medical school will need somewhere around $65 million a year to operate. "Most of the money comes from the state using formula funding, through all the medical schools throughout the state of Texas." He said, "Number two; there will be federal funds coming into the medical school. Number three; there will be private moneys and research moneys coming into the medical school. Number four; there will be reimbursements through Medicaid and Medicare; and then number five; will be the hospital district." He finished saying, "I support the Hospital District 100 percent; I believe it's a positive step in the right direction."
Tim McVey the chief financial officer at Mission Regional Medical Center told Mega Doctor News, "I think it is very important to get the word out on the importance of having a hospital district here in Hidalgo County." He said, "I have the privilege of being able to go to meetings in Austin with my colleagues from around the state and they are very surprised that we don't have a hospital district."
In addition Tim said, "They can't believe that a part of the state with such a large population still does not have a hospital district, and we need that mechanism to be able to draw down federal funds. I think we are way overdue."   MDN