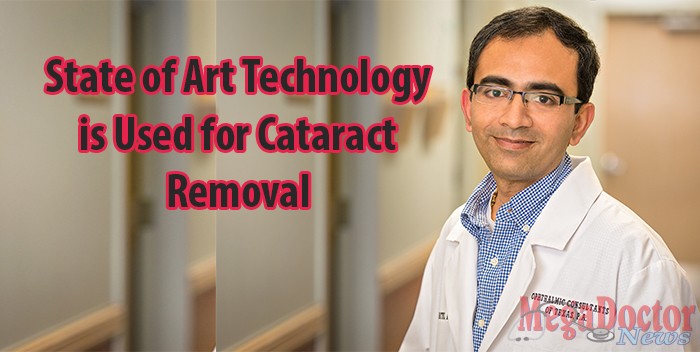 By Roberto Hugo Gonzalez
As originally published by Mega Doctor News in its newsprint Edition.
The medical industry in the Rio Grande Valley is in a constant evolution. New doctors with very specialized talents as well as state of the art technologies are finding their way here like never before. This year we met with Dr. Nehal R. Patel and he became Mega Doctor of March 2013, his story was titled, "State of Art Technology is Used for Cataract Removal". This new technology uses no blades or knives, just a precise laser and a Mega Doctor.
Ophthalmic surgery is now a precise, sophisticated science, where surgeons rely on advanced technology to diagnose and treat problems such as glaucoma, corneal disease, macular degeneration, diabetic retinopathy, and cataracts.
The world is changing by the second and the world of medical ophthalmology is experiencing the best of technology and successes in cataract procedure advancements. Cataract surgeon, Dr. Patel can attest to that, he is part of a handful of surgical pioneers around the world that have leaped into using the Femto Laser for cataract surgery.
This ophthalmic leader has been in the Rio Grande Valley for the last six years and he told Mega Doctor News that he has used this technology for the last two years. Ophthalmic Consultants of Texas P.A. is the only institution in the Valley that has Femto Laser technology for cataract surgery and Dr. Patel is the only certified ophthalmologist in this technology.
Before diving into the technology, it is important to say that Dr. Patel is a board certified Ophthalmologist specializing in both glaucoma and retina, so he is a double specialist and of course double certified. Doctor Patel received his undergraduate medical and ophthalmology training from the University of Bombay in India where the Ophthalmology Board and Examinations ranked him number one.
Now in the Valley he is part of the Ophthalmic Consultants of Texas, P.A. group, which is regarded as one of the leading eye care centers in the United States.  The surgeons of this entity have helped thousands of people enjoy better vision. "We are committed to excellence because patients turn to us for answers, and for the best eye care available with glaucoma, retinopathy, macular degeneration, and retinal detachment," he said.
- Advertisement -

According to him, the Femto Laser is a very advanced equipment with a laser that performs at one quadrillionth of a second. Dr. Patel said, "What it does essentially is to cut tissue without causing damage to the surrounding tissue."  He also pointed out that this is the ability of the laser which also has the means of not only removing the cataract, but of creating precise capsulorhexis which is a surgical technique used to remove the lens capsule during cataract surgery and treating astigmatism via limbal relaxing incisions.
This equipment has the ability to make incisions without using blades or knives. "It is very precise and repeatable and does the same incision in every individual that we do surgery on," he said.
He added that this instrument uses Optical Coherence Tomography (OCT), which is an optical signal acquisition and processing method that also obtains detailed images from within the retina.
According to Dr. Patel, it has the ability to show different structures of the eye in microns. "We use this technology to treat diabetic patients, retina problems or with macular degeneration as well as with glaucoma and to look at the optic nerves," he stated.
Dr. Nehal R. Patel is a true example of a dedicated professional that has excelled in his profession.  He is a dedicated physician to his patients, and loves his family. That is why he was selected as the Mega Doctor of the month of March. MDN