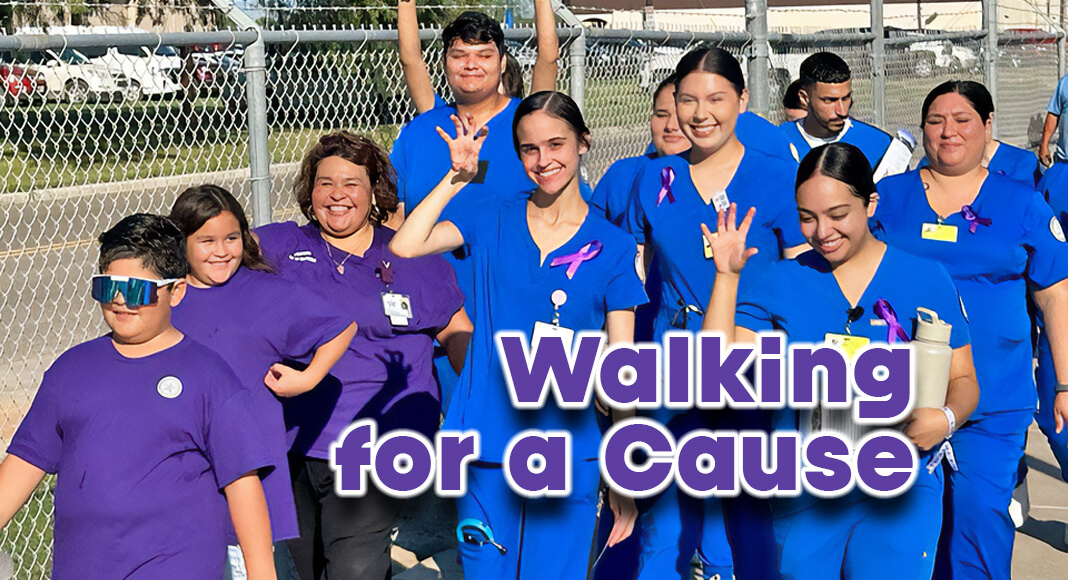 Mega Doctor News
By Selene Rodriguez
For the second consecutive year, South Texas College Vocational Nursing students recently volunteered and participated in a significant Alzheimer's Awareness Event and Walk hosted by El Faro Health and Therapeutics.
This event and the awareness it creates is critical to the community of Starr County because research shows that it is second in the nation for the most Alzheimer's disease diagnoses.
According to studies completed by Medicare, about 26% of beneficiaries in Starr County have been diagnosed with Alzheimer's disease and related dementias.
"It hits home. When COVID happened, these were the people staying behind wondering about their loved ones, maybe they remembered only one person and that person couldn't visit anymore," explained STC Vocational Nursing Instructor Sylvia Contreras. "We realized we need to shine a light on this issue so more research can be done, we're proud to be part of this movement that's truly making a difference."
El Faro Health and Therapeutics, the county's first private clinical research site primarily engaged in Alzheimer's disease, hosts the annual event as an opportunity for the community to come together and learn more about the issue.
"Research shows that Hispanic communities are 50% more likely to develop Alzheimer's disease, but we still don't know why", said El Faro Health and Therapeutics site director Jessica Cantu. "We throw this event for our people to come out and enjoy each other's company while educating them on Alzheimer's disease, helping bring support to those affected as opposed to avoid talking about it."
- Advertisement -

Over 65 STC students from across the Rio Grande Valley took part in the event by practicing memory and puzzle games with the attendants, as well as planting purple pinwheels in loving memory of those who have passed from the disease.
"We brought fun activities to share with the community so they can learn how to help their loved ones remember through puzzles and games, such as loteria, or bingo, which is also something cultural for us. It means family time and spending time together," added Contreras.
For STC Vocational Nursing student Daniela Falcon, who lost her great-grandmother to Alzheimer's disease, it's important to educate and bring support not only to the victims, but also their families.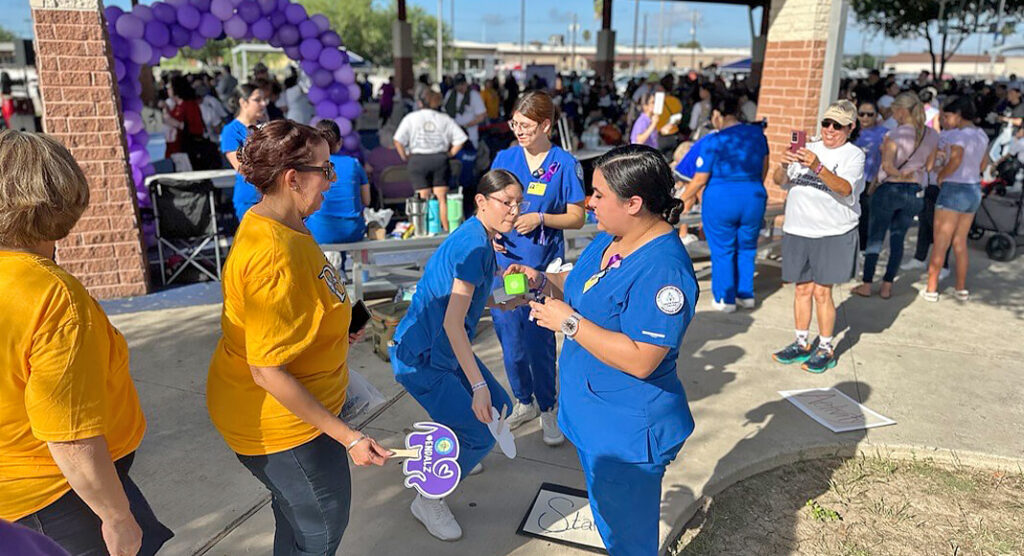 "It was a really tough time not only for her, but also on our family. There are many memory exercises or medications we just didn't know about that we can use," said the Starr County resident. "Even though she wouldn't recognize us or even remember our names she would always take the time to give us a blessing, that part of her never left."
Mid-Valley student Isaac Gonzalez also shares a personal connection with the cause, having lost his grandmother to the disease.
"I can't help but to get emotional. It feels great to see the Starr County community support this effort; it's a beautiful," he said. "I'm here because I want to be of service. I can't wait to become a nurse that shows compassion, kindness and integrity. I'm just happy to be able to help in any way that I can."
STC's Vocational Nursing program in at STC's Starr County campus has seen an exponential growth in enrollment of 92% since fall 2018, and has become an integral part of the community through frequent hands-on participation in health care events on and off campus.
"This is a profession that requires for us to be compassionate, but also smart. We have to keep a straight face for our patients, but also be there for them," added Contreras. "As instructors we want to impact our students and help them believe that they can make a difference and if I can touch even one of my students, I would be touching a patient."
For more information on STC's Vocational Nursing or other Nursing and Allied Health programs, visit nah.southtexascollege.edu or call 956-872-3100.