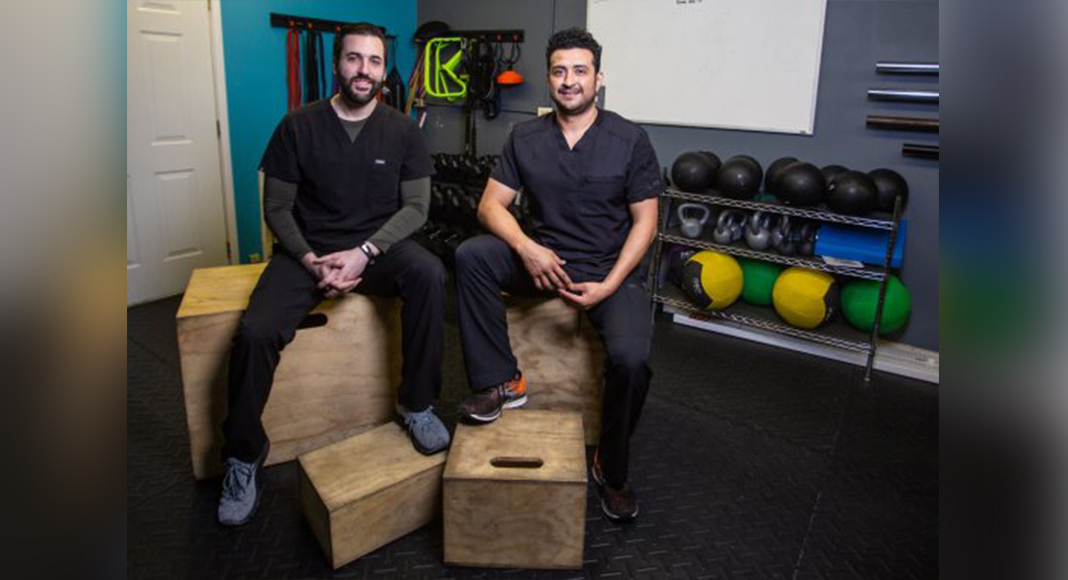 Mega Doctor News
MCALLEN, TEXAS – As physical therapy professionals, they've made it their life's mission to help athletes run faster, compete harder, and jump higher. Now, South Texas College grads Mike Garcia and Matthew Garza are ready to make their own leap.
Garcia and Garza are the innovators behind Bio-Dynamic Athletics, a new sports therapy and conditioning clinic in McAllen that endeavors to "bridge the gap between physical therapy and fitness." For the proud STC alums, the budding business represents the culmination of decades of inspiration — not to mention a new level in a long-standing friendship.
"The partnership has developed, and it's been great so far," says Garza, who parlayed his STC degree into a bachelor's degree, and will soon graduate from UTMB-Galveston's Doctoral Physical Therapy program. "Mike is well-accustomed to the business mindset, how to be relevant, and he's always finding the humor in every situation possible."
"I think we both knew we did not want to necessarily open a traditional outpatient clinic," says Garcia. "Having [Matt] as the evaluating therapist helps us keep all evals in-house — that works out extremely well for us."
As classmates in STC's Physical Therapist Assistant program, Garcia and Garza talked often, usually in non-committal terms, about starting a business together. The more they learned, and the more experience they gained, the more they began to realize the viability of their entrepreneurial objective.
"The idea sprung about while we were still in school — we used to joke about it," says Garcia. "As we started moving along … we decided to try to brand what we were doing."
The result of 10-plus years combined hard work and a handful of academic degrees was Bio-Dynamic Athletics, a company that seeks to evolve sports physical therapy with high-tech solutions. Essentially, it's a highly advanced, highly customized gym offering hybrid fitness/PT programs tailored to the client athlete.
A basketball player, for example, might want to add three inches to her vertical leap, or an offensive lineman four reps to his bench press. Through individual and team sessions, Garcia and Garza's team would develop a program to safely increase capability in a specific sport or movement.
"They identified a need, expanded their knowledge, sharpened their skills, and ultimately created a dynamic, innovative practice that allows them to positively impact the community," says Diana Hernandez, Instructor and Program Chair for the Physical Therapist Assistant program at STC. "They are truly living the mission, vision, and values we try to instill."
"We talked a lot about trying to be different from other models," says Garza, who gives credit to South Texas College for inspiring Bio-Dynamic's patient-first philosophy. "You have to have that personal effect, knowing we're here and we care about them.
"We're licensed to work on real people with real problems."
Launched just months before the outset of COVID-19, Bio-Dynamic Athletics has had to adapt like any other business that traditionally entails in-person visits. And while the pandemic managed to derail some of the original business plan, Garcia and Garza's knack for innovation would carry the day. "We had to make our business survive outside of brick and mortar," reflects Garcia. "It was a challenge for sure."
Staying on track meant adapting conditioning programs to a remote platform while maintaining the same level of customization, analytics, and customer service. Meanwhile, as a government-mandated essential business, the partners still had to maintain a safe, distanced environment for in-person clients.
"We're trying to build these resources into an eventual online program for our athletes," says Garza, now working with Garcia to build a library for remote engagement through the company's YouTube channel. "Warmup routines, simple movement progressions … they'd have that resource."
To say that Bio-Dynamic Athletics was destiny for the fitness-focused friends is hardly a stretch. Though drawn to the profession under very different circumstances, both Garcia and Garza consider physical therapy a calling, inspired not by money or job security, but by organic life experience.
As a high school athlete suffering "every injury under the sun," Garza became fascinated with the technique and technology employed by his own physical therapists. Driven by a will to succeed on his own terms, the former baseball star connected with the Physical Therapist Assistant program at South Texas College, and never looked back.
"Early on I let my professor know I wanted to go for the doctorate PT program," says Garza. His initiative led him to a bridge program offering credit toward his Doctor of Physical Therapy for coursework and experience already obtained. "I worked really hard to obtain and maintain that 3.5 GPA, it prepared me for the intensity."
Garcia's spark of inspiration would happen more suddenly. When his daughter was diagnosed with cerebral palsy, he realized she would require decades of physical therapy, in addition to the usual financial and emotional support required by a child. Where he had previously envisioned himself teaching or working in retail, Garcia now had a singular goal: to become his daughter's physical therapist.
"As a father, you want to help your children as much as you can, so I decided the best way to help her was to go back to school … so I could help her for her a lifetime," reflects the father of three. "This profession wasn't an initial passion but … it became an addiction."
And while they discovered physical therapy on different emotional planes, Garcia and Garza would converge on the same path to success at South Texas College. With the support of Hernandez, her experienced team of PTA Program faculty and staff, and each other, the pair set a foundation for their life's work in the Physical Therapist Assistant program, earning their associate degrees and going to work as licensed physical therapist assistants.
"Mrs. Hernandez ran a super-tight ship," recalls Garcia. "Those skills they gave to us … we turned it into a business."
"I wouldn't be here talking to you if it wasn't for STC and this opportunity," adds Garza.
For Hernandez, the success of the Bio-Dynamic duo is just further proof that the affordable, accessible career education offered by STC is working as intended in the community.
"They are well-rounded, forward-thinking therapists," says the instructor. "Mike and Matthew took the sound foundation provided by our program and decided to do more."
Visit https://nah.southtexascollege.edu/pta/ for more information on the Physical Therapist Assistant program at STC. Have questions? Contact Diana Hernandez at 956-872-3152.