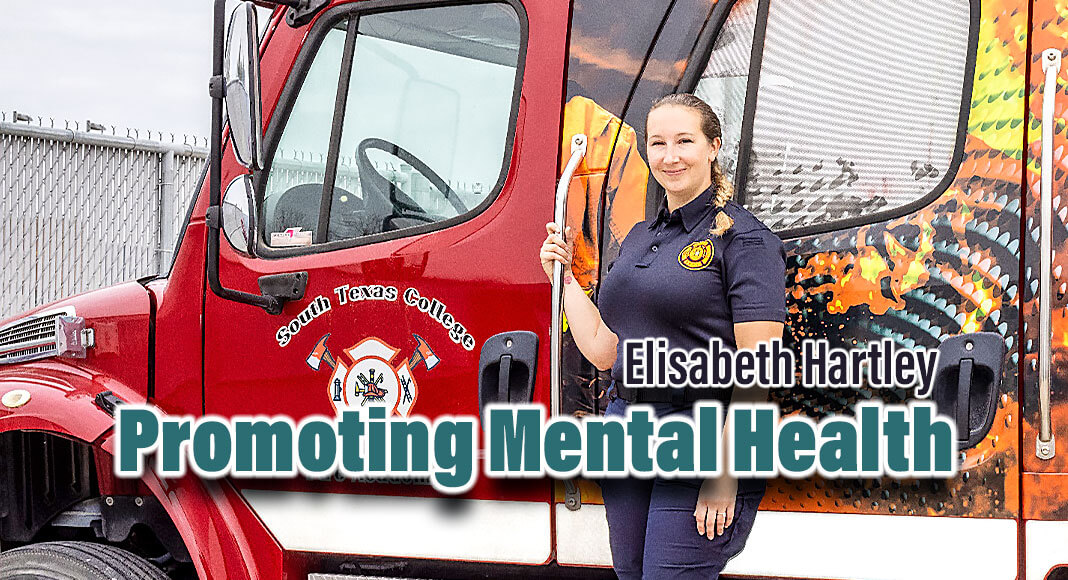 - Advertisement -

Mega Doctor News
HARLINGEN, TEXAS – For Elisabeth Hartley, South Texas College was the answer when she changed careers and enrolled at the college's Fire Academy.
With a bachelor's degree in Counseling and Crisis of Trauma and a master's degree in Clinical Mental Health, she had previously worked with first responders through a mental health program, an experience she said inspired her to join the academy.
Hartley, now a firefighter with the Harlingen Fire Department, said she is grateful to STC's Fire Academy and now gives back by volunteering at the Regional Center of Public Safety Excellence training future firefighters and promoting mental health and breaking stigmas.
"I love this job, there's so much to it. I enjoy going back to STC and talking to the students because as a first responder we see a lot of trauma. Thankfully now, talking about mental health is more acceptable, it's losing its stigma and we can take care of each other," she said.
Hartley mentioned that being a firefighter was an attractive career because it involves problem-solving and helping the community, which in many ways is like therapy.
But because in the state of Texas, most departments only hire cadets that are 36 years old or younger, she was 35 at the time, she said STC's Fire Academy and reputation of efficiency in graduating successful firefighters is what drew her to the program.
"I got started in the fire service late. I was 35, so STC was the best option for me to get a certificate and enter the field before my 36th birthday," said Hartley.
- Advertisement -

STC's Fire Science Instructor, Oscar Rodriguez, praised her hard work and enthusiasm for the fire service.
"The fire service is all about teamwork and she understands the psychological aspect of it. I find it helpful for her to work with our cadets, through her they can learn a different perspective," he said.
As the daughter of a therapist, Hartley knew from early on she wanted to help those in crisis. Her background on mental health has helped her deal with hard situations as a firefighter.
"These kinds of careers involve a huge responsibility," she shared. "You have to be able to have empathy and connect with people because you see them at their worst time."
Because of her expertise in the field, she feels prepared to deal with the trauma that comes with being a firefighter, a profession she now shares with her husband.
"It helps knowing the psychology behind it and talking about it, it definitely affects every aspect of our life," said Hartley. "There's a misconception that we just put out fires, but we also do smoke alarm activations, medical emergencies and we assist paramedics. We do take care of grassfires and structure fires, but that's a very small part of what we do. Mostly it's car accidents."
She also mentioned that changing careers brought to her many challenges including being a female in a male-dominated career and a mom to a newborn.
"Getting hired as a firefighter is 10 times harder as a female because of the physical aspect of it and the general idea that this is only a job for men," she said. "As much as I work out, I may never be as physically strong as a man, but I like using different tools and tricks that work for me. Women don't usually think about this career, but I can assure them, they can be a female firefighter."
Hartley's career with Harlingen Fire Department began when she was still a student at STC and she remains appreciative for the opportunities, tools and knowledge that the college keeps providing for her to improve herself and others.
"I love volunteering at the college because I keep learning. At STC I'm able to work on skills that are helpful for my job and make me better in my career. I can safely practice how to drive the fire truck or handle the hoses," she said. "I also love sharing my experience with the students and letting them know that this is the best job, there's nothing better than helping people and I'm here for them."
For more information on the STC Fire Academy and other trainings and programs offered at STC's Regional Center for Public Safety Excellence, visit southtexascollege.edu/rcpse/ or call 956-872-4208.