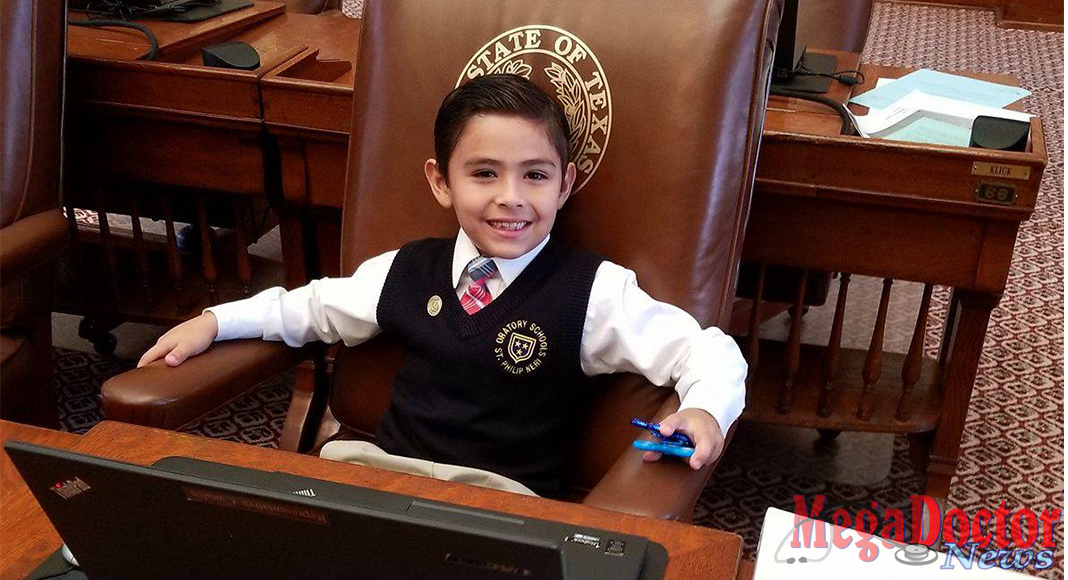 By DAVID A. DÍAZ
Mega Doctor News
Terry Andrés Canales, II, a son of Rep. Terry Canales, D-Edinburg, and wife Erica E. Canales, is set to undergo a series of heart surgeries at Nationwide Children's Hospital in Columbus, Ohio beginning on Wednesday, August 23, 2017, for a heart defect called coarctation of the aorta.
In addition to Terry Andrés Canales, II, the House District 40 state representative and his wife also a parents to Caleb Ezra, Trígo, and Catalina, and the lawmaker is the stepfather of Juliana Figueroa.
"I would be less than honest if I said we weren't racked with fear of the uncertain, and that this hasn't consumed our every waking moment for the last several months and left us virtually sleepless," the House District 40 lawmaker readily acknowledged in his Facebook posting on Sunday, August 20, 2017. "But our faith in God is unwavering.
Their son, "Bebo", was two years old when he was diagnosed with the heart defect, Canales explained on his Facebook page.
"Our family has hoped and prayed that the situation would correct itself, but with every passing follow up, that didn't seem to be the case," Canales said. "This Wednesday (August 23, 2017), my wife and I will travel to Columbus, Ohio with him where he will undergo the first of what we are told will be a series of heart surgeries."
"The aorta is the major artery that is responsible for supplying the body with oxygenated (red) blood from the heart. The coronary arteries are the first blood vessels to come off of the aorta and supply oxygen to the heart muscle. The aortic arch then gives rise to arteries that supply blood to the head and arms. The descending aorta (lower portion of the aorta) supplies blood to the lower body.
"Coarctation of the aorta is a congenital heart defect where the aorta is narrowed (obstructed) and usually occurs just past the left subclavian artery (supplies blood to the left upper body) and results in decreased blood flow to the lower body. The left ventricle (pumping chamber) of the heart must work harder in order to pump blood through the narrowed aorta."
In an especially personal but hopeful appeal to the thousands of viewers of his Facebook page, Canales affirmed his faith "in our Lord Jesus Christ.
"I believe in the power of prayer," he continued. "So, I am humbly asking that whomever read this message, please take a moment to pray for my little boy, and that they ask their friends, family, and prayer warriors to do the same. Thank you from the bottom of our hearts. Your time and your prayer means more to us than you will ever know."
He provided readers with the following suggested "Prayer for Terry Andrés Canales":
"Oh, my Jesus, you have said, 'Truly I say to you, ask and you will receive, seek and you will find, knock and it will be opened to you.' You have also said if you ask anything of the Father in my name, He will give it to you'. Encouraged by your infallible words, …
"Behold I knock, I seek, and ask the Father in the name of our savior Jesus Christ for the grace of Terry Andrés Canales being healed, that his heart be strong, and that should he require surgery, that you bless and guide the hands of Dr. Cheatham and his entire surgical team. That you surround Terry Andrés Canales with your angels, and that his surgery be successful, and that he will awake from that surgery healed and no longer have the need for surgical intervention. In your blessed name I pray. AMEN."
As of late Sunday evening, August 21, 2017, almost 250 followers of the state lawmaker's Facebook page had commented, including the following individuals and their statements of support and prayer:
Rebecca R Garcia Heavenly Father in Jesus name, please make little Terry's body whole!
Edna Snell Prayer's going his way. God is always great !!!
Marta Imelda Vasquez Prayers. May God guide the surgeons hands..
Annette Villalpando Garcia Prayers for ur little boy …my grandson has something similar to ur son ..may god b with u all
Muñoz L Malena I come in agreement with your posted prayer.
Susana Rodriguez Aguilar Prayers for your baby, you, the family, and Dr.s /staff. May God's healing hand touch him through his surgery and recovery.
Mary Venegas Amen
Idelma Garza Prayers for your son
Jose V Hinojosa Prayers
Julie Martinez Amen
Loyda Guerrero praying!
Diana Valadez Gonzales Sending prayers
Emilio-Kelly Gonzalez In Jesus Name Believing and having Faith for Super Natural Healing, Amen.
Rios Cori Prayers
Monica Villarreal Prayers for your little man!! May God and his Angels be with him every step of the way!!
Robert H Renteria Praying for the health of this young man and his Family. May the Lord guide his health care providers. God Bless
Estella Morón Prayers going your way for little Terry and family too.
Eva Guerra-Perez God is in control
Frances Arellano Amen
Juan Vasquez God Bless Your Little Man Terry!!
Adela N. Gonzalez Terry our prayers are with and your son.
Jorge Salinas Prayers to your son and family.
Martha Rivera God is great. Praying for a miracle so that no surgery is needed. I have received miracles in my life and I ask the same for Bebo.
Jesse Diaz He will be in our prayers brother God bless
Victoria Ilene Salmon Prayers for your son..
Roxane O. Vasquez In Jesus name, Amen.
Anne Locascio Love and prayers for your wonderful family and especialy for Bebo.
Nora Gonzalez Kubala With the power of prayer your son will be healed in Jesus name Amen.
Eva Puga Awww. God help him heal please Father Amen
Martin Valdez I prayed for Bebo and will continue to pray for him…thank you Terry for sharing
Karina Garza Amén
Silvia Pedraza Prayers
Norma Perez Healing prayers sent your way.
Linda Cervantes Flores Prayers
Sonia Rodriguez-Vasquez Amen… Prayers!
Judy Capetillo Prayers god be with all of you.
Rose Johnston Praying for your baby, your family, and all medical personnel. Our Jesus, is never late, and will show up. By his stripes your baby is healed. More prayers, more power in Jesus name.
Lupita Luis Many prayers for you baby your family and all doctors.
Brianda Espinoza god bless you – Prayers
Myra Acevedo Salinas Prayers from Defiance, Ohio For GOD'S Hands upon your Son And for GOD to give you Strength. .THERE'S POWER IN JESUS!!!!
Vicky Ayala Prayers for your son…may God heal his beautiiful heart…in Jesus name…Amen!
Yolanda Medina-Cerda Prayers for his healing !!
Carmen Barrera My prayers will be offered for successful surgery and full and complete recovery for your precious son. God's blessings for you and your family.
Maria E. Sandoval Prayers for your family and son, many blessings
Flo Garcia Praying bro
Sylvia Garza Maldonado Prayers. May God Heal Him.