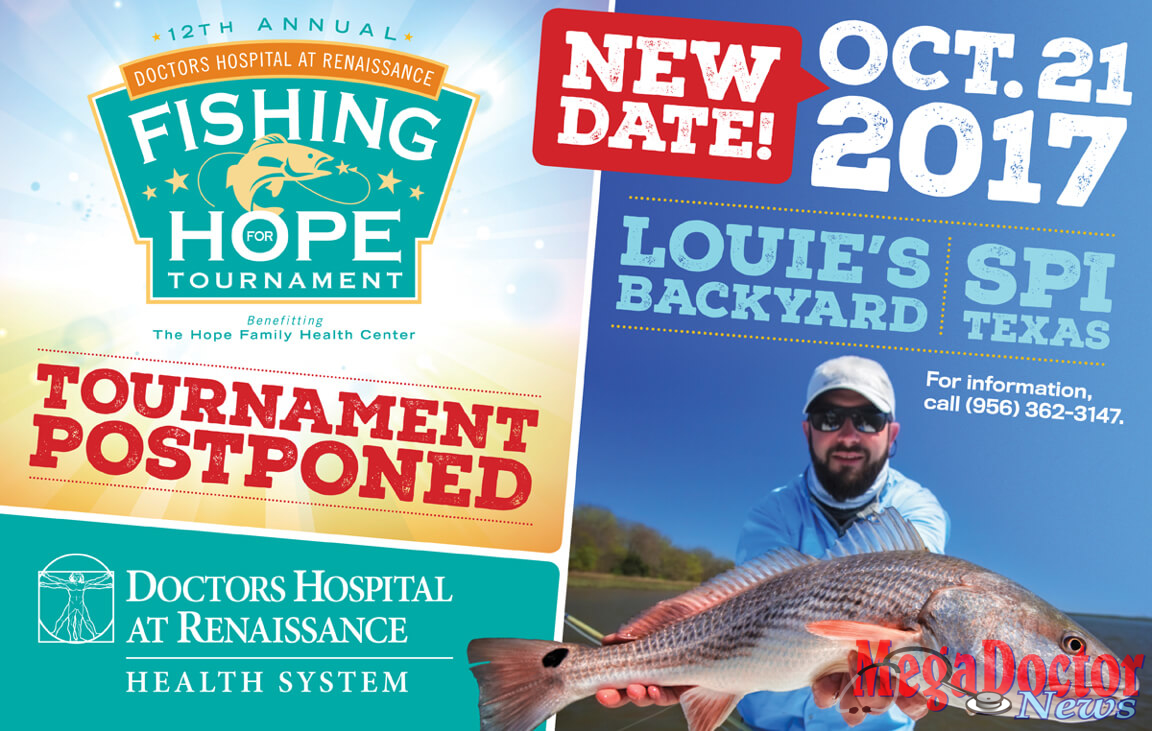 - Advertisement -

Mega Doctor News
Edinburg, TX—Doctors Hospital at Renaissance Health System (DHR) announced today (August 22, 2017) that the 12th Annual "Fishing for Hope" Tournament scheduled for Saturday, August 26, 2017 at Louie's Backyard on South Padre Island has been postponed due to potentially dangerous storms forming in the Gulf of Mexico. The tournament is rescheduled for October 20-21, 2017.
After extended conversations with Cameron County officials and the National Weather Service, the decision was made to protect anglers from any potential effects caused by the imminent weather, which is a result of Tropical Storm Harvey.
DHR is proud to host the annual Fishing for Hope tournament, which benefits the Hope Family Health Center. We aim to raise funds for patients in South Texas who otherwise lack access to much needed healthcare services.
"HOPE Family Health Center is eternally grateful to all of the sponsors, donors, and teams who come out each year to support our mission of healing the uninsured," states Rebecca Ramirez-Stocker, Hope Family Health Center Executive Director. "Funds from the Doctors Hospital at Renaissance Fishing for Hope Tournament allow for us to continue serving those most in need in our community. Without these funds, we would not be able to operate in the capacity in which the uninsured population needs."
It is DHR's goal to host a family-friendly and safe event for members of the community. Safety is our first priority and due to possible storm impacts, the decision was made to postpone the tournament. We'd like to thank all the participants, volunteers, and partners for their support and understanding.
Stocker concludes, "We are thankful to DHR for continuing to support our mission and vision through this tournament and we are grateful the Fishing for Hope Committee considered the safety of all of those involved when deciding to change the date of the tournament."
- Advertisement -

Please join us on October 20-21, 2017 for the fun-filled, family-friendly event that you have come to expect from the annual Fishing for Hope tournament! For more information, please call 956-362-3140.