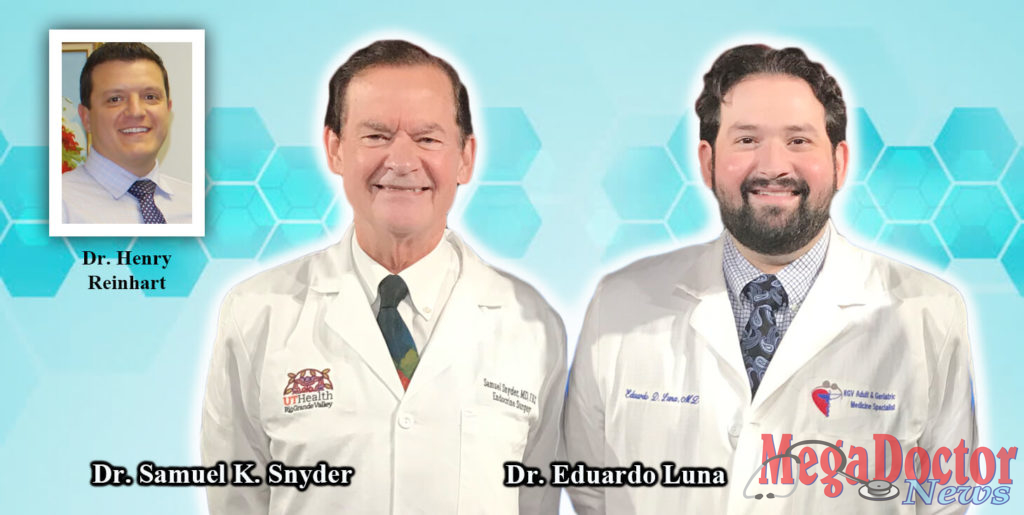 Mega Doctor News
- Advertisement -

As originally published by Mega Doctor News in its newsprint edition February 2019
Mercedes – Specialized services for diabetes, thyroid cancer, and other patients have expanded in the Mid-Valley and throughout the Valley with the addition of three specialized endocrine surgeons at the UT Health RGV / Knapp Family Health Center in Mercedes and a new endocrinologist who is practicing in Weslaco.
The three new surgeons are the only members of the American Association of Endocrine Surgeons located in the Valley. They are:
Samuel K.Snyder, MD, FACS, who is the lead endocrine surgeon for the University of Texas Rio Grande Valley / UT Health RGV.  Dr. Snyder is board-certified in surgery and has practiced endocrine surgery for more than 30 years.


Minerva Romero Arenas, MD, MPH, who is fellowship-trained in endocrine surgery (at the University of Texas MD Anderson Center in Houston). (not pictured)


Henry Reinhart, MD, who is fellowship-trained in endocrine surgery (at the Baylor Scott & White Clinic in Temple, Texas).
The surgeons are associated with the UT Health RGV / Knapp Family Health Center in Mercedes, which recently expanded its services, as well as increasing its staff of doctors and other healthcare professionals. The clinic is conveniently located right off Expressway 83 at the N. Mile 2 West Rd. exit in Mercedes (at 2810 W. Expressway 83, across the street from Med High and Science Academy).
- Advertisement -

The clinic –which features 18 exam rooms –is open Monday through Friday from 8 a.m. to 5 p.m. and accepts walk-in patients as well as those with appointments. Physicians may make referrals to the three endocrine surgeons by calling the clinic at (956) 973-3531.
In addition to the clinic in Mercedes, Dr. Snyder, Dr. Reinhart, and Dr. Romero also practice out of UT Health RGV offices in Harlingen and Edinburg – offering a service which is greatly needed in the Valley but has been lacking until now.
"The message we want to get out is that we now have these services in the Valley, so patients don't have to go elsewhere," Dr. Snyder said.
The types of specialized surgeries performed by the UTRGV surgeons include the following:
Thyroidectomy (minimally-invasive)
Central & Lateral Neck Lymph Node Dissections
Parathyroidectomy (minimally-invasive)
Parathyroid Exploration
Laparoscopic or Robotic Retroperitoneal Adrenalectomy
Laparoscopic, Robotic or Open Transabdominal Adrenalectomy or Pancreatectomy
In addition to these highly-specialized types of surgeries, Dr. Snyder, Dr. Reinhart, and Dr. Romero also perform the following specialized diagnostic procedures:
Thyroid, parathyroid, and neck ultrasound
Thyroid or lymph node fine needle biopsy
Laryngoscopy
Dr. Snyder said that the ultrasound procedure "helps us tremendously in being able to diagnose thyroid cancer at an earlier stage when it is more easily treated." 
Conditions treated by these surgeries and procedures can include the following:
Thyroid cancer
Thyroid nodules
Multinodular Goiter
Hyperthyroidism
Graves' Disease
Thyroiditis
Hyperparathyroidism
Hormone-producing Adrenal Tumors
Adrenal Cancer
Neuroendocrine Tumors
Familial Syndromes
In addition to the specialized endocrine surgery services, a new endocrinologist, Dr. Eduardo Dusty Luna, has joined a private practice in the Mid-Valley, working with Dr. Pedro McDougal and other internal medicine physicians at RGV Adult & Geriatric Medicine in Weslaco.  Originally from Edinburg, Dr. Luna is a specialist who treats patients with diabetes, thyroid problems, osteoporosis, metabolism problems, and other endocrinology conditions.  Dr. Luna is board-certified in endocrinology.  
For primary healthcare, diabetes and other Mid-Valley patients can also find family medicine physicians at the UT Health RGV / Knapp Family Health Center in Mercedes, which offers medical care for all ages under the direction of Dr. Miguel Tello, Family Medicine Physician and Associate Program Director for the Knapp / UTRGV Family Practice Residency Program.