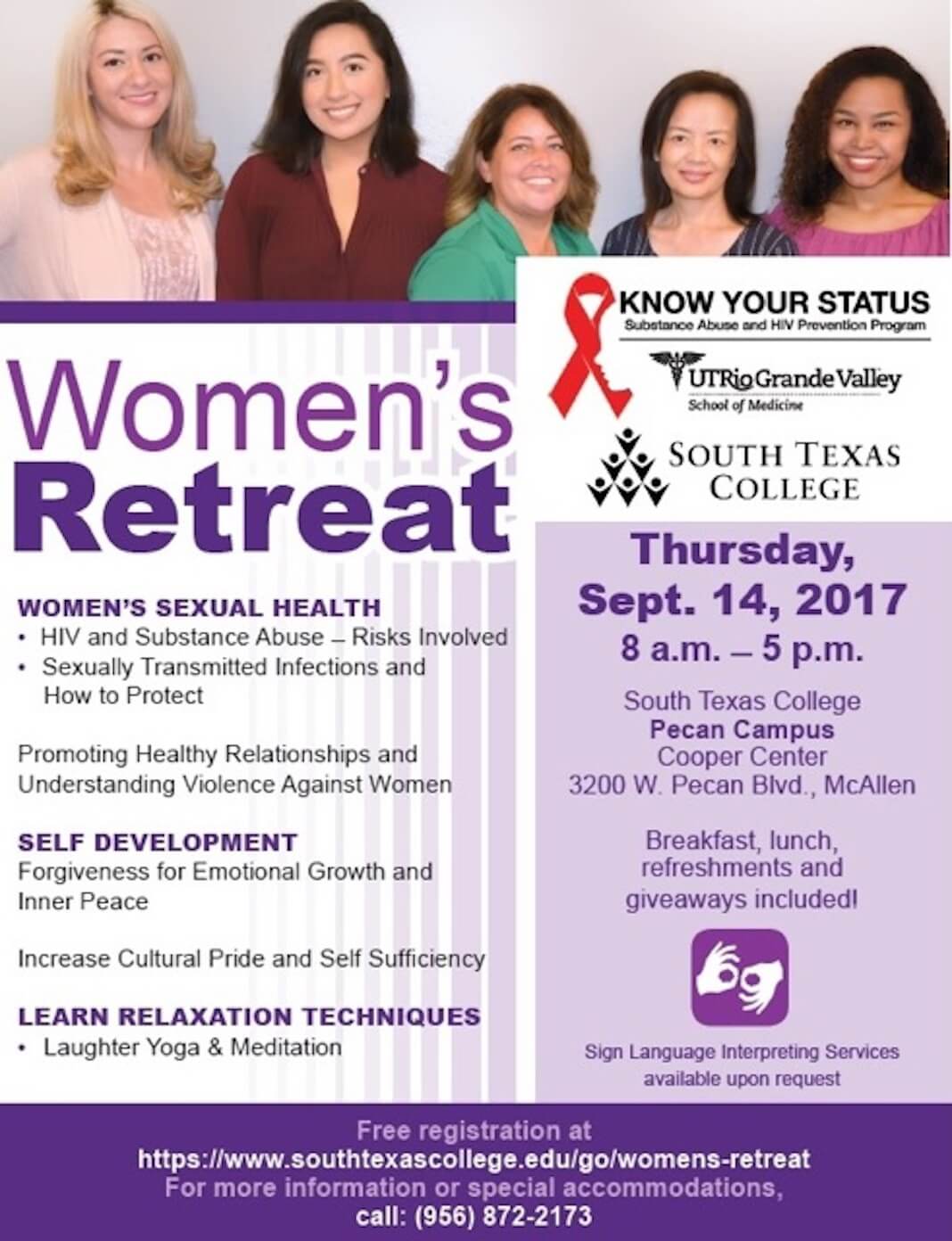 - Advertisement -

Mega Doctor News
McAllen, TX – South Texas College will be hosting its women's retreat event "Know Your Status" dedicated to raising awareness on a host of critical issues including sexually transmitted infections, HIV/AIDS sexual health, mental health issues and self-care.
STC, alongside substance and HIV prevention programs, cordially invite the public to take part in the women's retreat scheduled for Thursday, Sept. 14, 2017 in the Cooper Center from 8am-5pm. The event is free to the public. Breakfast, lunch, refreshments and giveaways will be provided for women throughout the day.
Keynote speaker Dr. Sandra Ledesma, Assistant Professor at South Texas College Education Department will be presenting her topic "Untitled, Unlabeled and Uniquely You".
"Every day offers an opportunity for self-growth, empowerment and the courage to let go of fear in order to recreate the woman you are meant to be," said Dr.Ledesma.
"The Women's Retreat will give them the opportunity to hear from experts in fields such as violence prevention, sexual reproductive system, HIV and learn about the myths about sexual reproductive health," shared South Texas College Counseling and Student Disability Services. "We encourage women to spend the time for self-care and take advantage of a wonderful forgiveness workshop as well as end the day with laughter yoga."
South Texas College recently received the "Know Your Status" grant designed to educate the community about sexual health and empowerment. The $24,000 grant was awarded to STC by the UTRGV School of Medicine Substance Abuse and Mental Health Services Administration (SAMHSA), which is given to Minority Serving Institutions in Partnership w/ Community Based Organizations (MSI/CBO).
- Advertisement -

To register for the event, visit https://www.southtexascollege.edu/info/womensretreat. For more information, call (956) 872-2530 or email mavila2@southtexascollege.edu