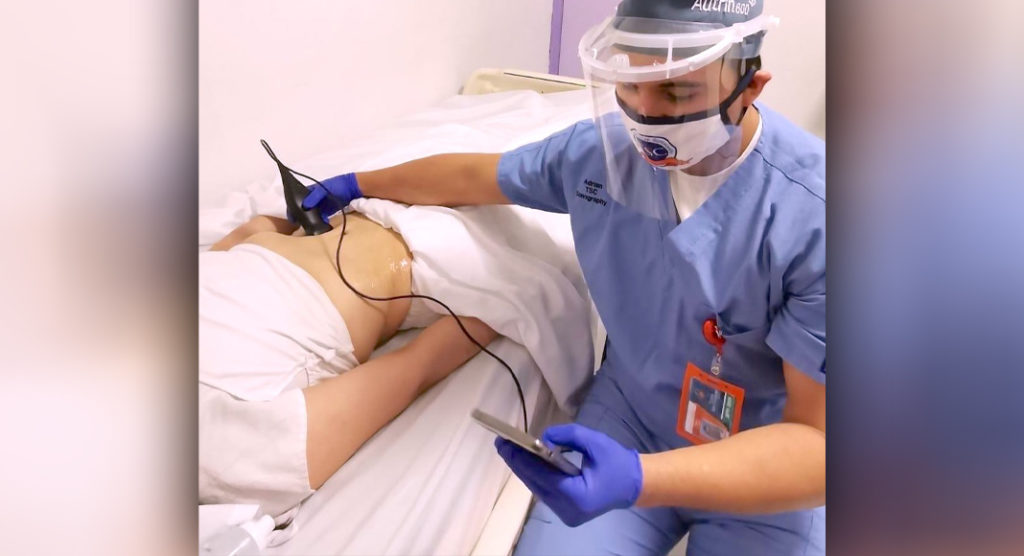 Mega Doctor NEWS
Brownsville – Texas Southmost College student Taylor Tilden was losing all hope when COVID-19 halted the return to campus after Spring Break in March 2020. But it was TSC's willingness to invest in its students that gave her and her classmates optimism for their futures.
TSC's Diagnostic Medical Sonography program purchased the Butterfly iQ, a portable sonography probe, valued at $2,000 per unit, and provided one to each of the program's students to train with during remote learning.
"These portable probes have transformed the way we teach and how our students learn during this pandemic," said Dr. Ariel Villanueva, Program Director of TSC's Diagnostic Medical Sonography program. "I'm grateful that our TSC leadership supports us in moving forward."
The Butterfly iQ brings whole-body scanning to a single probe and allows students to practice their scanning skills at home. Students can display the images captured on an iPhone or iPad device. These images are then digitally submitted to students' instructors.
Like Tilden, fellow classmates in TSC's Diagnostic Medical Sonography program use it to practice scanning the three areas the program focuses on: the abdomen, superficial structures, and obstetrics and gynecology.
If not for this state-of-the-art technology provided by TSC, Tilden feels the class may have fallen behind.
"One day we were at the hospitals and the next we weren't allowed back because of COVID. We weren't getting the hands-on training at the clinical sites we needed," said Tilden. "This probe is the best thing. There are not many options out there like this for students. We're very fortunate."
All practice-scanning sessions are treated as if the students are in a clinic, so all proper personal protective equipment such as gloves, masks and face shields are used.
In addition, the TSC Diagnostic Medical Sonography program is the only sonography program south of Corpus Christi that is accredited by the Commission on Accreditation of Allied Health Education Programs. And TSC is also the only community college in the Rio Grande Valley using the Butterfly iQ to train their students.
"I thank our Board of Trustees and college leadership for supporting our students and embracing new technologies," said Villanueva. "This is how our students master skills, remain competitive and marketable, and get hired."
TSC's Diagnostic Medical Sonography program faculty are closely monitoring the COVID-19 situation, but Villanueva remains positive that students will return to clinical rotations in hospitals in spring 2021.