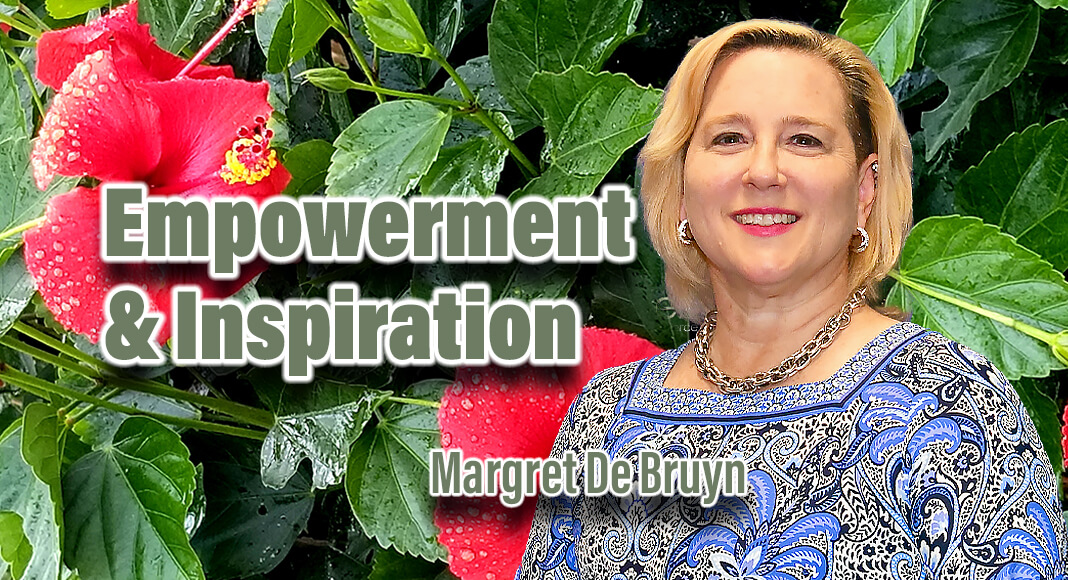 Mega Doctor News
By Roberto Hugo Gonzalez
The McAllen Chamber of Commerce recently had the honor of hosting "She Blooms Empower & Inspire," an event celebrating the spirit and determination of female entrepreneurs. The venue was buzzing with excitement as attendees got the opportunity to shop from a collection of female-led micro businesses showcasing a wide variety of products, including jewelry, beauty items, candles, accessories, and more. This one-of-a-kind shopping event served as a platform to uplift women entrepreneurs and a significant reminder of their contribution to the local economy.
During this empowering atmosphere, the spotlight fell on the inspiring figure of Margret De Bruyn, a successful business owner and mindset coach. Invited to give a talk titled "Embrace Your Inner Strength: Unleashing the Power Within to Claim Your Path," De Bruyn was all set to share her knowledge, experiences, and insights to embolden the attendees.
"I was so excited about coming to speak today," she began, her voice ringing with infectious enthusiasm. "The growth of women's businesses is such an important part of this community. Women make up 80% of our consumers, yet we often miss out on the opportunities to grow and be on the other side."
De Bruyn initially planned to talk about how women can move into their authentic selves and how they can align their mindsets for business success. But then, a book club incident prompted her to take a different path, one she believed was more relatable and impactful.
"Life throws you curveballs. That's what happens to business owners. Everything doesn't always go as planned," De Bruyn said, driving home her point about the need for adaptability in both life and business. "It's the same in our personal lives, and even more so as women. We often find ourselves juggling multiple roles and responsibilities, which can sometimes feel overwhelming."
In her coaching practice, De Bruyn specializes in helping people "clean their mental closets." As she explained, the concept revolves around de-cluttering our minds, similar to how we would clear out our physical closets at home. Using an analogy of the clothes we often keep that are too small or too big; she emphasized the need to let go of things that don't serve us, which also applies to our thoughts and beliefs.
"We're living in shame, giving a house for perfectionism, allowing comparison to have a place," De Bruyn asserted, sharing her insights on the mental clutter many of us unwittingly accumulate. She stressed that these beliefs and standards often hold us back from reaching our full potential, especially when we allow perfectionism and comparison to define our self-worth.
Relating the concept of the 'mental closet' to personal experiences and social pressures women often face, De Bruyn highlighted the need to break free from the unrealistic expectations of being the perfect mom, employee, and partner. She urged the women in the audience to embrace who they are and stop shaming themselves for perceived shortcomings.
"For every moment that you recognize that shame, you need to find a safe place to let it out," she advised, reminding everyone that acknowledging and addressing shame is essential to embracing our authentic selves.
At the beginning of this article, De Bruyn looked at the metaphorical closet of our minds. She emphasized the importance of physically, mentally, and emotionally embracing who we are. The physical aspect is often easier to comprehend, but the mental and emotional aspects are a bit more elusive. The clothes we hold onto, whether too big or too small, are physical manifestations of our beliefs. We keep clothes that no longer fit because we're convinced that our current state of being is temporary.
Such thinking extends beyond our wardrobes. It soaks our lives. We limit ourselves and stay within the confines of little boxes constructed by social expectations and the desire to be accepted and loved by others. These invisible barriers hold us back, preventing us from expressing our full potential.
De Bruyn underlined the importance of quieting our "bitch voice," the nagging self-doubt that undermines our intentions and prevents us from moving forward. This voice surfaces when we're about to do something important for ourselves. It comes up with excuses, pushing us to abandon our goals.
Another critical point De Bruyn highlighted was how we tend to project our insecurities onto others, becoming self-proclaimed mind readers. We assume we know what others are thinking and fill in the gaps with our own insecurities and shame. De Bruyn advised us to stop this destructive habit and seek the facts instead.
Towards the end of her talk, De Bruyn discussed the necessity of making space for new habits that foster self-love, self-acceptance, compassion, and empathy.
A standout quote De Bruyn learned from a coach was: "You cannot level up your net worth until you level up your self-worth." This statement encapsulates the essence of her speech. Success and growth are rooted in self-worth. If we don't see ourselves as worthy, we hinder our potential.
De Bruyn ended her talk by sharing a QR code that provides access to a free e-book on mindset reset, a free course, and an invitation to join an accountability group. She encourages all of us to start changing how we see ourselves because we are worth it.
As we reflect on De Bruyn's words, we're reminded of the importance of working on ourselves, not for the validation of others but for our own personal growth and satisfaction. To truly bloom, we must foster self-love, self-acceptance, and self-compassion. In doing so, we empower and inspire ourselves and those around us.