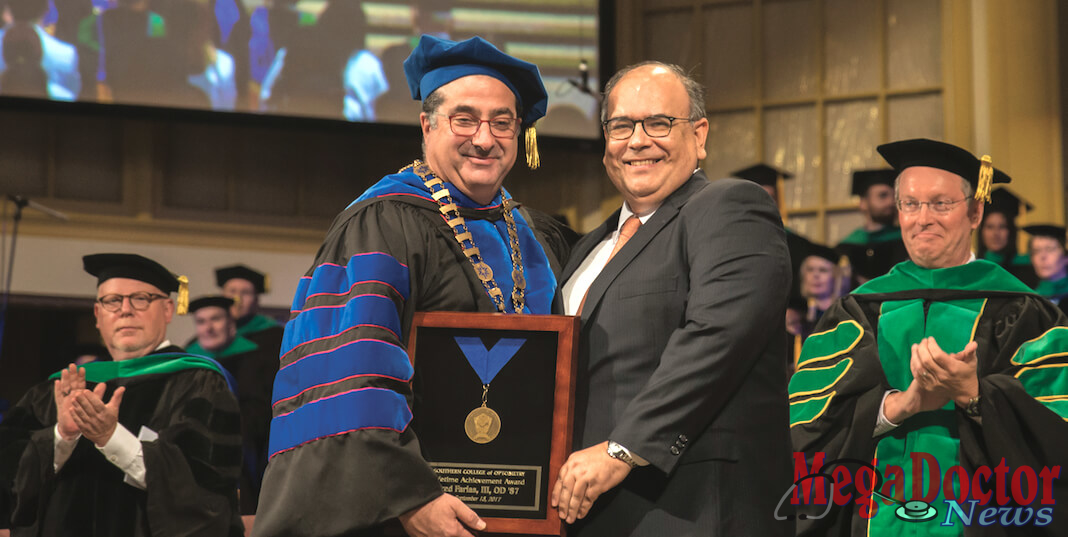 Longtime optometrist receives the highest honor bestowed by the college
Mega Doctor News
- Advertisement -

MEMPHIS, Tenn.- 2017 – Southern College of Optometry recently awarded its lifetime achievement award to Fred Farias III, O.D., a 1987 SCO graduate and CEO of 20/20 Vision Care in McAllen, Texas.
Farias received the award during the college's Fall Homecoming and Continuing Education Weekend. He was previously named 2015 Optometrist of the Year by the Texas Optometric Association and 2016 Optometrist of the Year by the American Optometric Association (AOA).
"I am honored and humbled to receive the 2017 Southern College of Optometry Lifetime Achievement Award," Farias said. "I take great pride in the recognition because it is the highest award the college presents to an alumnus. SCO prepared me well to serve my patients, profession, and community and for that I am thankful."
Farias focuses his Texas practice on therapeutic optometry and optometric glaucoma. He is a member of SCO's Alumni Council, the AOA Board of Trustees, and the AOA Federal Legislative Action and Keyperson Committee. He is the immediate past president of the Texas Optometric Association and was a charter member of Optometry Cares® – The AOA Foundation. Additionally, Texas Gov. Greg Abbott appointed Farias to the Texas Higher Education Coordinating Board.
Beyond his board service, Farias organizes and sponsors vision screenings for underserved communities throughout south Texas and volunteers for the AOA Foundation's InfantSEE® program, a no-cost public health initiative developed to provide professional eye care for infants nationwide.