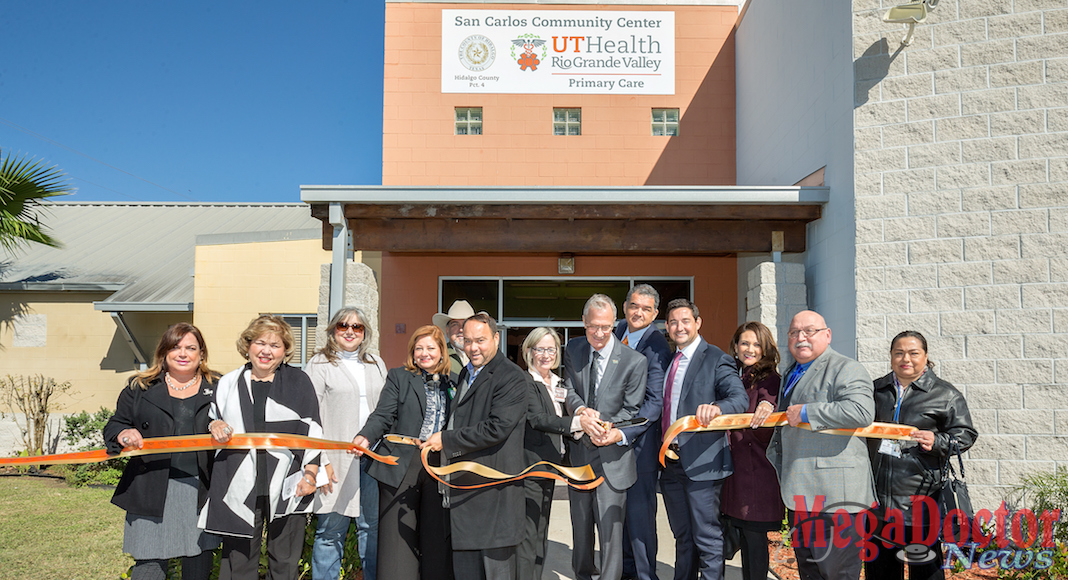 Mega Doctor News
- Advertisement -

Rio Grande Valley – The UTRGV School of Medicine celebrated the opening of its third Area Health Education Center (AHEC) Wednesday, November 14, in San Carlos in Hidalgo County.
The AHECs support the School of Medicine's mission to close gaps in access to healthcare and expand educational opportunities for its students.
The School of Medicine last year received a five-year, $3.75 million grant from the U.S. Department of Health and Human Services' Health Resources and Services Administration to develop the three AHECS, which are intended to:
Help increase access to primary healthcare in rural and underserved areas.
Develop and enhance education and training networks within communities, academic institutions, and community-based organizations.
Teach medical students and students in other health-related disciplines about the social determinants of health and health disparities.
The School of Medicine previously hosted grand opening ceremonies for its AHECs at the La Victoria community in Starr County and at the Bob Clark Social Service Center in Cameron County.
"This is an excellent example of the School of Medicine working in partnership with our counties to increase access to healthcare and to improve the lives and health in our communities," said Linda Nelson, DNP, Senior Director of Clinical Operations for UTRGV School of Medicine. "It is through initiatives such as the AHEC programs that availability of services in the Valley are increased."
John Ronnau, Ph.D., Senior Associate Dean for Community Health Partnerships at the UTRGV School of Medicine and director of the AHEC program, said the AHEC grant provides a tremendous opportunity for the UTRGV School of Medicine to be of service and engaged in communities that are rural and have underserved populations.
"It's integral to our mission and it is in keeping with what the federal government, what HRSA expects of us with this grant," Ronnau said. "This grant is the perfect opportunity to meet the needs of these communities, but it wouldn't happen without the partnerships between the School of Medicine and the three counties, and that's the beauty of it."
- Advertisement -

The AHECs include primary healthcare centers operated by professional healthcare staff, faculty and students of the UTRGV School of Medicine, School of Nursing and College of Health Professions.
The School of Medicine, School of Nursing, School of Social Work and College of Health Professions are developing curriculum for students that will include offering credit for their work in the clinic and will develop a pipeline program through which high school students interested in healthcare-related fields can receive training.
The three AHEC facilities are being developed in partnership with the three counties and the County Commissioner in each precinct where the AHEC is located.
"Working with such an exemplary institution such as UTRGV has been a blessing to the families of Precinct 4," said Hidalgo County Precinct 4 Commissioner Joseph Palacios. "Through our partnership, many families now will have the benefits of healthcare at their reach. With this initiative, students from the UTRGV School of Medicine will also see firsthand the tremendous support their services provide. This experience will allow them to pursue their degree with the knowledge of their potentials."
The center, located at 230 N. 86thSt. in San Carlos, will operate one to two days a week, with plans to expand services to five days a week over the next few years.