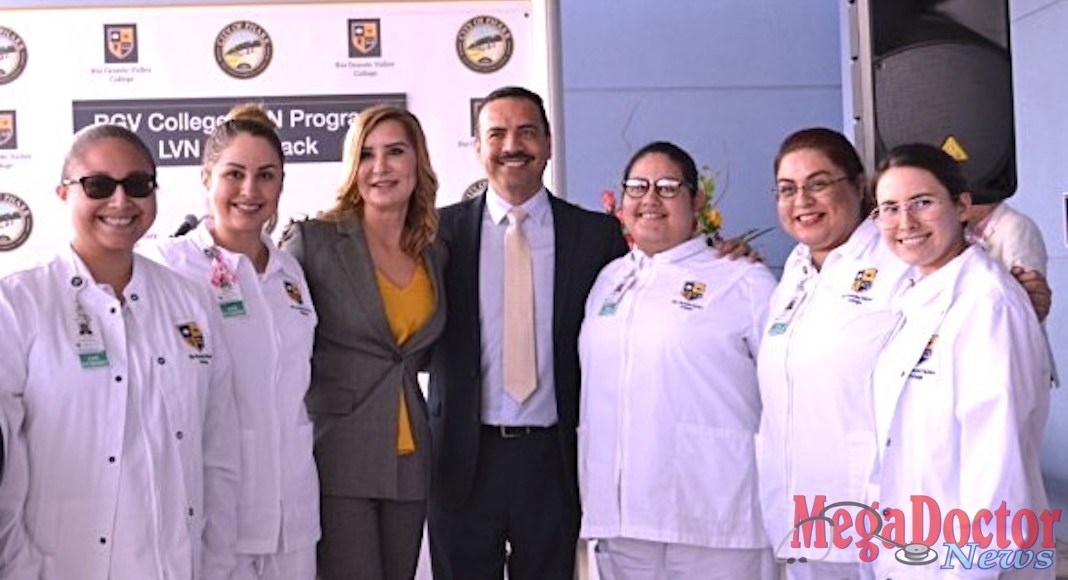 Mega Doctor News
- Advertisement -

Pharr, Texas – Amid a crowd of RGV College students, dignitaries, and partners, Pharr Mayor Ambrosio Hernandez, M.D. and Dr. Annabelle Palomo, CEO of Rio Grande Valley College (RGV College) proudly announced that it will now offer a new Associate Degree in Nursing LVN to RN Bridge Program. The Texas Board of Nursing granted the institution initial approval during its October 2018 Board Meeting.
"Congratulations to RGV College, we are excited about this announcement that will offer students more opportunities to seek healthcare careers here in the Rio Grande Valley, while at the same time, helping to reduce the nursing shortage in acute care facilities in the Texas region and the Rio Grande Valley," said Mayor Hernandez. "I know that our community and our region, as a whole, will greatly benefit from this exciting news and I cannot wait to see how it will impact our region in the future."
The first cohort of thirty students is scheduled to begin classes in January 2019.
Dr. Palomo addressed the guests and thanked Mayor Hernandez, his staff, and the City of Pharr for their continued support and partnership in assisting RGV College as they prepared to apply before the Texas Board of Nursing.
"This was a long process and a project that took true partnership, foresight, and planning," stated Dr. Palomo. "We are so thankful for the support of Mayor Hernandez and the City of Pharr and everyone who played a role in helping us make this dream a reality," she added. "RGV College looks forward to providing more opportunities to our students and to help close the healthcare shortage gap of much needed medical personnel."
Established in 2008, RGV College has become one of the most sought-after vocational schools in the Rio Grande Valley for its A+ grade level education. Programs currently offered at RGV College include Vocational Nursing, Nurse's Aide, Pharmacy Technician, Medical Assistant, and Medical Billing & Coding Specialist. The Vocational Nursing Program boasts a 98% passing rate and the college, as a whole, has maintained the highest NCLEX pass rate in the Rio Grande Valley for the past three years.
"The City of Pharr is proud to be the home of RGV College, and we are especially thankful to have them be a part of our community as we strive to provide higher education opportunities to our residents," said Mayor Hernandez in closing.