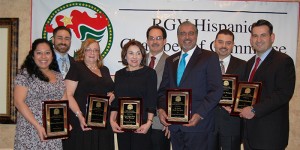 MEGA DOCTOR NEWS
- Advertisement -

The RGV Hispanic Chamber Health Committee recently hosted their annual "Medical Awards Dinner" which honors medical professionals in different categories.  The public is invited annually to submit nominations of professionals who have done an above average job in their particular field.  Nominations come in from all over the Valley and are sent to Austin to a committee of medical professionals who review the nominations and make the final decision.  The Dinner was held Wednesday, Jan. 23rd at The Club at Cimarron where a ballroom full of people helped to honor the 2014 winners.
Honored this year were left to right:  Rebecca Hernandez, Nurse; Dr. Pablo Tagle, III, Allied Health Care Professional; Deborah de la Rosa, Nurse Practitioner; Elvia & Jesse Saenz of Saenz Pharmacy, Pharmacists of the Year; Hari Namboodiri, Director of Las Palmas Health Care Center, Nursing Home; Dr. Mario Rodriguez, General Physician and Gabriel Salinas, Physician Assistant.  Not shown are the Hospital Volunteer of the Year, Ms. Lynn Barnett from Rio Grande Regional Hospital and Dr. Victor Gonzalez, Specialty Physician of the Year.
"We congratulate all of the winners.  It's professionals like these that make the medical field a most admired and respected profession".  Noted Cynthia M. Sakulenzki, RGVHCC President/CEO.