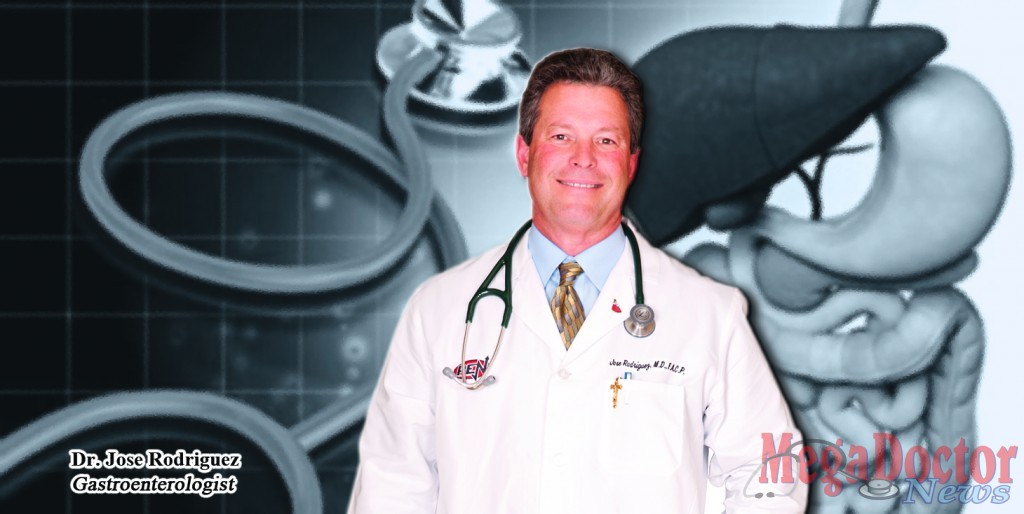 Mega Doctor News
By Roberto Hugo Gonzalez
As originally published by Mega Doctor News newsprint Edition
Now-a-days, not many professionals put God first in their lives and when you have the opportunity to meet one such person you have to consider this is a unique and special occasion.  Mega Doctor News had the opportunity to meet and talk to Dr. Jose Rodriguez, a gastroenterologist practicing in McAllen.
Gastroenterology is the branch of medicine whereby the digestive system and its disorders are studied. The name is a combination of three Ancient Greek words: gaster, (gen.: gastros) (stomach), enteron (intestine), and logos (reason).
Diseases affecting the gastrointestinal tract, which includes the organs from mouth to anus, along the alimentary canal are the focus of this specialty. Physicians practicing in this field of medicine are called gastroenterologists.
This is exactly what Dr. Rodriguez practices at his place of business Texas Gastroenterology Institute. He is a Board-certified Gastroenterologist since 1992; a single specialty solo practitioner. As noted by him, this is a sub-specialty of Internal Medicine and has been Board-certified in Internal Medicine since 1989.
Dr. Rodríguez loves being a gastroenterologist in particular, he considers himself an interventional biliary expert.  "I have a passion for doing Endoscopic Retrograde Cholangiopancreatogram's (ERCP) and I have dedicated myself to gaining expertise in doing these types of interventions," he said.
He said he takes care of a wide variety of patients, "from folks with digestive ailments to healthy people that want diet advice."  He has a very special interest in nutrition and in natural remedies whenever possible.  "I gained a lot of first-hand knowledge from helping my three sons, who were all college athletes, to excel by providing guidance with respect to enhancing their athletic performance by providing the best nutrition possible," he stated. His practice consequently has grown to include nutriceutical supplements (a term combining the words "nutrition" and "pharmaceutical", which is a food or food product that provides health and medical benefits) to treat and prevent disease, and the aggressive treatment of obesity which has grown to epidemic proportions especially in the Valley.
Dr. Rodriguez' parents are from Ciego de Avila, Cuba and came to the U.S. in 1963 as Cuban refugees fleeing the communist regime in their country consequently he grew up in Central and South Florida and attended the University of Miami in Coral Gables, Florida.
It is important to note that Dr. Rodriguez graduated Valedictorian of the 1986 class of the Ponce School of Medicine, an accredited U.S. Medical School in Puerto Rico. He did his residency and sub-specialty fellowship at the Texas A&M Health Science Center, Scott and White Memorial Teaching Hospital.  He finished his residency in Internal Medicine in 1989 as well as a Gastroenterology fellowship in 1992.
"I moved my family to the Rio Grande Valley in 1992 when I finished my training because the Valley appealed to me as a fast-growing area with plenty of opportunities to establish myself as a respected gastroenterologist in the community," he said.
He pointed out that the Valley was attractive because of its climate and similarities to the South Florida environment that he grew up in.  "I was also encouraged by the prospect of being able to interact with Hispanics and putting my native language to good use in the care of patients," he said.
Dr. Rodríguez is a doctor because he sees this profession as his vocation.  "I have always liked the idea of being a doctor as far back as I can remember," he said.  His parents had very close friends that were doctors and when he was growing up.  He remembers looking up to them and wishing he could be like them one day.
Now as a practicing physician, he is very satisfied with this career.  "I love to visit with patients that I have been treating for close to 20 years and catching up on their families and lives."
As far as challenges, Dr. Rodriguez said that South Texas is unique if compared to the rest of the United States and this is due because many patients never get any medical attention until they reach Medicare age.  Then all of a sudden, they get coverage. He said that this in particular is challenging because doctors have to play catch up with their patients' medical needs.  "Obviously, it would be much better and less expensive to provide preventive health care for these folks rather than wait until they magically reach coverage," he stated.
Dr. Rodriguez told Mega Doctor News, that another very important aspect of his practice is to educate the public on how important a Colonoscopy screening is for the prevention of colorectal cancer. "I cannot emphasize enough the importance of getting screened for this deadly, but preventable disease," he emphasized.
The worst part of the whole procedure is the bowel preparation. He is very proud to have developed a much easier and better tasting alternative for preparing the bowel prior to a colonoscopy.
"My prep is now the preferred bowel prep for many practices.  It gives me a great sense of accomplishment that I am contributing to making this examination less problematic for many people," he stated.
Dr. Rodriguez and his son Nick are planning on expanding the product market in the next 12-18 months.
Dr. Rodriguez said, "I married my high school sweetheart, Debra Jean Culhan.  It has been the best decision of my life.  We have been married 31 years; it will be 32 years in July."
In addition he said, "We have three beautiful sons, Nick, Lucas and Andre.  I have the privilege of working with my oldest son Nick who after graduating with a business degree from Trinity University moved back to the RGV and worked with Frost Bank for about two years."
Nick became his practice administrator this past June.  Lucas graduated from Baylor University with a degree in biology and is now at Baylor Medical Center in Dallas working on a nursing degree.  Andre is studying at the University of Missouri.  He played baseball for the Tigers the past two years and this year, he has decided to concentrate on getting his business degree by next May.  "Debbie has been center of the family and she is the one who is responsible for all of our successes.  She is the glue that holds us all together," Dr. Rodriguez stated.
Dr. Rodriguez is very involved at Saint Paul's Catholic Church in Mission where he and his family attend.  "My son Nick and I have been on many retreats together and we even got to experience a retreat with Debbie a couple of summers ago."
He also stated that when in medical school in Puerto Rico, he would join with a team of other med students up into the mountains and work with very destitute people.  "One of my best memories was helping to dig a well with the villagers and helping to provide potable water for an entire community."
Many years ago he also went to Holland for a brief time in order to learn some Endoscopic Retrograde Cholangiopancreatogram (ERCP) techniques from a legend in the field. "It was an experience that I utilize almost every day," he said.
As far as hobbies he loves to get out in the brush or on the water.  "The "great outdoors" is a form of therapy for me," he said.  "I enjoy hunting, fishing, and hiking; south Texas is a sportsman's paradise and we are very fortunate to have the ability to go out there and enjoy it with our sons."
His plans for the immediate and long range future as his practice continues to grow is adding Dr. Valeska Balderas, this summer to the practice.  Dr. Balderas is a native of the Rio Grande Valley and will be returning home to practice gastroenterology with Dr. Rodriguez.
His primary practice address is: 801 East Nolana, Suite 4, McAllen, Texas (956) 686-2626; and fax number is (956) 686-1616;  and the weight loss clinic is at the Uptown Center; 4500 North 10th Street, McAllen, Texas (956) 627-4056.
His last comments were: "I love being a doctor, but I am fortunate to have God first in my life.  I try my best to have Him at the center of my world and that helps to put everything else into perspective," he finalized.
Written by: Roberto Hugo Gonzalez the 2009 SBA Journalist of the Year Award Winner & The 2009 and 2012 Paul Harris Award recipient.