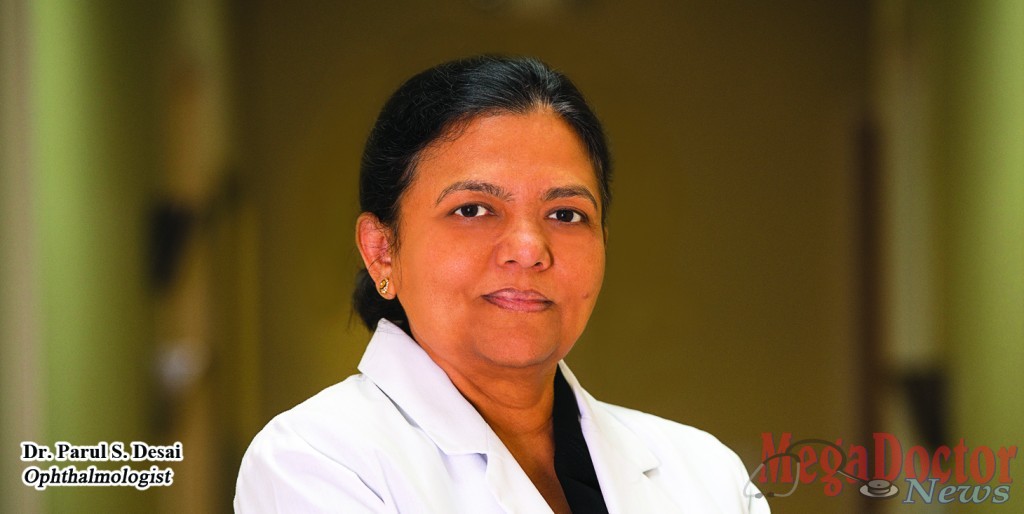 By Roberto Hugo Gonzalez
- Advertisement -

Mega Doctor News
As originally published by Mega Doctor News in its newsprint Edition
Dr. Parul S. Desai is a Board Certified Ophthalmologist practicing in the Rio Grande Valley with offices in Edinburg and Weslaco Texas. She told Mega Doctor News that early screening for Eye Disease is the best tool to avoid major problems of the eyes.
Dr. Desai graduated in 1984 from the Government Medical College Surat, South Gujarat University in Surat India. She also did her ophthalmology residency and fellowship in India and then retrained in ophthalmology specialty in the United States finishing her retinal fellowship here. Her practice specializes in diabetic eye problems, macular degeneration, retinal detachment, and glaucoma.
She has been serving the Rio Grande Valley since 2005 and the motto of her practice is, "We provide complete eye care and prevent vision loss in diabetic patients with retinal problems and glaucoma".
She was born in Surat in Gujarat state located in western India; Surat is the city where her parents still live.  Her father was a civil engineer with the Indian Railways and her mother a housewife. At the time of this interview, Dr. Desai's mother was visiting the Valley.
Dr. Desai came from India directly to New Jersey, and then a friend of the family invited her and her husband to come to the Valley and start a new medical practice. Dr. Desai told Mega Doctor News, "I was surprised about the pathology we found here in Rio Grande Valley; the area has the highest incidence of obesity along with abnormal Diabetes and Diabetic Eye Diseases, namely Retinopathy, Glaucoma, and Cataract."
- Advertisement -

She said that many people are going blind because of Diabetes, Glaucoma or even simple things like Cataracts because they don't have enough resources to pay for treatments and in many cases it is also because of the lack of education on health matters. Dr. Desai also stressed that screening is the best prevention tool available and people should be aware of it.
"Diabetes continues to be the number one cause for illnesses in this area including the leading cause of blindness." She continued, "If young people get screening for Diabetes as well as education on how to manage Diabetes it will be a great help because Diabetes is a disease of life style. Most of the time it is in the patient's hands to change their life style, but sadly people don't know exactly what lifestyle change they need.
Dr. Desai has been in this field for more than 20 years, and her goal has been to establish an eye institute where she can provide all these services under one roof. "In the near future when I get to build a center for eye care I will consider that my goal has been fulfilled," she said. "I am not there yet however I am moving in that direction so one day I can reach that goal."
Dr. Desai is known for having an analytical mind and she wanted to be a scientist or an engineer just like her father. She was a great candidate because she loves math and science. According to Dr. Desai, the field of ophthalmology requires strong physics and math skills. She visited many clinics in Europe and received training to help diabetic and retinal patients.
Her parents advised her that it would be more suitable for her as a girl to seek a career in medicine and not as an engineer who would have to be out in the field. Dr. Desai said that she also considered the fact that many people have eye problems and she decided to move towards ophthalmology. Her grandfather had lost his eyesight due to retinal detachment.
"I had always had the dream to own a clinic or an institute to serve the public but I would like to add that my grandfather suffered a retinal detachment and was not able to see well for the rest of his life. I know that he would have been more productive if his eyes could have been treated earlier. This inspired me to specialize in this field," Dr. Desai said.
We asked, did you have a mentor for this career?  "Not really but I had a good teacher who also inspired us to learn subjects in detail and encouraged us to do research and to find solutions for patients' illnesses," she replied.
Those who know Dr. Desai understand why she is passionate in her professional field. She gets deeply involved in anything she is doing analyzing the subject and facts in order to give her patients an intelligent opinion.
Dr. Desai believes that everybody works to live but if you love what you do then you really don't work. In addition she said that she would never trade her profession for another one. "If somebody tells me that I can work in a big institute where we can offer the best treatment for my patients then I can take it and I will consider it a step up," she said. How would you like to be remembered when you leave this earth? "If I can be remembered as a good parent and community worker then I will consider that my life was a success."
Dr. Desai is married to Dr. Satish Desai; he is an oncologist and they have two children. She said that ophthalmology is her hobby but spending time with her family and reading different magazines and periodicals is her stress reliever. She speaks Gujarati, Hindi, English, and medical Spanish.
Dr. Parul Desai did an internship at the Saint Barnabas Medical Center of New Jersey; a residency in internal medicine at Bronx VA Hospital of New Jersey; a fellowship at the Vitreoretinal Foundation in Memphis, Tennessee; and a residency in Ophthalmology at the Interfaith Medical Center in Brooklyn, New York. Dr. Desai is licensed to practice medicine in the states of New York, Tennessee, Mississippi, and Texas. For this training, Dr. Desai appreciates the help she received from her husband and her parents.
Her Practice Offers Outpatient Surgery, Laser Surgery, Intravitreal Injections, and Anti-VEGF treatments.
She is associated with the American Academy of Ophthalmology, American Medical Association, All India Ophthalmology Society and All India Glaucoma Society.
Dr. Parul Desai has been selected as the Mega Doctor of the month of December because of her passion for the field of Ophthalmology and her devotion to preserving and restoring the eyesight of her patients.
You may visit with Dr. Parul Desai at the Desai Eye Center / Mid Valley Retina Center located at 2609 West Trenton Road in Edinburg Texas, or make an appointment by calling (956) 686-9777 to take advantage of FREE screening for diabetic eye disease and glaucoma.  MDN
Written by Roberto Hugo Gonzalez the 2009 SBA Journalist of the Year Award Winner & The 2009 and 2012 Paul Harris Award recipient.