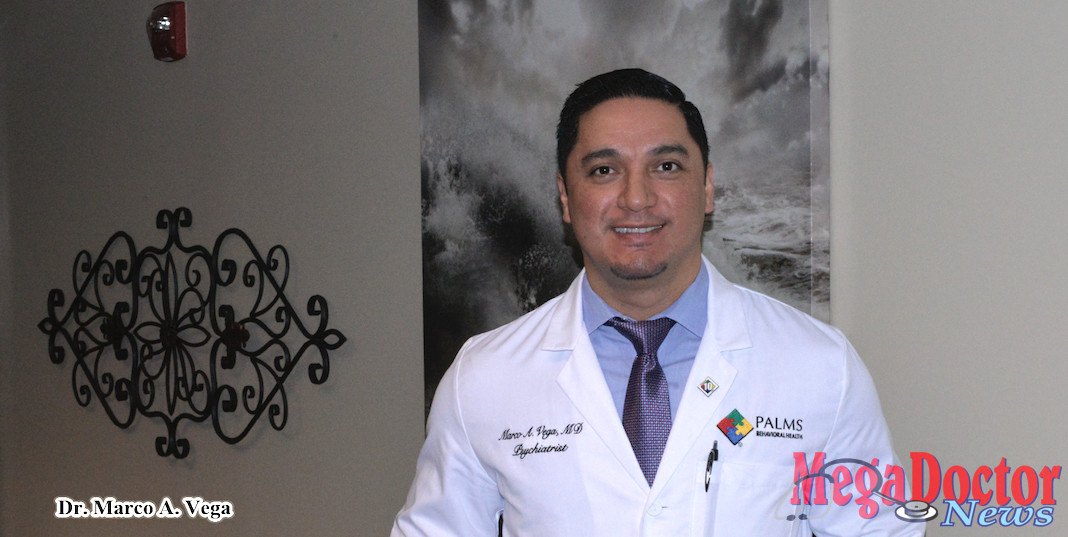 - Advertisement -

By Roberto Hugo Gonzalez,
As originally published by Mega Doctor News newsprint edition September 2016.
The recent opening of Palms Behavioral Health in Harlingen gave us an opportunity to meet Dr. Marco A. Vega. He is a psychiatrist board certified in psychiatry and neurology, and he is also the Medical Director for the mental health facility.
He is our Mega Doctor for the month of September 2016. His feature story will help give you a greater understanding of the emotions are human beings' warning systems. He told Mega Doctor News that Depression, Anger, and Anxiety are all normal human emotions.  At the same time, when those emotions become extreme, that can be a reliable indication that things are not going well.
This article, though, with general information, will give you an idea of how important it is to talk to someone that is trained to understand how you are feeling. He is indeed a valuable professional, in a field that is totally underserved.
Dr. Vega says that until a few years ago, people didn't discuss mental issues at all in private and much less in the open. "It's improving." He told Mega Doctor News, "In the short time that I've been practicing, I've seen it grow already, but it's still a struggle."
On another matter, don't forget that September is "Sepsis Awareness Month," and educational information is available at Harlingen Medical Center about this life-threatening condition which is relatively unknown — despite having killed millions of Americans, including several famous celebrities.
- Advertisement -

Just in case you have not heard, Doctors Hospital at Renaissance Cancer Center has been providing state-of-the-art care, services, and technology since it opened its doors in 2007. The addition of a new Varian TrueBeam™ with Edge™ linear accelerator, is an upgrade to the current equipment that will provide cutting-edge treatments with the highest technology for cancer patients in the Rio Grande Valley.  With this advanced technology, members of our community who have been diagnosed with certain tumors can receive highly specialized cancer treatment close to home.
Congratulations to Dorinda Rodriguez, OTR, CHT, who recently earned a doctorate in occupational therapy from Rocky Mountain University of Health Professionals in Provo, Utah.  Read more inside this issue.
The University of Texas Rio Grande Valley is teaming up with a host of community groups, county, state and local health agencies, local governments and other partners to offer health care and education to Starr County residents on September 28, 2016.
In the dental field, Hewitt Dental RGV Branch sponsored a Continuing Education event for dentists and dental assistants, led by Jackie Flores, a Dental Sales Consultant. The event was successful bringing in more participants than anticipated. The course took place at The College of Healthcare Professions facility, which opened at the end of last year.
A big applause for IBC. McAllen resident Andrea Sierra Salazar, 17, was the star of last Thursday's IBC Bank-McAllen style show, benefiting The University of Texas MD Anderson Cancer Center. Salazar is a local model who has cancer. Her popularity soared after she recently posted a tweet of a photo shoot where she sported a gorgeous gown and a bald head. She tweeted: "Cancer doesn't stop me from being a princess." Give Cancer the Boot was a western-themed style show and luncheon to raise funds for the MD Anderson Cancer Center.
This is another special edition, I know you will enjoy! MDN
Related articles:
"Depression, Anger, Anxiety – Those Are All Normal Human Emotions" – Dr. Marco A. Vega
New Technology to Fight Cancer Now Available at DHR Cancer Center
Edinburg Native, Dorinda Rodriguez Earns Doctorate in Occupational Therapy
IBC Bank-McAllen features Celebrity Model Andrea Salazar at Style Show/Luncheon to Benefit MD Anderson