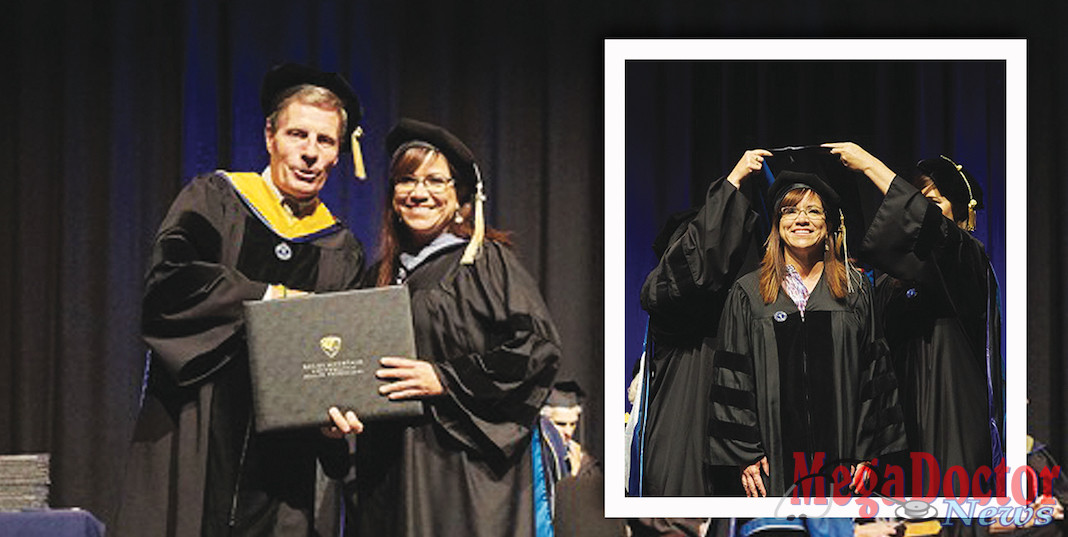 Mega Doctor News – 
By Christine Ardis,
Edinburg native Dorinda Rodriguez, OTR, CHT, recently earned a doctorate in occupational therapy from Rocky Mountain University of Health Professionals in Provo, Utah.
Rodriguez earned a bachelor of science in occupational therapy from the University of Texas Health Science Center in San Antonio in 1996. Two years later, she graduated from the Hand Therapy Fellowship Program through Texas Woman's University and the Hand and Upper Extremity Institute of the Baylor College of Medicine.  In 2001, Rodriguez became a certified hand therapist.
A Certified Hand Therapist (CHT) is an occupational therapist or physical therapist who has a minimum of five years of clinical experience, including 4,000 hours or more in direct practice in hand therapy. In addition, the Certified Hand Therapist has successfully passed a rigorous exam covering advanced clinical skills and theory in upper quarter rehabilitation.
Hand therapy is the art and science of rehabilitation of the upper limb, which includes the hand, wrist, elbow, and shoulder girdle. It is a merging of occupational and physical therapy theory and practice, combining comprehensive knowledge of the structure of the upper limb with function and activity. Using specialized skills in assessment, planning, and treatment, hand therapists provide therapeutic interventions to prevent dysfunction, restore function, and/or reverse the progression of pathology of the upper limb in order to enhance an individual's ability to execute tasks and to participate fully in life situations.
Rodriguez has over 19 years of experience in the treatment of upper extremity musculoskeletal conditions and has owned a private practice in the Rio Grande Valley since 2000.  She currently owns and treats patients at RGV Hand Therapy Center in Edinburg.
The Doctor of Occupational Therapy Program (OTD) at Rocky Mountain University of Health Professionals is designed to teach evidence-based practice, leadership, and professional development to occupational therapists, inspiring them to become practice-scholars and leaders in health and human services.  The program is also committed to the development of occupational therapists who will integrate clinical expertise, the best evidence available from research, and the values and preferences of their patients in order to make the best healthcare decisions.
Rodriguez's capstone project, The Occupational Therapist's Role in Hand Therapy: A Collaborative Approach to Health Care Success, utilized evidenced-based research to support an inter-professional course designed to educate future healthcare professionals about the occupational therapist's role in hand therapy.  This course also provides clinically relevant and evidence-based therapeutic interventions for common upper extremity musculoskeletal conditions, thus improving the efficiency and effectiveness of the occupational therapist's treatment approach.  A clear understanding of all of the aspects of hand therapy will improve collaboration among healthcare providers, resulting in more successful functional outcomes for patients here in the Rio Grande Valley.
For more information or to speak with Dorinda Rodriguez, please call 956-661-9490. MDN