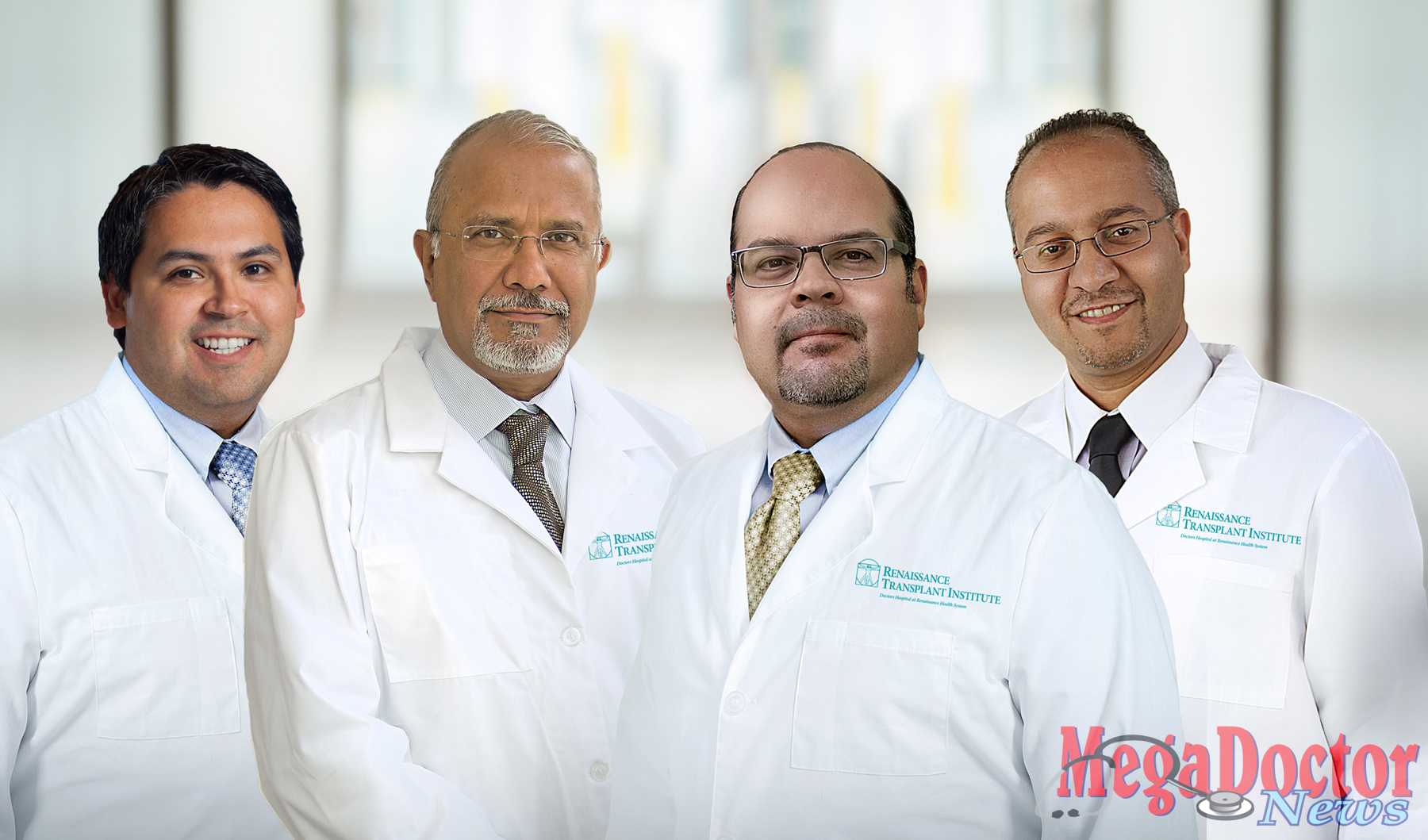 - Advertisement -

By Roberto Hugo Gonzalez
As originally published by Mega Doctor News in its newsprint edition April 2017
It is refreshing and promising to know that kidney transplants have been reestablished successfully in South Texas. Hundreds of patients need the lifesaving transplant service. What this means, is that they don't have to travel outside the Valley; the patient and family can opt to stay.
Doctors Hospital at Renaissance Health System is committed to provide this outstanding service which is only available in some of the large metropolitan areas of Texas and the nation.
DHR has put together a strong team of surgeons, physicians and support staff to provide a service that was no longer available locally. This month, DHR, celebrated its first kidney transplant surgery during the National Donate Life month, inviting the public and dozens of professionals to participate.
The team of DHR Physicians that cared for the hospital's first transplant recipient and donor are: Dr. Gaudencio Olgin, Urologist; Dr. Philip Thomas, Transplant Surgeon; Dr. Jose Almeda, Transplant Director; and Dr. Mourad Alsabbagh, Kidney Transplant Medical Director.
In this issue, learn more about this kidney transplantation service and help promote organ donation to save lives.
On another note: Doctors are diagnosing more throat cancers caused by the human papillomavirus (HPV). HPV also causes other cancers, but throat cancer is quickly becoming the most common. This article is a must to read to help you protect yourself and family.
- Advertisement -

Good news: Congratulations! Dr. Alejandro Bocanegra, a second-year resident in the Family Medicine residency program at Doctors Hospital at Renaissance, has been named 2017 Resident of the Year by the National Hispanic Medical Association.
Different but effective: A conference for Valley physicians, pharmacists, physician assistants, nurse practitioners, medical students and other health professionals will celebrate its 25th anniversary April 28-29 on South Padre Island featuring a nationally-known speaker / comedian / rapper from Las Vegas known as "Dr. Z-Dogg".
More medical students: The RGV School of Medicine gave prospective students who have been accepted for its second cohort a chance to take another close look at its campuses.
During the SOM's Welcome Back – Class of 2021 event, held April 8 and 9 at locations across the Valley, 31 of the 50 applicants accepted visited UTRGV's Clinical Education Building in Harlingen and its Medical Education Building in Edinburg.
STC students in psychology conference: Five psychology major students within the Department of Psychological Science at South Texas College made the trip to San Antonio. They went to take part in a prestigious conference held by the Southwestern Psychological Association (SWPA) on April 1.
One of 100 Influential people: The American Occupational Therapy Association, Inc. (AOTA) has named Dr. Shirley Wells, chair and associate professor in the Department of Occupational Therapy at The University of Texas Rio Grande Valley, as one of the 100 Influential People In Occupational Therapy.
Medical Alert: Traces of lead and other heavy metals possibly causing Chronic Kidney Failure continues to be diagnosed among residents of the municipality of Poncitlán, Jalisco in Mexico. More commonly associated with advanced age, diabetes and hypertension, kidney failure has been affecting patients aged between five and 20 in Poncitlán located near the Santiago River and 10 kilometers from Lake Chapala.
A team of specialists from the University of Guadalajara, the National Institute of Public Health, the medical laboratory Grupo Pisa and other institutions responded when the Civil Hospital of Guadalajara started reporting an increase in cases of kidney failure in young patients.
The nephrologist Karina Renoirte López, stated that 40% of the inhabitants of Poncitlán presented some level of kidney failure and traces of lead and other heavy metals. The symptoms were more prevalent among young, male farm workers. The specialists began doing field research in the area two years ago.
There is more in this issue, enjoy! MDN