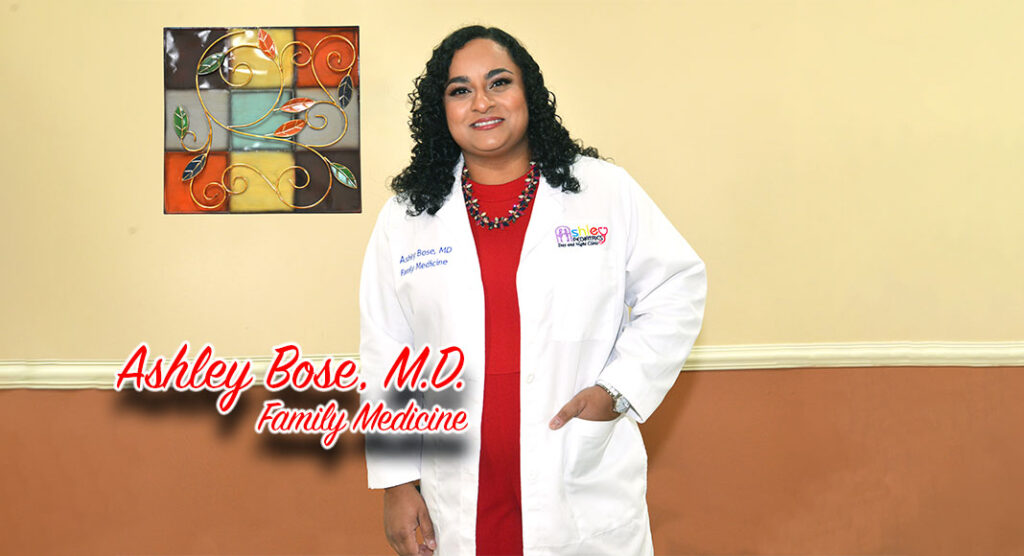 Mega Doctor News
When students return to serve as professionals in the Valley, it is a blessing. That is the case of family medicine doctor Ashley Bose, M.D., who after graduating from Baylor University in Houston Texas and working for a large medical institution decided to return to the Valley.
Dr. Ashley spent nine years in Houston before moving back. Once here, she began working as the Medical Director of Ashley Pediatrics which has been caring for the children of the Valley since 2003. Additionally, she oversees the Industrial Health Works family medicine clinic which cares for adults with chronic and acute conditions as well as work related injuries and physicals.
Dr. Ashley's field is unlike other specialties limited to a particular disease. Family medicine physicians are trained to treat most ailments and provide comprehensive health care for people of all ages — from newborns to seniors. Learn more about her activities as a physician and about her hobbies in this issue.
On another note, DHR Health opened the doors to 177 high school students from all over the Rio Grande Valley and Laredo to be part of the Junior Clinical Research Internship Program in its second year. It was truly an event without precedent.
Dr. Sohail Rao, MD, FACS, FASMBS, Chief Executive Officer, DHR Health, stood at the podium welcoming the students. He said, "I had the pleasure to work alongside you during your internship journey."
The idea of the program is for students to learn and forge their future in healthcare. It was said there is hope that these students would one day return to DHR Health as doctors, nurses, therapists, or researchers. "The possibilities are endless," Dr. Rao said. Read the complete story inside.
Great news, as Valley Regional Medical Center has received the American Heart Association's Gold Plus Get With The Guidelines® – Stroke quality achievement award for its commitment to ensuring stroke patients receive the most appropriate treatment according to nationally recognized, research-based guidelines, ultimately leading to more lives saved and reduced disability.
Stroke is the No. 5 cause of death and a leading cause of disability in the U.S. Learn more about this story inside.
An important note, Dr. Purva Grover, MD, emergency medicine physician for Cleveland Clinic Children's, is reminding parents about the dangers of leaving their child in a hot car. It may sound like common sense, but every year multiple deaths are reported.
"One would think, how does that happen? but it happens."
And it's not just outside temperatures that are the concern. Even on a 70-degree day, the inside of a car can reach more than 115 degrees.
To help prevent such a tragic accident, she recommends leaving something like your purse, or cellphone in the backseat. It's something you immediately need when you get out of your vehicle, you'll be more inclined to not forget to look in the back seat. Also, keep your car locked; many children will climb inside to play and get trapped inside where temperatures can become deadly. Read more details inside.
Enjoy!