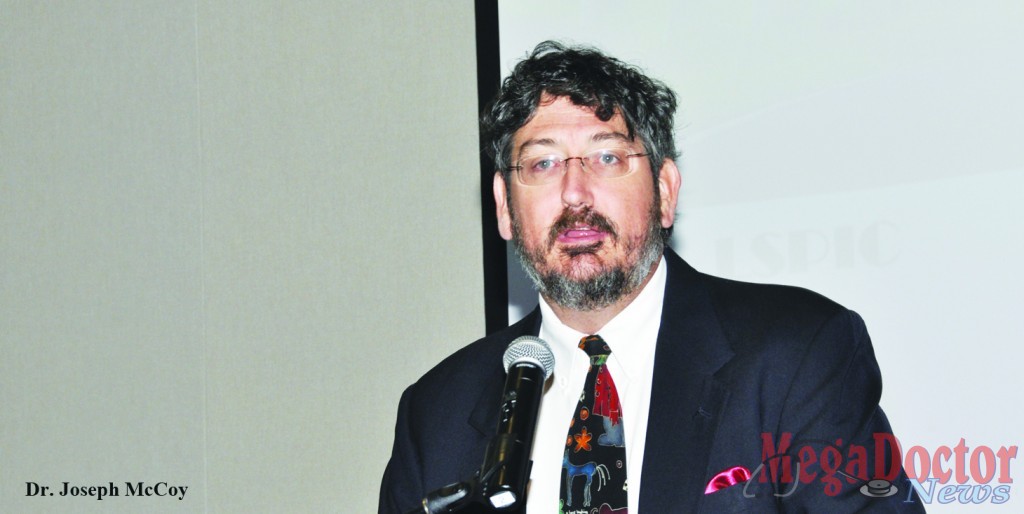 Dr. Joseph McCoy: "The Valley is short by 110 psychologists"
By Roberto Hugo Gonzalez
As originally First published by Mega Doctor News newsprint edition on July 2013
The tremendous growth that the Rio Grande Valley has had during the last 10 years and the influence of Mexico has transformed the region and created numerous opportunities in many fields. But at the same time it has created needs of every kind.
One field that is feeling the pinch is psychology. The current number of professionals that serve the Rio Grande Valley in this field is approximately 30 and the population has skyrocketed over a million people.
One professional in this field that has voiced the need is Dr. Joseph McCoy, a Licensed Psychologist in private practice with Valley Psychological Services, P.C. in Edinburg, Texas.
He spoke on behalf of Lone Star Psychology Residency Consortium, during an event at Doctors Hospital at Renaissance to welcome a grant.
During the event, Dr. Octavio Martinez, Jr. the Executive Director of the Hogg foundation mentioned that there is only 30 licensed psychologists in the Valley which has registered an estimated population of over 1.4 million people. He said that that was a tremendous growth and that with growth there are needs.
On that some note, Dr. McCoy said that in order to be a healthy community in this field, one psychologist is needed for every 10,000 people, so the need is approximately 110 psychologists. "We all know that we serve a community larger than 1.4 million people because there is not a black hole on the other side of the river," Dr. McCoy said.
The Role of Psychology is very important, with appropriate training; psychologists are particularly suited to carry out clinical roles in assessment, intervention, advocacy, and interdisciplinary service delivery.
Assessment at the end of life includes several areas such as evaluation of mood and anxiety disorders, pain, family and caregiver interactions, psychological and cognitive functioning, and existential concerns.
Psychologists are also well prepared to plan and implement interventions with individuals, family members, and providers. They can treat clinical depression if and when it arises in end-of-life contexts, as well as other mental health problems.
They can also serve as advocates for good medical care along with other professionals (i.e., nurses, social workers, and chaplains).
"Dr. Joseph McCoy is one of those professionals very dedicated to his profession," Dr. Carlos Cardenas said about him, "Dr. McCoy has worked very hard to bring young people into the field of psychiatry and psychology and he is a tireless advocate."
Dr. McCoy was clear to stress the need of more professional in this field and said, "I am very excited about this, the Hogg Foundation is an awesome instrument for good in the great state of Texas, I have been involved with them before and I also have been involved with DHR for a long time," Dr. McCoy said.
Dr. McCoy was referring to a grant that the Hogg Foundation had delivered in order to help professionals in the field of phycology.
He pointed out that he is very thankful to Doctors Hospital at Renaissance that has always supported his efforts and Dr. Cynthia Gonzalez' efforts. Those efforts are to train early career professionals in psychology to help them get their training on their way to be licensed and to increase the number of psychologists available in the Rio Grande Valley.
Dr. McCoy offers services in the following areas: Attention Deficit Hyperactivity Disorder (ADHD); Anxiety; Bipolar Disorder; Depression; Geriatrics; Grief and Loss; Neuropsychological Testing; Pain; Panic; Parenting Skills; Phobias; Physical Abuse; Post Traumatic Stress; Psychological Testing; Sexual Abuse Survivors; Sleep Disorders; and Spiritual Issues. MDN