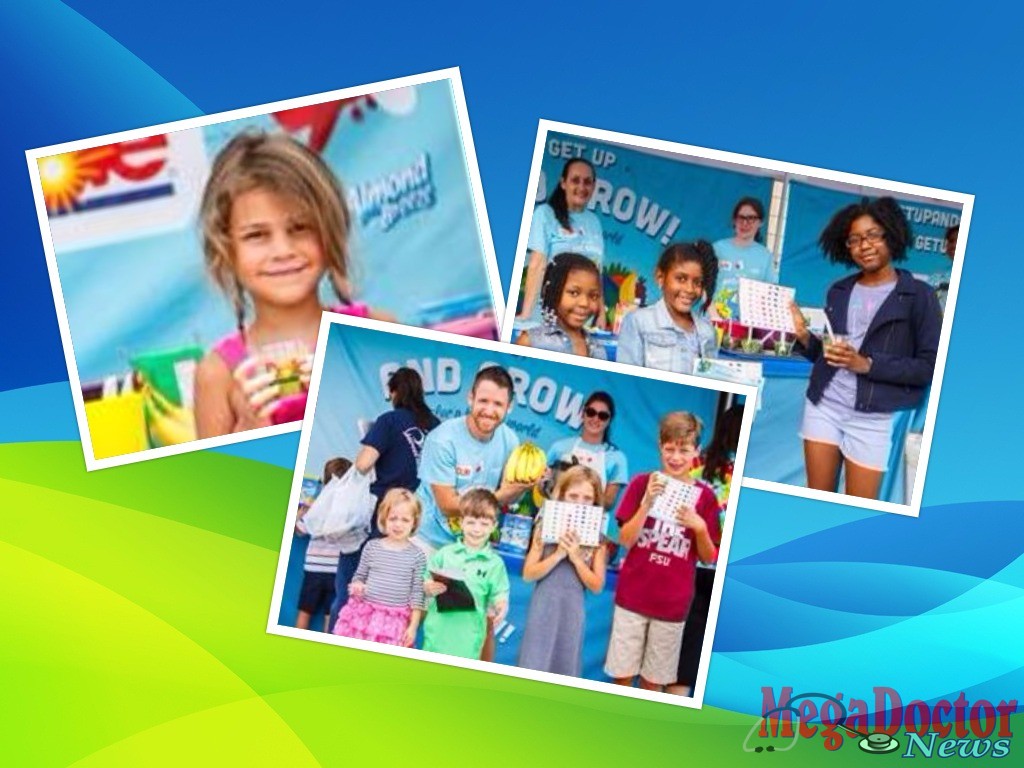 Pharr Tour visitors can enter the Healthy Living Challenge for a little friendly team competition and a chance to win awards
Mega Doctor News – 
Pharr, Texas (June 2016) — It turns out the Rio Grande Valley Vipers aren't the only local team working toward a common goal this summer.
There are also families, clubs, companies and congregations all across Pharr that are looking for ways to eat and live healthier – plus countless other groups of like-minded health and wellness seekers in offices, schools, universities, places of worship, nonprofits and other organizations throughout Pharr.
A community approach to healthy eating and living will be the focus when the Get Up and Grow! Together Tour visits Pharr June 11-12, 2016, as part of a coast-to-coast, 42-city expedition by Dole to promote summer nutrition and a diet rich in fresh fruits and vegetables.
One of three brightly colored Get Up and Grow! Together Tour caravans will stop at supermarkets and public events throughout the Pharr area, offering free produce-filled recipe samples, recipe booklets and other giveaways, an interactive Kid's Corner, and fruit and veggie-themed photo-sharing opportunities – all to showcase the fun, flavor and health benefits of a plant-based diet.
The Get Up and Grow! Together Tour will make three (3) free, public stops in and around Pharr June 11-12. For the continually updated Tour schedule, go to www.Dole.com/GetUpandGrow.
A highlight of each Tour stop is the Healthy Living Challenge Kiosk which gives visitors an interactive opportunity to create and submit their own customized online Healthy Living Challenge to eat and live healthier. By very popular demand, Dole has added an exciting new group option to last year's individual pledge program that encourages participants to build teams of fellow health, fitness and wellness seekers.
Team leaders can recruit their friends, family and co-workers to join their team, and then use the onsite leaderboard to track the progress of their group against others across the country, earning points for each new team member added or Healthy Living Challenge-related share on social media.
The team leader with the most points at the end of each contest wins a unique and fun, healthy-eating celebration for up to 40 people, while all Healthy Living Challenge participants are eligible to receive a gourmet-caliber culinary experience for eight people. The group events are personally hosted by Dole's world-class chefs and culinary experts. For Healthy Living Challenge rules and other details, go to www.Dole.com/GetUpandGrow.
"We learned during last year's Tour that the idea of camaraderie and competition has even impacted healthy eating and goal-setting," says CarrieAnn Arias, VP of marketing of Dole Fresh Vegetables. "So, like fantasy sports, this year's refreshed effort allows participants to form healthy-living teams committed to similar wellness goals, complete with updates and leaderboards – and then offers culinary-immersion and other group experiences to reward those teams that rise to the top."
The Get Up and Grow! Together Tour is part of a multiyear healthy-living initiative sponsored by Dole Fresh Fruit of Westlake Village, Calif., Dole Fresh Vegetables of Monterey, Calif., and the Kannapolis, N.C.-based Dole Nutrition Institute (DNI) , which includes Dole's newly formed Culinary Nutrition department that blends scientific findings with culinary arts to motivate consumers to cook healthy meals with fresh fruits and vegetables.
The Get Up and Grow! Together Tour, the highlight of the multiyear initiative, set off from New York City, Dallas and New Orleans on May 26, which Dole last year proclaimed National Eat More Fruits and Vegetables Day, to deliver a message of simple, delicious nutrition to 42 cities in 26 U.S. states. A full Tour schedule is available at www.dole.com/GetUpandGrow.
"As the world's largest producer of fresh fruits and vegetables, we believe we have an obligation to make healthy eating as easy, delicious – and even as fun – as we can," explained Bil Goldfield, director of communications for the Dole Food Company. "So, in addition to the recipes, health advice and free giveaways, we're offering groups of fellow health seekers the chance to compete against each other in a little friendly team competition. Now, for the first time, friends, family and work associates can start building their healthy-living dream teams right at the Tour stop in their local supermarket parking lot."
The new recipes available for onsite tasting range from the Pine-Berry Spice Punch, Refresh and Café Banana Frappé to the Blazin' Fruit Salad, Brussels Sprouts & Grilled Pineapple Salad, Broccoli & Fruit Slaw, Salad Sipper and Red, White & Berry Salad. These and other recipes are featured in the Get Up and Grow! Together recipe books being distributed at every Tour stop.
Visitors at each Get Up and Grow! Tour stop can also present a grocery receipt showing a qualifying purchase of DOLE® fresh produce to receive a complimentary gift such as a Get Up and Grow! T-shirt, portion-plate or other limited-edition, branded item.
Dole will educate registered dietitians (RDs), supermarket nutritionists, food bloggers and other influencers about fresh fruits and vegetables through media appearances, tastings and produce industry events.
The initiative is also being supported by PR and social media programs designed to educate the public about the extraordinary health, taste and conveniences of fresh produce, and to drive consumers into participating supermarkets along the four-month Tour route.
For more information on Get Up and Grow! Together, including recipes, the latest produce-based research and the Get Up and Grow! Together Tour, and to take the Healthy Living Challenge, go to www.dole.com/GetUpandGrow. For details on specific DOLE® fresh fruits and vegetables, go to www.dole.com.
You can also follow the latest Get Up and Grow! Together developments on Facebook at www.facebook.com/Dole, and by using @DoleTweets on Twitter, @DolePins on Pinterest, and @DolePics on Instagram.
About Dole Food Company, Inc.
Dole Food Company is one of the world's largest producers and marketers of high-quality fresh fruit and fresh vegetables. Dole is an industry leader in many of the products it sells, as well as in nutrition education and research. For more information, please visit www.dole.com.