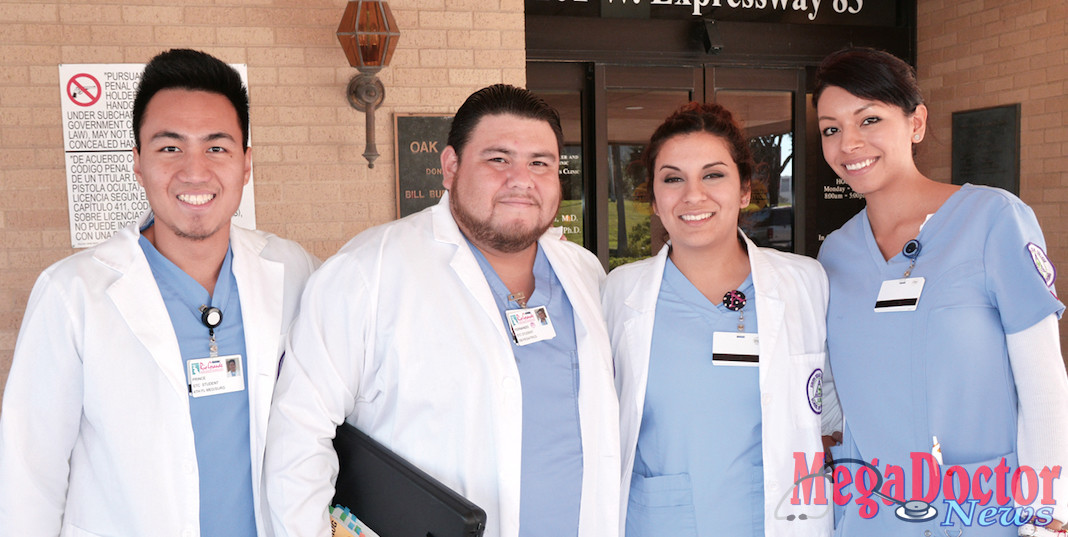 By Roberto Hugo Gonzalez
- Advertisement -

As originally published by Mega Doctor News in its newsprint edition February 2017.
Mega Doctor News had just finished covering an event at the Vannie E. Cook Jr. Children's Cancer and Hematology Clinic, when I encountered a group of students of the South Texas College school of nursing. I had the pleasure of talking with them for a few minutes, so this is your chance to meet them.
Shown in the photo from left to right are: Prince Manigos, he is a nursing student at STC in 3rd semester. He told Mega Doctor News that he is looking to graduate as a nurse because it is a rewarding job and there is a high demand in this profession. Prince used to live in Colorado and moved to McAllen where he has lived for the last three years.
Next, Fernando Gomez from McAllen, also a South Texas College nursing student who is in his third semester. He has plans to graduate in May 2017. Is this something that you always wanted to do, become a nurse? "Well I've always wanted to be part of the medical field, and I think nursing is an excellent component of the medical field."
Next is Nancy Alejandra Garza; she is from Mission, Texas. What inspired you to become a nurse? "I always liked science so I already have a Bachelor in Science but most of the jobs required a Masters. When I was looking at the Master program, it was the same length as the Nursing program. I had always intended to go into health care, so I thought, well, it is the same amount of time for something that was directly related to what I wanted to do, so that's why I came into nursing."
Do you enjoy it? "Yes, I do, I am in my 3rd semester."
The fourth student from South Texas College is Anahi Garibay. She is also planning to become a nurse once she finishes in May 2017. What is so exciting about becoming a nurse? "I like to see different things and work with people. I want to make a difference."
- Advertisement -

Why nursing? "I have always liked Biology and dealing with people, so I mixed those two together, and that's why I decided to become a nurse." Anahi is from Mission Texas, and she has a message for our readers, "Anybody can do it if they just put their mind to it. They can become doctors or nurses. Don't think twice about it, just do it."
It is important to note that the South Texas College Division of Nursing and Allied Health programs combine the highest quality instruction with clinical experience in both hospital and community settings.
Registered nurses make up the majority of workers in health care and are one of the fastest-growing fields. Being a registered nurse can be challenging, exciting and rewarding. MDN