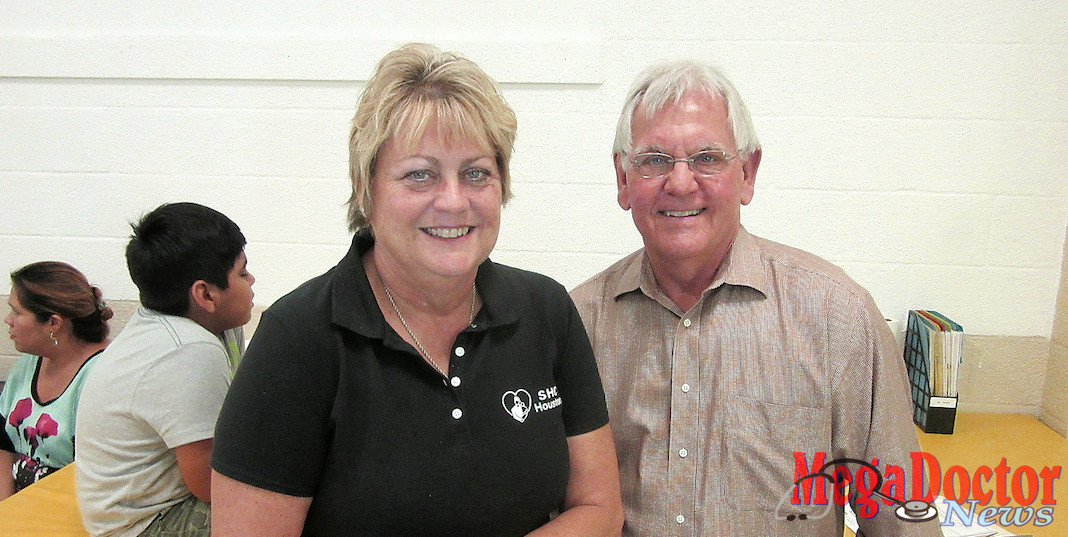 "RGV Shrine Club Opens Its Doors"
- Advertisement -

By William Keltner
As originally published by Mega Doctor News in its newsprint edition February 2017.
La Feria's Shriners Club provided facilities for needy children from both sides of the border last month as caring doctors from the Shriners Hospital for Children in Houston gave preliminary evaluations for later treatment to literally busloads of hopeful children and their families.
The familiar Shriner's Club building located just east on Highway 83 in La Feria took on the look of a huge doctor's office as a staff of 17 volunteer doctors and nurses from the Houston hospital met and worked with approximately two hundred crippled youngsters who came for clinical evaluation of their condition.  They came in from Texas and the interior of Mexico—all as guests of the Rio Grande Shriners.
Gordon Millis III, President of the local Shrine Club said, "for many, this will be the first step on their way to free treatment at the world-famous Shriner's Hospital in Houston."  He added, "Shriners in Mexico and the United States will pick up all the expenses."
Dedicated Al Amin Shriners from Corpus Christi and Monterrey, Mexico teamed up with Rio Grande Valley members for the event.  This major clinic event explains all those cars and rows of busses you saw last month in front of the La Feria Shrine Club as you passed by. The doctors and their support staff were evaluating each child, case by case.  The facility was filled with hopeful young people– many in wheelchairs; others on crutches; some were carried inside.  Some needed major orthopedic work.  Others were scheduled for rehabilitation and prosthetic care.
The Chief of Staff of the Houston Shriners Hospital for Children, Dr. Doug Barnes, was on hand to personally direct the process of helping these children find a better life through the care that only this world-famous hospital can offer.  The international fraternal organization of Shriners took on this mission of helping crippled, disfigured and burned children as their organizational challenge some 75 years ago, and the "need just keeps on coming."
Cathy Moniaci, Shriner Hospital Administrator, said it was more difficult this year to get their patients and families across the border.  The inspection stations on both sides have tightened security and visa and passport requirements.  "For the first time, we had to get visas for all the patients from the interior of Mexico," she said.  "Some couldn't make it," she added.
- Advertisement -

Wesley Wright of Weslaco is the Transportation Coordinator for the Al Amin Shrine Center.  He reported that so far this year volunteer drivers have made 59 trips to clinics and Houston treatments centers, conveying 403 patients to clinics and treatment centers, for a total of 1110 man/hours.  All gas and hotel expenses are paid for by the Shrine members themselves.
The Rio Grande Valley Shriners said they are pleased to be able to provide this convenient space for the clinic.  "It is more efficient to bring doctors down here than to send hundreds of patients to Houston for their evaluations," the president said, adding, "we look forward to their next visit in a few months. For the members, it is hard to put into words the satisfaction we feel after each major clinic like this one.  We know it offers a new life to another child who would otherwise have a bleak future.   It's a work of love."
Anyone interested in learning more about the charitable work of the Rio Grande Shriners can contact members at the Shriners Clubs in McAllen and La Feria. MDN