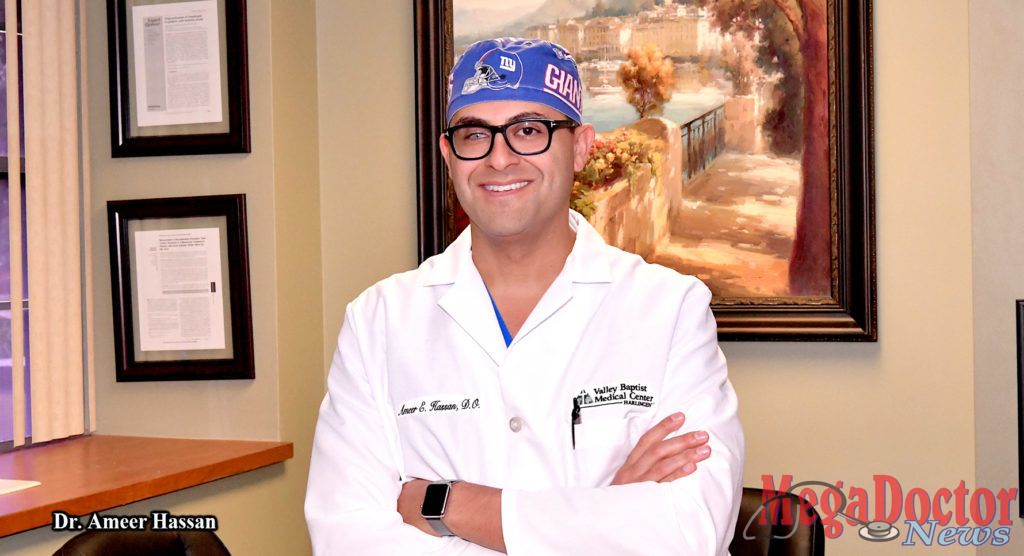 Mega Doctor NEWS
Harlingen – From self-driving cars to millions of Web searches every day, artificial intelligence is used in countless applications in everyday life. Now, Valley Baptist Medical Center-Harlingen is the first facility in Texas to bring the power of a specific type of artificial intelligence to stroke care.
The artificial intelligence, developed by Viz.ai, has been in use at Valley Baptist-Harlingen since November of 2018, said Dr. Ameer Hassan, DO, FAHA, FSVIN, head of the neuroscience department, director of endovascular surgical neuroradiology, and director of clinical neuroscience research at Valley Baptist Medical Center-Harlingen.
Hassan said recent breakthroughs in stroke research-led Valley Baptist to find ways that it could streamline and enhance the stroke care it provides to the community. One such breakthrough was tied to a 2017 stroke study titled DAWN. The study, which was published in The New England Journal of Medicine and in which Valley Baptist served as a research site, indicated that some stroke patients could benefit from treatment up to 24 hours after suffering their stroke.
"The extended treatment window from six hours to as long as 24 hours encouraged Valley Baptist to examine the benefits of using artificial intelligence to help treat patients," Hassan said.
"Artificial intelligence feels like it is two steps ahead of the game and has really played an important role in triaging some of the most complicated strokes we care for at Valley Baptist," he said.
When a patient who is suspected of having a stroke arrives at Valley Baptist-Harlingen, within minutes they receive a battery of tests to determine the severity of any potential stroke. These tests include a full array of images taken of the patient's brain as well as the blood vessels leading to the brain. Some patients also receive CT perfusion imaging, which shows physicians detailed information on blood flow being received by different areas of the brain and which parts are potentially salvageable.
The artificial intelligence is used to analyze these imaging results, alerting physicians and healthcare providers when it discovers abnormalities, which in turn significantly improves treatment times through earlier diagnosis, Hassan said.
"The artificial intelligence system analyzes the CT angiogram for a large vessel occlusion, then pushes an alert to all team members phones when it detects one," Hassan said. "The use of artificial intelligence has improved our treatment times, and we all know that 'time is brain' in relation to dealing with stroke because 1.9 million neurons die every minute a stroke is untreated."
"Large vessel occlusions are strokes that are caused by a blockage of one of the major arteries of the brain. These strokes make up approximately 20 percent of all strokes," Hassan said, but carry with them a higher risk of long-term disability or death than other types of stroke.
"Valley Baptist is the first health system in Texas and the only one in the Valley using artificial intelligence to improve stroke treatment," he said. "The goal is to send more of our stroke patients, home with fewer deficits than ever."
The use of artificial intelligence is justthe latest advancement in theValley Baptist Health System's quest to provide the community with high-quality stroke care. Valley Baptist Medical Center-Harlingen became the region's first certified Comprehensive Stroke Center in 2016. In addition to participating in the DAWN study, Valley Baptist also played a role in the SWIFT PRIME trials, which proved the benefits of endovascular treatment of stroke.