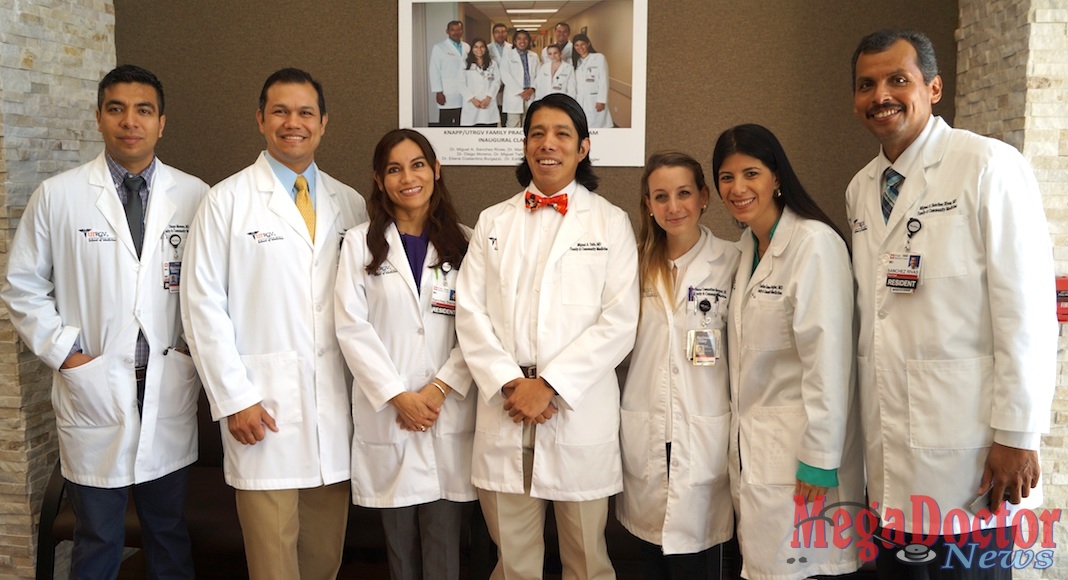 Controlling high blood pressure to be addressed December 6, 2018, in Mercedes
Mega Doctor News
Mercedes, Texas – Family practice physicians and residents at the Knapp / UTRGV Family Health Center in Mercedes have been helping educate the community about important health topics through informative and interesting "Doc Talks" that are being held at the spacious new clinic as well as at schools and other locations in the Mid-Valley.
The next free "Doc Talk" –on controlling high blood pressure –will be held on Thursday, December 6 at 6 p.m. at the clinic, located off Expressway 83 between Mercedes and Weslaco (at the N. Mile 2 West Rd. exit, across from Med High and Science Academy).  The speaker will be Dr. Marita del Pilar Sanchez Sierra Marino, a second-year resident at the family practice residency program.
Preventive medicine is also a service provided by the family medicine physicians, and that will be the topic of an upcoming "Senior Health Talk" by Dr. Miguel Tello, Associate Program Director for the Knapp / UTRGV Family Health Center.  Dr. Tello's talk is scheduled for a luncheon on March 26, 2019, at 12:30 p.m. at KMC Conference Center, a free-standing two-story building on the west side of Knapp Medical Center, 1408 E. 8th Street in Weslaco.
Additional talks have included preventing diabetes, always a crucial topic for the Valley, which was presented by Dr. Gerardo Munoz Monaco, medical director at the Family Health Center in Mercedes and Assistant Professor of Family and Community Medicine for the UTRGV School of Medicine.
In addition, Dr. Diego Moreno, a second-year resident in Mercedes, spoke on controlling cholesterol, while Dr.Eddy E. Bergès, also a second-year resident, spoke on obesity and controlling weight.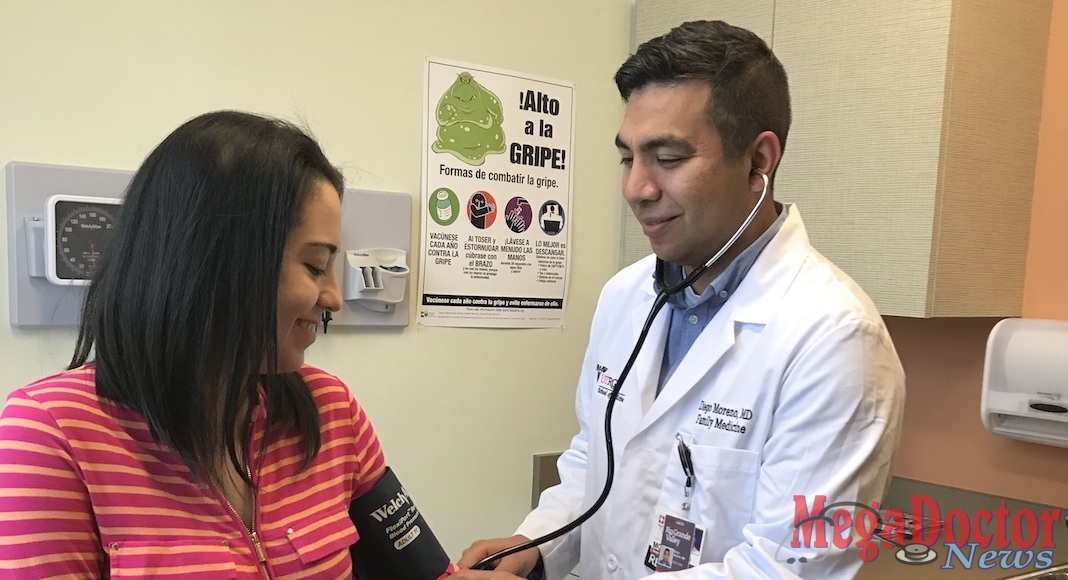 "Risk factors to become obese start with the imbalance between calories consumed and calories expended," Dr. Bergès explained during his talk.  "Most obese patients will have a diet which is high in fat and refined sugars and will have larger meals.  Another factor that increases our risk is sleep deprivation and a sedentary life."
Efforts to control weight begin with a diet with healthier foods, such as green vegetables. Dr. Bergèssaid an improved diet can also include beans, fruits and berries, and fish.
In addition, Dr. Bergèssuggested foods with a healthy type of fat, monounsaturated fatty acids (MUFAs) – such as olive oil and almonds, pecans, and other nuts – in place of saturated fats.
Dr. Bergèsalso recommended drinking water while avoiding sodas. He also suggested exercise five to six times per week.
The Knapp / UTRGV Family Health Center in Mercedes can help patients with weight loss as well as management of diabetes, high blood pressure, high cholesterol, and other conditions. The center treats patients of all ages, including adults, senior adults, and children. The clinic is open Monday through Friday from 8 a.m. to 5 p.m. and accepts walk-in patients as well as those with appointments.
Mid-Valley residents who have attended the health talks say they were very thought-provoking and well-researched.  The talks are free and open to the public and include a drawing for door prizes.
For more information on the clinic or on upcoming health talks, please contact Alexa Smith or Rosalinda Ramirez at the Knapp / UTRGV Family Health Center in Mercedes at 956-973-3531 (e-mail Alexandra.Smith@utrgv.eduor rramirez13@primehealthcare.com).