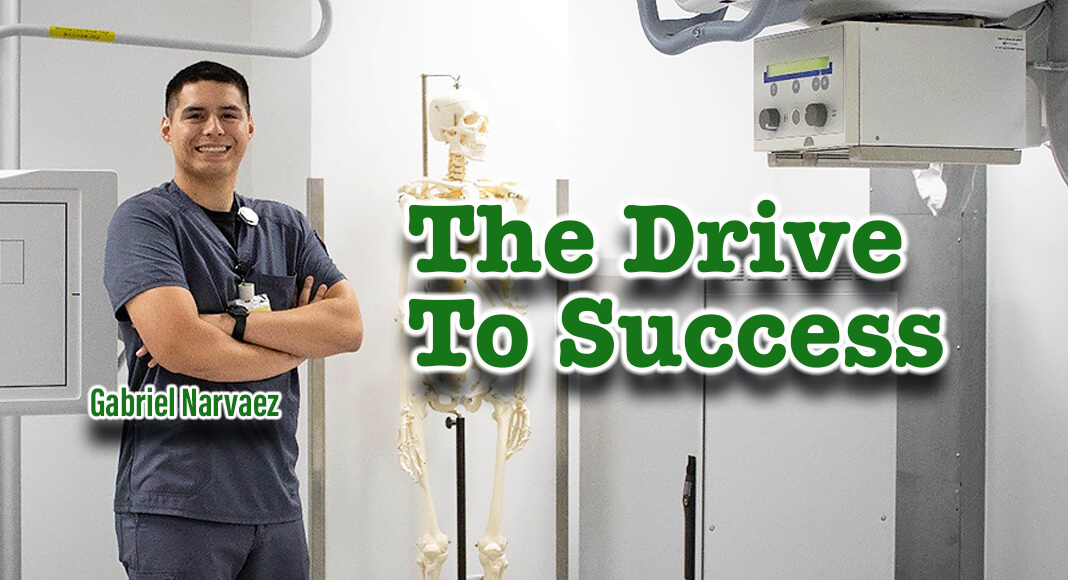 Mega Doctor News
- Advertisement -

By Selene Rodriguez
South Texas College Radiologic Technology soon-to-be graduate Gabriel Narvaez decided from childhood to reach for a successful career in the medical field; his determination led to creative solutions to be closer to campus such as living in a recreational vehicle (RV) for the past two years.
Born in Miguel Aleman, Mexico, but raised in the United States, the 20-year-old takes pride in his heritage and having grown up with Spanish as a first language.
"My parents raised me to be passionate and overcome any kind of obstacle; their support for me to have a career as a radiologic technologist has meant everything to me," he shared. "I always say I want to do everything to 100% and be the very best version of myself that I can be."
Narvaez dreamt of being a doctor when he was a kid and while growing up, he explored the idea of becoming an ophthalmologist. But when he broke his thumb as a child, he remembered being amazed at the fact that pictures of bones could be taken; this was also the first time he considered this as a career.
So, years later, after enrolling in an introductory Radiologic class at STC's Nursing and Allied Health campus, driving from Roma to McAllen and back once a week, his career choice was solidified.
"I took the class in 2020 while I was still in high school, when the COVID-19 pandemic hit, everything changed for me," he said. "I missed senior year of baseball, we didn't have a prom, a graduation or a senior trip. That pause in our life affected me, but ultimately helped me decide to continue to pursue a career in health care."
- Advertisement -

Narvaez became a full-time STC student in the spring semester of 2021, but after spending two weeks driving back and forth, he opted to look for a better way.
"One day while I was driving home, I started to swerve because of how tired I was, that's when my parents and I decided to look for another alternative," Narvaez said. "Apartments can get really expensive, but with the RV I rent a space to park, and just pay for electricity and water, it definitely saves money. It was just the better option for me to go to school."
Even while enduring the challenge of living by himself, Narvaez is known amongst his instructors as an outstanding student.
Narvaez said his favorite part of being a student has been going out in the field and getting real-world experience.
"Radiologic Technology is not all about x-rays, we explore other areas of diagnostic imaging such as CT (computerized tomography), MRI (magnetic resonance imaging), Nuclear Medicine, IR (interventional radiology), and more,"," he explained. "We're encouraged to choose two specializations, and for me that would be CT and IR. I'm excited to go out there and continue exploring all of them."
Narvaez added that he is grateful for the affordable education that STC provides.
"My family doesn't qualify for financial aid, but there have been a couple of grants that have helped me with expenses; without them I wouldn't have been able to afford coming to school," he said. "I'm also grateful for all the student events that STC takes the time to host for us. They really help our mental health and are a great distraction from all the testing and stress."
Narvaez is graduating with a part-time position at McAllen Medical Center, a job he earned through his outstanding performance during his clinical rotations.
"I won't say a career in the medical field is easy, because it's not, but when you love what you do and you are 100% into it like I am, nothing is impossible," he said. "This has been an amazing journey; I'm still amazed at everything I've learned. I'm ready."
For more information on Radiologic Technology or other Nursing and Allied Health programs offered at STC, visit nah.southtexascollege.edu/ or call 956-872-3100.