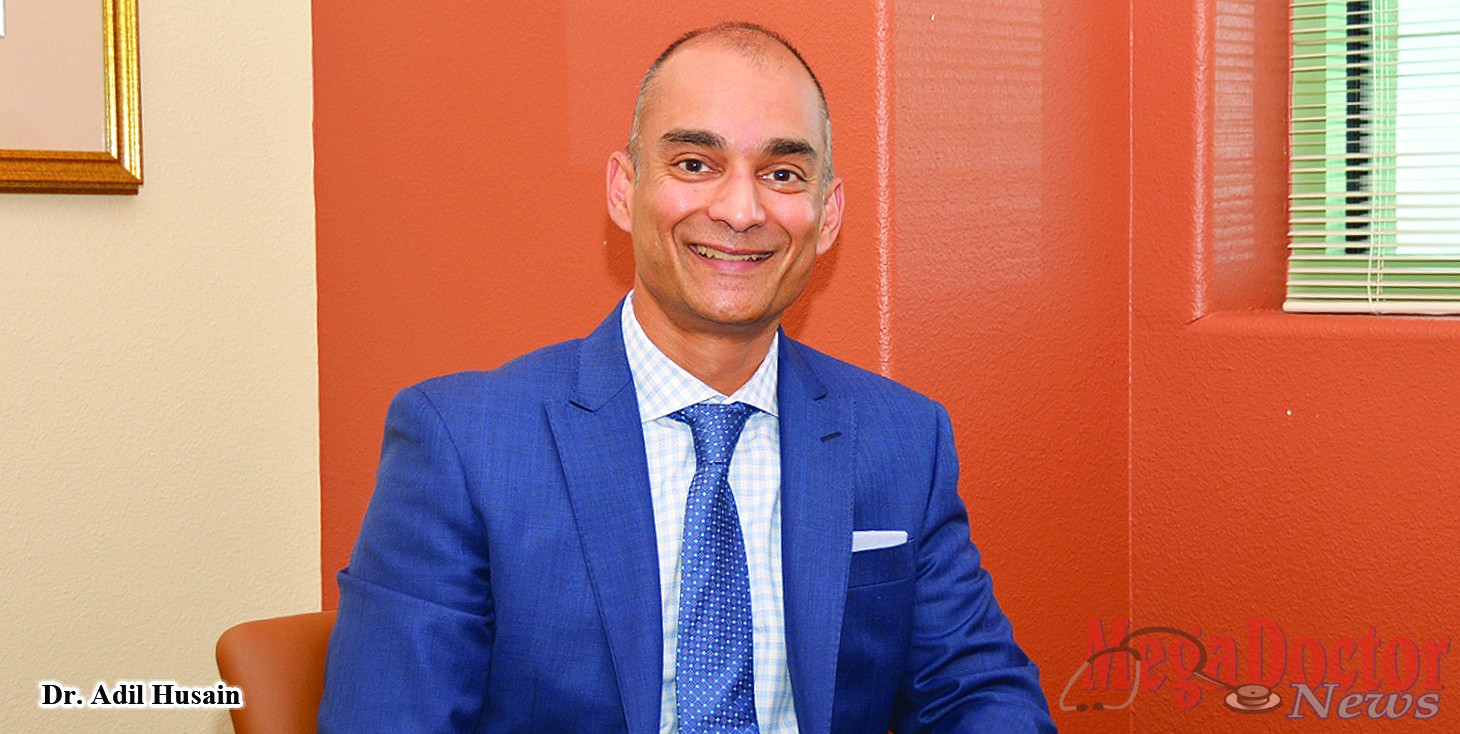 Partnership to Address Fetal Care for Congenital Heart Problems in Unborn Babies
By Roberto Hugo Gonzalez
Mega Doctor News
Recently, Mega Doctor News spoke to Dr. Adil Husain, a pediatric cardiothoracic surgeon (PCS) and the chief of the Pediatric Cardiothoracic Surgery at UT Health Science Center in San Antonio. He manages the heart surgery program at the Children's Hospital at the University Health System and has been there for almost eight years.
During his visit to the Valley, he said "I have been very fortunate to be working in an academic institution like Health Science Center. I have had a lot of support from my fellow faculty members in cardiothoracic surgery and our Chair of Department, Dr. John Calhoon."
He continued, "We have been very fortunate to create something that is unique in south and west Texas, which is a dedicated Pediatric Congenital Cardiac Center."
This centralized location, according to Dr. Husain, all babies, children, infants and teenagers, who have congenital heart disease, are all cared for within one centralized location in the hospital, that is both out-patient and in-patient and in an extremely family oriented fashion. He explained, "For example for families that are from the Rio Grande Valley and from far away who need to come up for care, they can hotel in at the hospital with their children, they have no need to leave their children at all." He said, "We focus on that type of care."
The motive of Dr. Husain's visit to Edinburg, to be more specific DHR, is a component of what is a long standing historical work towards partnership. He was referring to the first pediatric cardiothoracic surgical partnership between Doctors Hospital at Renaissance (DHR) and the University Health System and UT Medicine, the physician practice of The University of Texas Health Science Center San Antonio.
According to information provided by DHR, the partnership aims to provide comprehensive, collaborative and integrated medical care, both at DHR and University Hospital in San Antonio, to treat babies born with congenital heart defects.
"There are hundreds of families in the Valley that have to leave for any type of congenital heart surgical care." He said, "We find it to be unfair and unfortunate for the families to be destructed for having that type of challenge in their lives." Dr. Husain acknowledges the Rio Grande Valley approximately 1.5 million people.
He pointed out that they have clearly identified Doctors Hospital at Renaissance primarily because of the share growth and volume that they had and what they have done in the last decade, but in particular, how many babies are born at DHR.
He told Mega Doctor News that they want to approach this from two angles:
"Firstly, we want to make sure that pregnant mothers, who have been given a diagnosis to their fetus having congenital heart disease, need us while they are pregnant. We can begin the dialogue of educating the family, answering their questions, going over their studies and working with maternal-fetal  medicine doctors like Dr. Johnson and the cardiologists like Dr. Gupta, Dr. Calhoon, Dr. Khan and Dr. Hugo all within the community. We begin the process of a multi-Disciplinary team to approach and take care of that family."
In addition, he said, "If they have a baby that's born and needs a complex operation in early life, they have to come up to San Antonio to us to perform that operation and they already know us, already met us, and they know where they were going even before the birth.
Additionally, once the baby recovers after that open heart procedure, we can send them back to their nearby DHR, where they can continue that recovery process and they would be back with their family and their home environment much sooner."
He noted, "By us, coming down here once a month for a clinic and participating once a month in fetal conference with the maternal-fetal medicine doctors and cardiologists, we have presence within the valley about two times a month to continue to follow up and help all these families from a local perspective and becoming a known named entity as a partner with the physicians in the community at DHR."
He said that the second aspect of the partnership is to move in a structured fashion to provide some interventional and surgical care right here in the Valley. "This is going to be a process that would take some time but we are committed to work with DHR in terms of acquiring the right tools, the right technological skills and the right people. Cardiologists, surgeons and intensivists that can all work together performing some of these procedures right here in the Valley, because I think in the course of the next several years with the growth that we have seen here, it would be great for these families not to have to leave at all for their care."
Do you think it will happen very soon or it's a process? "It is a process. I think that the people who are looking at this may feel as if we won't move fast enough. Some people may feel like we are moving too fast. I think in the end it once again would be a partnership between all of the local physicians or local hospital administration and some of the consultative services that will be providing the help to create the program to determine at what pace we travel to get there. But I think the goal is to get there and get there in the fashion that would provide not only care for people locally but also with the safe care and with excellent outcomes.
This partnership started today or had it been in the process already? "Yes, it's been in the process for several months. Logistically it already started, we have had five small babies that are from the region come up to our hospital for the operation to be performed."
So, all of it is being done in this medical tower at the fourth floor since the time it started? "Yes sir! And we want that because it makes a lot of sense having a clinic right next to Dr. Cherie Jeanne Johnson the maternal-fetal medicine clinic so that the mothers can go there and see them and then come over in the same building and floor and see us in one day so that they do not have to make more trips to the hospital."
Why do babies, that are not yet born, have heart problems? "It is a great question. People don't recognize this but congenital heart lesions are the number one birth defect in terms of incidence. One out of one hundred babies that are born has some type of heart lesion or heart defect, not all need an operation but several of them do. Although, we've made some strides in getting better outcomes with complex heart operations, we are still behind in determining from a scientific stand point why it is that heart defects occur."
Dr. Husain told this reporter that he has been personally involved in significant research that looks into whether or not different geographical parts of country have higher incidence of certain types of congenital heart disease and more so if they could prove that there are some environmental or genetic or exposure risk that is creating heart problems for unborn babies.
He said, "Our research has shown that there are despairing levels of different forms of heart lesions, that babies are born with, in different parts of the United States. We are continuing to ask the right questions and hopefully with time, we will find the right answers as to why that's the case."
When a child, with a congenital heart problem, is born, are you and your team able to correct the problem? "We are very humbly blessed to have a highly sub specialized team of surgeons and also cardiologists, intensivists and superb cardiac nurses, and ancillary support and that's why having a dedicated specific center in our hospital where all of the kids with these problems are located makes for the best quality of care."
Dr. Husain stated that their mortality statistics are less than 1.5% for every year over the past five years for all of the different pediatric heart operations they have performed, which is over 50% less then the national average. He indicated also that the national average is around about 4% thanks to a big team that of multidisciplinary professions.
He said, "There are lot of people who deserve lot of credit. Our hospital partner really has facilitated our program and we want to create more places like the Rio Grande Valley."
How many procedures have you and your team done? "Last count we are just about to approach our 500 catheter based or open surgical procedures since we opened that unit. We do several hundred surgical and catheter based procedures per year and our program continues to grow with the partnership like this at DHR."
Dr. Husain, do you have something else to add to this conversation? "We are just thankful for the amount of genuine support and the manner that we have been welcomed. It is an honor to be a part of treating patients in the Rio Grande Valley."
It is important to say that as part of this partnership, the University Health System pediatric cardiothoracic team has established a congenital cardiac fetal clinic in conjunction with the Doctors Hospital at Renaissance Center for Maternal-Fetal Medicine. In order to fully meet the needs of these higher risk pregnancies, both parties are prepared to deliver the most comprehensive, patient-centered care. MDN