- Advertisement -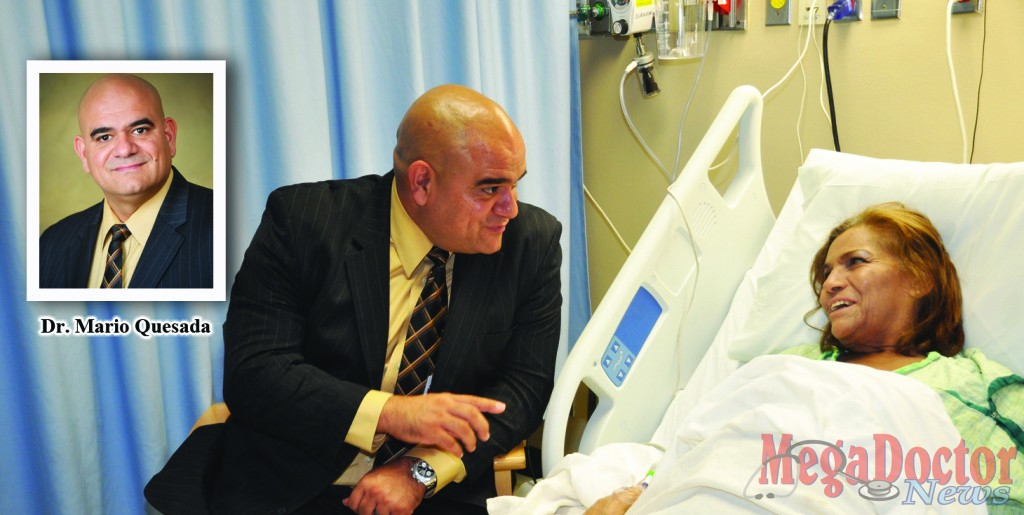 Mega Doctor News
Brownsville – A new type of hip replacement surgery is now being performed at Valley Baptist Medical Center in Brownsville by Dr. Mario Quesada, an orthopedic surgeon in Brownsville.
Dr. Quesada said the "anterior total hip arthroplasty replacement" is a different way for the surgeon to operate on patients who have pain from arthritis or another medical condition and need a hip replacement surgery.  Under the anterior approach, the surgeon performs the surgery from the front of the patient, rather than from the back.
"Anterior total hip arthroplasty is an alternative to traditional hip replacement surgery," Dr. Quesada said. "It is a less-invasive1 hip replacement option during which the doctor replaces the patient's hip while working around the muscles and tendons, which spares the muscles from being cut during the procedure.   In many of my patients, this method has reduced the risk of complications1, such as hip dislocation, and resulted in a more-pleasant recovery period."
Dr. Quesada said the most common reason a person might consider anterior total hip arthroplasty is if they are suffering from a form of arthritis, such as osteoarthritis or rheumatoid arthritis.
"Anterior total hip arthroplasty may also be recommended for people with osteonecrosis (death of bone tissue caused by poor blood supply), or for those with severe and persistent hip pain that interferes with their daily life," Dr. Quesada added.
Dr. Quesada said that the surgery can be done with a smaller incision – four to seven inches — when compared to many hip replacement surgeries done in prior years.  With the anterior surgery, the incision is made in the thigh, right below the pelvis.
- Advertisement -

"With many of my patients, this procedure has required fewer post-operation restrictions, so many of my patients have been able to be released from the hospital sooner and free to return to their daily lives faster," he added. "I've seen many patients who are able to walk without assistive devices, such as canes, in a shorter period of time."
Dr. Quesada said he sees the biggest difference in his patients during the early part of their recovery periods.
"Doing the hip replacement this way makes no difference a year after the procedure, compared to the traditional posterior surgery," he added. "But right after the surgery, I've seen many of my patients wake up and say 'I don't have any pain.'   They will say that their skin 'burns' where the incision is made, but that they do NOT feel a deep pain in the hip area."
Dr. Quesada said that, prior to coming to the Valley, he performed more than 1,000 anterior hip replacements over the past seven years in Albuquerque, New Mexico, and Las Vegas, Nevada.   He added that Brownsville and the Valley appealed to him and his wife Ettiana as a good "family-friendly" location in which to raise their four sons, Mario, Aydden, Ethan, and Alijah.
Dr. Quesada said that Valley Baptist-Brownsville has added a special new surgical table specifically tailored to the anterior hip replacement surgery.  On this table, the patient lies on his or her back during surgery, instead of being on their side, such as during the traditional "posterior" surgery.   In addition, the surgical table has no metal, so that X-rays can be taken through the table, while the patient is on the table.
"Valley Baptist has made an investment to bring the surgical suite of the future to Brownsville," Dr. Quesada added.
Dr. Quesada is fellowship-trained in joint reconstruction.  He completed his fellowship with Dr. Michael Mont at Sinai Hospital in Baltimore, Maryland; as well as a residency in orthopaedics at Louisiana State University in New Orleans, where he served as chief resident.   Dr. Quesada also served as an orthopedic resident at King/Drew Medical Center in Los Angeles, California  and as a surgical intern at the University of Florida Shands Jacksonsville Hospital.
He received his Doctor of Medicine from the University of Southern California Keck School of Medicine, and a Bachelor of Science in Biology at the University of California in Santa Barbara.
Dr. Quesada has written articles which have been published in national orthopedics medical journals, and was named to "Who's Who Among Latino Medical Doctors" 5.  His hobbies include water skiing, camping, hunting, cooking, golf, football and reading.
In addition to hip replacements, Dr. Quesada also performs knee and shoulder replacements, using computer-guided navigated arthroplasty surgery techniques. MDN