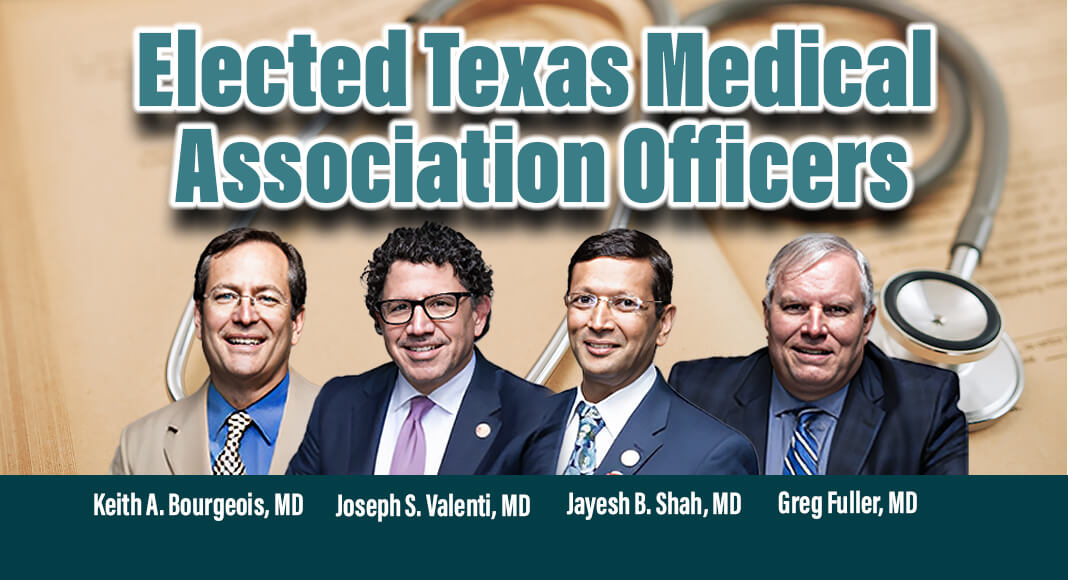 Mega Doctor News
- Advertisement -

The Texas Medical Association (TMA) Board of Trustees has elected 2023-24 officers to lead the board. Members of the TMA governing body elected Houston ophthalmologist Keith A. Bourgeois, MD, as chair; Denton obstetrician-gynecologist Joseph S. Valenti, MD, as vice chair; and San Antonio internist and undersea and hyperbaric medicine specialist Jayesh B. Shah, MD, as secretary. The TMA House of Delegates also elected Keller family physician Greg Fuller, MD, as TMA secretary/treasurer.
TMA members elected the physicians during TexMed, TMA's annual conference, held this year in Fort Worth.
Dr. Bourgeois is serving his third and final three-year term on the TMA board. In addition to his board leadership, he is an ex-officio member of TMA's House of Delegates. He also chaired the Balance Billing Task Force, helping TMA develop policy positions that led to the legislature improving balance-billing laws in Texas.
Dr. Bourgeois also chaired the TMA Council on Socioeconomics and served on the Council on Legislation and the board of TEXPAC, TMA's political action committee. He also is a former president of the Harris County Medical Society and the Texas Ophthalmological Association.
Denton physician Dr. Valenti has served in several TMA leadership roles prior to joining the board and taking office. He has chaired three TMA bodies – the Council on Socioeconomics, the Council on Constitution and Bylaws, and the Committee on Maternal and Perinatal Health. In his earlier membership days, he represented the medical student, resident and fellow, and young physician sections as a delegate in TMA's House of Delegates.
Outside of TMA, Dr. Valenti served on the American Medical Association (AMA) Resident and Fellow Section Governing Council, and as president of the Denton County Medical Society. He also serves on the boards of the Texas Medical Liability Trust and The Physicians Foundation.
TMA members first elected Dr. Shah to the TMA board in 2018, and he chairs TMA's Loan and Scholarship Committee. He previously served on the association's Council on Health Service Organizations, Council on Health Promotion, and Committee on Membership, and he chaired the International Medical Graduate Section for TMA and for AMA. He also has served as a delegate to the TMA House of Delegates and the AMA house.
- Advertisement -

Dr. Shah was president of the American Association of Physicians of Indian Originand of the American College of Hyperbaric Medicine, and he chaired the American College of Clinical Wound Specialists. He also is past president of the Bexar County Medical Society and the Texas Indo-American Physicians Society.
Dr. Fuller joins the board having recently completed his term chairing the association's Council on Socioeconomics in May 2023. It is one of several leadership roles he has held throughout his 32 years of TMA membership, including as chair of the Council on Health Care Quality, and as a member of the Subcommittee on Quality Programs and Clinical Measures; Task Force on Health Care Coverage; Value-Based Initiatives Workgroup; and Texas Delegation to the AMA house.
He also served as president of the Tarrant County Medical Society and chaired its Board of Trustees.
TMA Board of Trustees, 2023-24
Ex-Officio Members:
TMA President Rick Snyder, MD (Dallas)
TMA President-Elect G. Ray Callas, MD (Beaumont)
TMA Immediate Past President Gary W. Floyd, MD (Corpus Christi)
TMA Secretary/Treasurer Greg Fuller, MD (Keller)
TMA House of Delegates Speaker Bradford W. Holland, MD (Waco)
TMA House of Delegates Vice Speaker John G. Flores, MD (Little Elm)

At-Large Members:
Keith A Bourgeois, MD, chair (Houston)
Joseph S. Valenti, MD, vice chair (Denton)
Jayesh B. Shah, MD, secretary (San Antonio)
John T. Carlo, MD (Dallas)
Lisa L. Ehrlich, MD (Houston)
Cynthia A. Jumper, MD (Lubbock)
Kimberly E. Monday, MD (Houston)
Bradford S. Patt, MD (Houston)
Section Designated Members:
Samuel E. Mathis, MD, Young Physician Section (Galveston)
Subhan Tabba, MD, Resident and Fellow Section (Dallas)
Katherine "Kate" Russell, Medical Student Section (Fort Worth; University of North Texas Health Science Center Texas College of Osteopathic Medicine)

Read a description and responsibilities of the TMA Board of Trustees.
TMA is the largest state medical society in the nation, representing more than 57,000 physician and medical student members. It is located in Austin and has 110 component county medical societies around the state. TMA's key objective since 1853 is to improve the health of all Texans.