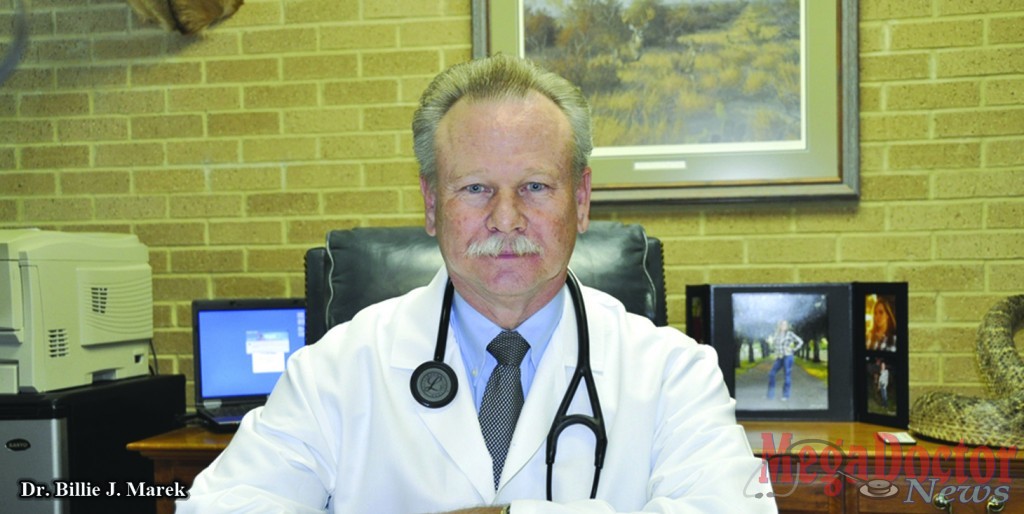 By Roberto H. Gonzalez
As originally published First by Mega Doctor News newsprint Edition
Our Mega Doctor of this month is Dr. Billie J. Marek, an oncologist and hematologist who is the medical director for Texas Oncology-McAllen in McAllen, Texas. He moved to this area in June of 1988 directly after finishing his training in an internal medicine and medical oncology fellowship at M.D. Anderson Cancer Center in Houston, Texas.
Dr. Marek predominantly cares for patients that have been diagnosed with cancer. He and the team at Texas Oncology-McAllen evaluate the status of the disease and determine how advanced the disease may be. As he shared with Mega Metropolis Health & Fitness, "It is important to be able to develop a treatment program for the patient; one which could include chemotherapy, radiation treatment, surgical intervention or simple observation. "
Dr. Marek said that cancer is everywhere noting that there isn't a big difference in the incidence in the Valley versus elsewhere. He stated, "Unfortunately, it is a common disease. Now people can get solutions for their heart problems or get their lipids under control, as a result people live longer and are getting more cancer than they did years ago," he continued.
He pointed out factors that possibly contribute to the development of cancer and one of them is diet, however, environmental exposure, chemical exposure, tobacco use, alcohol, and genetics can play a role in cancer. "We see people with solid tumors and even hematological cancers which are leukemia and lymphomas," he stated. He notes that patients who have been diagnosed with cancer face a challenge.
He said that in terms of major obstacles facing people in the Valley can be their socioeconomic situation. Adding that because of their socioeconomic state, many people see a physician with more advanced stages of cancer. "We always have the issue in terms of the person's financial or insurance status, sometimes because of their financial concerns, they come later to seek treatment than we would like them to," he said.
Mega Doctor News learned that technology has really advanced in the fight against cancer. Dr. Marek pointed out that a lot of the technological innovation is in the areas of diagnosis and detection, but there are also advances across the board in terms of cancer treatments.
Various technologies have also improved over the last five to 10years, especially CAT scans for making diagnosis or what Dr. Marek refers to as the staging of cancer. This type of scan permits a doctor to know the extent of the cancer they are dealing with.
He noted that imaging and radiology studies are very important in order to determine if the cancer is active or not. Dr. Marek said that the CAT scan technology has improved drastically enabling doctors to see tumors with more detail than in the past. "The MRI's have improved as well and help effectively with certain types of cancer," he stated.
"The newest technology developed to fight cancer over the last five or 10 years is PET scanning or P.E.T. This is a technology that is based in a simple principal that cancer cells grow faster than normal cells do. It's an uncontrolled growth, unregulated and as a result of their rapid growth it metabolizes and eats faster than normal cells," he explained.
Dr. Marek further explained that PET scans basically take that principal of a sugar molecule and a little radioactive chemical is attached to it. When it is injected into the patient, it circulates through the body and cancer cells suck that up. "We wait one hour or more and take a picture of the patient at that point in time and cancer cells are going to light up, they have a very distinctive look. So PET scanning has helped add a tremendous amount in terms of the diagnosis and staging of cancers," he said.
He explained that many times a CAT scan is performed to see what particular areas are slightly abnormal in appearance or bigger than they should be. He noted, years ago to get the answer the patient had to undergo surgery or be biopsied in order to prove whether those abnormalities were cancer. Now, advances in technology have led to less invasive diagnostics through the PET scan.
On the treatment side, technology is helping to fight cancer effectively. "On the treatment side of the equation, radiation is an important part of treating many different cancers, not necessarily every cancer, but many," he stated. Radiation technology has also changed drastically over the years allowing for more precise, targeted treatments directly to the cells without injuring surrounding tissue. Dr. Marek explained that the energy sources now being used are very precise, adding, "We can do things with a tridimensional approach when we deliver radiation as well as precise doses of radiation to certain parts of the body."
On the treatment side, drugs are better as well as the use of chemotherapy. Just as the technology has seen changes and other aspects of care so has the use of drugs and drug combinations, according to Dr. Marek.
Newer drugs are available or being developed that are more precise at attacking a particular tumor as opposed to attacking the entire person. "We use therapies and drugs that may target a particular protein on the surface of a cell," he said.
He explained that a drug may target a particular area or a biological function of a cancer. Drugs can be used to shut down the blood supply to tumors so they presumably will die because they get no fuel or food to feed it. Now, drugs can be used to attack a particular cancer cell and leave all the normal cells alone. Dr. Marek pointed out that chemotherapy is still a major part of the cancer treatment.
He also discussed the technologies and treatments that are available locally and noted there are few reasons for a patient to leave this area for treatment. "The number one reason for a patient to leave the valley will be because of the patient's personal desire," he stated. However, Dr. Marek explained that Texas Oncology-McAllen can offer the best treatment options that are also close to home and easier on the cancer patient.
Texas Oncology also conducts research, which gives them the advantage of many studies being done all over the United States. Even though Dr. Marek agrees that cancer continues to be a formidable enemy, he said the medical community is making huge strides and in many cases winning the battle.
Genetics is the other major factor in determining cancer risk. Dr. Marek added that Texas Oncology-McAllen through the Hereditary Cancer Risk Assessment program offers genetic screening for certain cancers and the practice has a genetic counselor on site.
The two major important factors to win the battle with cancer are early detection and prevention," he said. If a person has already been diagnosed with cancer, it is important to see a specialist in the field as soon as possible. For prevention, Dr. Marek strongly recommends eating healthy and staying active.
Billie J. Marek, M.D. can be reached at Texas Oncology, 1901 S. Col. Rowe Blvd., (South Second Street) in McAllen, Texas. MDN
Education Details:
Dr. Billie J. Marek received his Medical degree in 1983 from the University of Texas Medical School at San Antonio, Texas. Dr. Marek completed his internship and residency in internal medicine at the University of Kentucky College of Medicine, Lexington, Kentucky 1983-1986; and an internal medicine and medical oncology fellowship at M.D. Anderson Cancer Center, Houston, Texas 1986 – 1988.
Written by Roberto Hugo Gonzalez the 2009 SBA Journalist of the Year Award Winner & The 2009 and 2012 Paul Harris Award recipient.