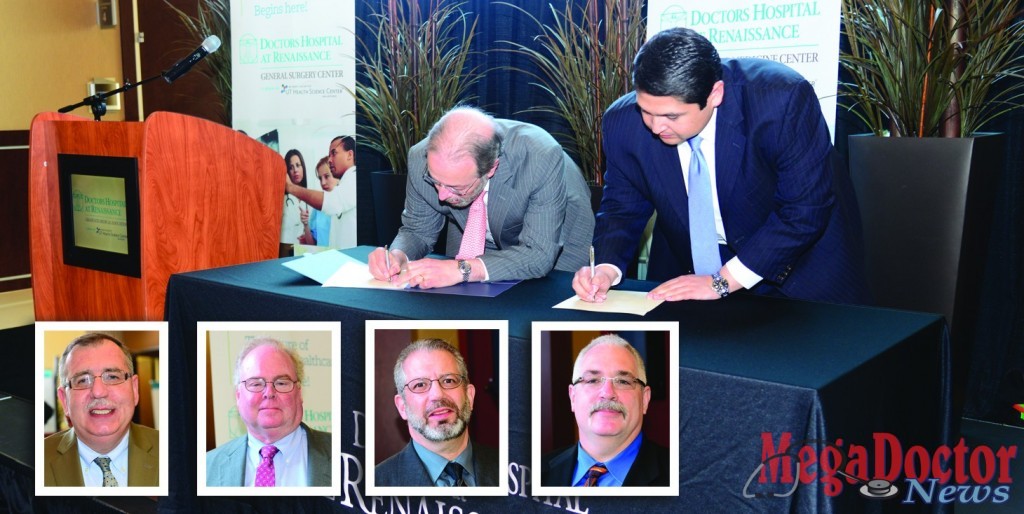 By Roberto Hugo González
- Advertisement -

As originally published First by Mega Doctor News newsprint Edition
"I feel very excited, I feel this is almost like a day in church, not quite but really close," Dr. Carlos J. Cardenas DHR Chairman of the Board of Managers said to the very distinguished attendees of this historic event. He continued, "Because this is a truly joyous occasion just like when we have weddings and baptisms, everybody comes together and we have Padrinos and all the Madrinas are seated up front. The Godfathers and Godmothers that gave birth To what is going to be a phenomenal residency program in South Texas."
When Dr. Cardenas was referring to Godfathers of the medical school and subsequent programs, was because at the front of the group seated were Texas Senators Juan "Chuy" Hinojosa and Eddie Lucio, Jr. who at the very start headed the effort at the legislative level.
Dr. Cardenas pointed out that all were assembled to mark the beginning of what is a transformational time for the Rio Grande Valley. "Sixty years, this community has looked to bring a medical school to our community, for twenty years two of the men seated right upfront here worked and made it possible for us to get to this point," he said.
He stated that if it wasn't for the partnership they formed with the University of Texas and all the members of the team this wouldn't have been possible.  Doctors Hospital at Renaissance had called this meeting to celebrate the ceremonial signing of the Graduate Medical Education Affiliation between DHR and UT Health Science Center. He added, "This is a very exciting time for the Rio Grande Valley, one of the fastest MSAs in the country, where we are outstripping our ability to provide for the medial needs of this community. It's only fitting that this occur at this time in history because I really believe there is Divine providence in what happens and that is taking shape today."
Dr. Cardenas went ahead and introduced a video that started with Texas Governor Rick Perry saying, "I had some fabulous and wonderful moments as the Governor of Texas, but I am not sure that I ever had one that was anymore impactful or one that I have enjoyed anymore than being able to walk to that table and put my pen to paper and create one of the next universities in America."
Israel Rocha, Chief Executive Officer for DHR was the leader of the team that made it happen and he said, "I want to thank everyone for joining us here today, a very special day for Doctor's Hospital at Renaissance." He continued, "Doctors Hospital at Renaissance from its foundation has really wanted to be much more than just a hospital. It wanted to be a healthcare partner for our patients and for our community, and as a true health partner endeavors to be and to do one thing above all, which is to bring the best of medicine the world has to offer, right here to the Rio Grande Valley and to do that in a way that expands healthcare, expands opportunity, and increases the quality of life for everyone in our community and every patient that passes through our doors.
- Advertisement -

Rocha said that the best way that DHR knew how to do that, was to not only help cure the illnesses that are before us today but to help inspire, and bring new resources and cures for tomorrow, for illnesses that have not been discovered or that are not here today.
He said that the best way to learn more was to visit with doctors and listen to their stories. "With every doctor that we visited and asked, "What are the three defining moments in your career?" Every single physician that we met with always went back to the residency training, whether how they learned to do something better, or how they chose their career and their field in medicine, or if there was a story of how they became a better person because of their training."
Rocha pointed out that it became evident to the DHR board that to really be that healthcare partner they have to be active not only in the world of medicine, but to train, change, and inspire future generations to come.
"That set us on a course to start working to create our own residency programs. At Doctors Hospital at Renaissance we have that vision and commitment to our community and medicine that we practice. We hope that what we start here changes the world and makes things better," Rocha said.
He emphasized that they wanted to design a special program to do something great; and that's how they got involved in the residency programs. "Because the true measure is not really the people that you impact but the people that they in turn impact because of the lessons they learn from you and there's no greater testament than that to build a residency program," Rocha stated.
It was also said that the special part of the graduate medical education is that it starts impacting the community immediately. Rocha added that they have a program director that is already rotating through our trauma programs and is seeing patients today.
He also mentioned they are going to start opening clinics in the next few weeks and will start seeing indigent patients and community patients from all walks of life; insured and uninsured, Medicaid, Medicare or private insurance and will bring new resources in education and medicine to our community, adding that each one of those directors will work with the county to make it a truly community based program.
According to information mentioned during this meeting, the DHR leadership thought about the idea of a residency program, developed a plan, and accomplished it in less than 14 months.  Over the next ten years, Doctors Hospital at Renaissance will provide $60 million for residency programs in Family Medicine, Obstetrics and Gynecology, Surgery and Internal Medicine.  There will be 78 residency slots; 18 in Family Medicine, 20 in General Surgery, 24 in Internal Medicine, and 16 in Obstetrics and Gynecology.
Doctors Hospital at Renaissance is also committed to pursuing residency programs in Pediatrics and Preventative Medicine in 2015, which would add an additional 42 residency slots by 2016; 24 in Pediatrics, and 9 in Preventative Medicine.
Dr. Kenneth Shine, the Special Advisor to the UT System Chancellor said, "I graduated from medical school 53 years ago and there's not been a more amazing day in my career than today."  Dr. Shine said, "You saw on the video, the vision that Senator Hinojosa and Senator Lucio had, which resulted in a Regional Academic Health Center.
That Academic Health Center celebrated its 10th birthday a day or two ago. During this time 1,000 medical students have passed through that regional center headed by Dean Dr. Leo Vela.
Dr. Shine stated that the UT Regents have been very supportive of the medical school over the last several years. They committed $10 million dollars a year for ten years to support the medical school; they provided $30 million dollars for a South Texas Initiative which included monies for diabetes and obesity programs, and they are in final stages of recruiting a director for a brand new diabetes and obesity research program for South Texas.
According to Dr. Shine this will be accomplished in the next month or two.  He also pointed out that the Board of Regents also approved $234 million in construction including $54 million for a new academic building for the medical schools, which should be ready by December 2015 or at the latest January 2016.
"We are extremely proud of our relationship with Doctors Hospital at Renaissance. We are extremely proud of the recruitment state they have undertaken and the quality of the individuals that they have appointed in collaboration with the Health Sciences Center, with the fact that they are forward looking in terms of their vision for DHR, but also for their vision of the new medical school. We look forward to continue our strong relationship as we try new innovative approaches to improve health."
It was Dr. Lois Bready, Vice Dean for Graduate Medical Education, UT Health Science Center who was in charge of the introduction of the Residency Program Directors and they are:  Amer Malas, M.D., FACP, will direct the Internal Medicine Residency Program at DHR. Dr. Malas moved to the Valley from Charleston, W.V., where he led the successful process to secure five years' accreditation for the Internal Medicine Residency Program at West Virginia University.
Charles M. Richart, M.D., FACS, FCCM, will direct the Surgery Residency Program. Dr. Richart, a trauma surgeon, comes to the Valley from the University of Kansas Medical Center, where he was an associate professor of surgery and pathology. Prior to his position at the University of Kansas, Dr. Richart held the title of director of the surgical intensive care unit at the University of Tennessee College of Medicine from 1998-2004.
Eron G. Manusov, M.D., will direct the Family Medicine Residency Program at DHR. Dr. Manusov, who has a special interest in rural health, formerly was professor and program director with Duke University's Southern Regional Area Health Education Center, Family Medicine Residency in Fayetteville, N.C. He also served as Vice President of Clinical Education and Services at Duke University's Southern Regional Area Health Education Center.
John Michael Breen, M.D., FACOG, will direct the Obstetrics And Gynecology Residency Program. Dr. Breen most recently served as the program director and chairman of the obstetrics and gynecology residency program at Exempla Saint Joseph Hospital in Denver, C.O.  Dr. Breen also served as Chairman for the Obstetrics and Gynecology Department and Chief of the Urogynecologic Division at the University of Tennessee, College of Medicine.
These residencies will operate under the sponsorship of the San Antonio medical school until The University of Texas Rio Grande Valley School of Medicine attains accreditation. The four residency program directors introduced today are Amer Malas, M.D., FACP, internal medicine; Charles Richart, M.D., FACS, FCCM, general surgery; Eron Manusov, M.D., family medicine; and John Breen, M.D., FACOG, obstetrics and gynecology.
"As founding program directors, these physicians are setting the course to not only establish programs of excellence in their respective residencies, but through those efforts to be involved in transforming the health status of the Rio Grande Valley," said Francisco González-Scarano, M.D., dean of the School of Medicine at the UT Health Science Center at San Antonio.
To better train physicians in the Valley, Dr. Shine and leaders from the School of Medicine at the UT Health Science Center at San Antonio have worked closely with clinical partners such as DHR to build up an adequate number of residency positions necessary for the emerging RGV medical school. Collaborators from the San Antonio medical school included RAHC Regional Dean Leonel Vela, M.D., M.P.H.; Lois Bready, M.D., Vice Dean for graduate medical education (GME) and the ACGME Designated Institutional Official (DIO) in the School of Medicine; and Robert Nolan, M.D., Associate Dean for GME. Yolanda Gomez, M.D. Associate Dean for GME/Associate DIO in the Valley, joined them in February. ACGME is short for the Accreditation Council for Graduate Medical Education.
Sofia Hernandez, DHR Vice President for Graduate Medical Education and Public Affairs, said: "The combination of the Rio Grande Valley's large patient population and DHR's highly trained medical staff will provide a wealth of information and experience for future residents. As members of DHR's clinical community, residents will learn and become a part of DHR's central mission – patients first and community service." MDN
Written by Roberto Hugo Gonzalez the 2009 SBA Journalist of the Year Award Winner & The 2009 and 2012 Paul Harris Award recipient. 
TIMELINE
Doctors Hospital at Renaissance Graduate Medical Education Program
November 2013
DHR signs Graduate Medical Education Affiliation with the University of Texas Health Science Center at San Antonio
December 2013 – March 2014
Program Directors are hired
» Family Medicine – December 2013
» General Surgery – November 2013
» Internal Medicine – September 2013
» Obstetrics & Gynecology – March 2014
February 2014 – April 2014
Accreditation Application Sent
» Family Medicine – February 2014
» General Surgery – January 2014
» Internal Medicine – January 2014
» Obstetrics & Gynecology – April 2014
April 2014 – June 2014
Residency Review Committee Site Visit
» Family Medicine – April 2014
» General Surgery – February 2014
» Internal Medicine – February 2014
» Obstetrics & Gynecology – June 2014
June 2014 – November 2014
Accreditation Notification
» Family Medicine – June 2014
» General Surgery – July 2014
» Internal Medicine – June 2014
» Obstetrics & Gynecology – November 2014
October 2014
Resident candidate recruiting starts
February 2015
Resident candidate interviews begin
March 2015
National Resident Matching Program results announced
July 2015
Residents arrive at DHR