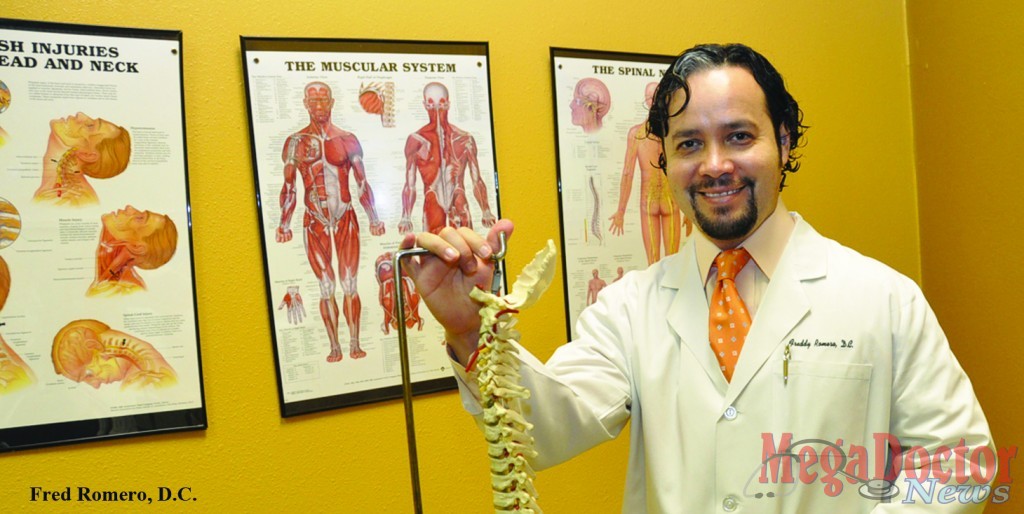 - Advertisement -

By Roberto Hugo Gonzalez
As originally published First by Mega Doctor News newsprint Edition
According to statistics it is estimated that low-back pain may affect as much as 50 to 70 percent of the general population in the United States. Back injuries result from damage, wear, or trauma to the bones, muscles, or other tissues of the back.
Common back injuries include sprains and strains, herniated disks, and fractured vertebrae. Probably you have heard that someone just suddenly couldn't move and felt great pain in the lower back making it impossible to even sit, walk or drive a car.
When this happens, it is important to know that alternative medicines are very effective in the treatment of lower back injuries and it is just the opportunity for you to meet a good chiropractor.
Recently, Fred Romero D.C. came to McAllen from having worked in Dallas, Odessa, and El Paso. Four years ago, Dr. Romero opened Lindberg Wellness Center, P.A. and serves as the director of this Chiropractic center (Dr. Romero recently moved). He is a young chiropractor with extensive training in the field over the past 11 years.
In 1998, he graduated from Parker College of Chiropractic in Dallas, Texas.  Dr. Romero also worked in Phoenix, Arizona for a year as an intern with Dr. Jose Lara a prominent chiropractor at Gonstead Family Chiropractic. Dr. Lara is a well-known chiropractor that attends to patients seeking his services and many come from Canada, Mexico, Europe, and all over America. "Dr. Lara and his group are in demand because they specialize in the Gonstead technique, a specialty within the chiropractic profession for treating cases and it requires extra training," Dr. Romero said.
After Dr. Romero finished his internship, he practiced for the medical board in San Salvador, El Salvador in Central America for three years. In this country he said that he was embraced by the medical community as a specialist. "I worked with a group of doctors of all types of specialties," he stated.
- Advertisement -

The cases that he treated in El Salvador were very similar to what we have here in the United States. Most of the candidates were surgical candidates who chose to visit a chiropractor to avoid surgery.
Dr. Romero also spent some time in Honduras as well as a year in both, Monterrey, Nuevo Leon and Villa Hermosa, Tabasco, in Mexico.  When he came back to the states, he worked in different areas in search of the perfect city and in 2004 he discovered McAllen.
He said that one of his challenges as a professional is getting the local medical community to embrace and understand what he does. For Dr. Romero his profession means a lot, he knew from a very young age that the chiropractic application is very effective and in many times it helps patients avoid a painful surgical procedure.
Dr. Romero is the son of Trinidad and Luz Romero who are from Mexico. It was his father's problems with a back injury that inspired Dr. Romero to go into chiropractic care when he was a teenager. "I saw that when my Dad, had a low back injury, he underwent chiropractic care for a month and went to work having no problems; he did very well," he said. But his uncle, who had had the same type of injury even before his Dad, had a different story to tell. "He went under the knife and has not been able to work for the last 25 years," he said.
It was not difficult for Dr. Romero to choose a profession after he saw the results. "This was enough for me; it motivated me and I decided what I wanted to do." Dr. Romero now has had over 10 years experience in the field of Chiropractic and in his clinic he provides services that include: Chiropractic Manipulation, Extremity Manipulations, Detection/Correction of Misalignment and Slipped Discs, Joint Mobilization, Decreasing Headaches, Comprehensive Health Histories and Medical Exams, Scoliosis Screening and Wellness Management Programs.
Even with his heavy workload, Dr. Romero is an active Chamber member and his hobby is dancing, now with two first place wins under his belt. Dr. Romero very well could be a professional dancer; Mega Doctor News has witnessed his abilities on the dance floor. "I have been dancing for more five years; I wouldn't say I am a professional. Professional dancers get paid and I still haven't been paid for my dancing," he said.
His long term plans include being able to reach the community by providing education about the chiropractic field. "That is one of the reasons I decided to stay here in the Valley, there is a lot of work.
As a last comment, Dr. Romero pointed out Lindberg Wellness Center, PA has responded to business and industry with a variety of services and programs that focus on the intent to help decrease the company's risk of exposure to work-related injuries. Dr. Romero is dedicated to educating the local community about how chiropractic care may be just what they need to help maintain their health and prevent disease. That is why Dr. Fred Romero is our Mega Doctor for this month. MDN
Written by Roberto Hugo Gonzalez is the 2009 SBA Journalist the Year Award Winner & The 2009 and 2012 Paul Harris Award recipient.