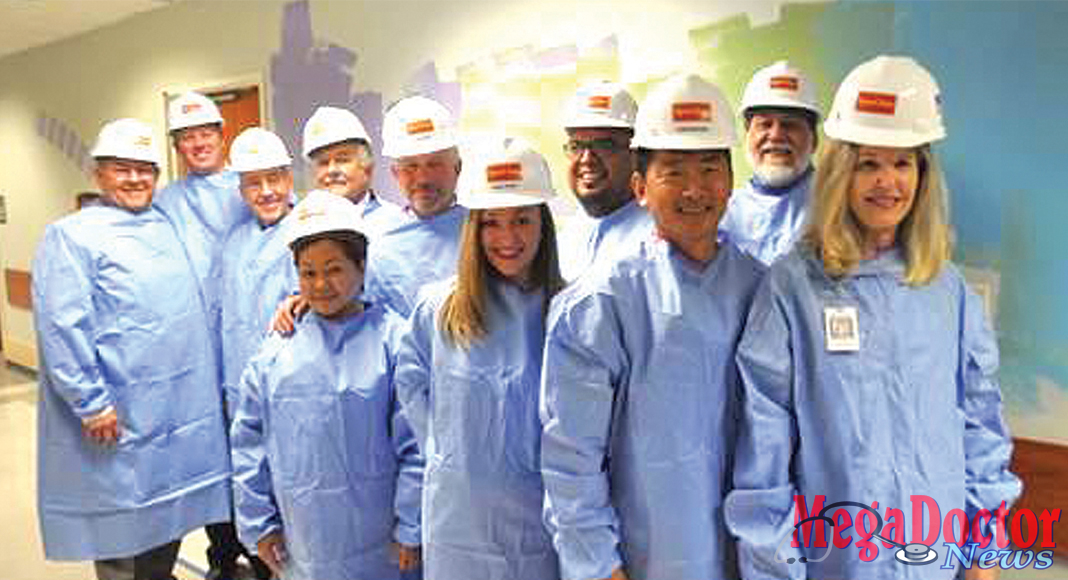 Mega Doctor News
New 12-bed unit to provide emergency treatment for pediatric patients
Harlingen, Texas – Valley Baptist Medical Center-Harlingen commemorated impending construction of a new, specialized unit geared toward providing emergency pediatric care for area children during a "groundbreaking" ceremony on Monday, March 13 in the hospital's Emergency Room.
To commemorate the impending construction of the Pediatric Fast Track Emergency Room Unit, hospital leadership joined Valley Baptist Community Advisory Board members in rolling a variety of pastel paints chosen as part of the décor for the new unit on a wall in the hospital's Emergency Room.
During the ceremony, Valley Baptist Health System CEO Manny Vela said that the new unit will help Valley Baptist-Harlingen continue its mission of providing safe, high-quality healthcare to the community.
"This ER within an ER will feature 12 dedicated pediatric beds in a pediatric-friendly environment, with features designed for maximum safety and security specifically for children. Valley Baptist-Harlingen has been a leader in pediatric care in Cameron County. We have the only Pediatric ICU in the county, as well as the only Neonatal Intensive Care Unit and only Pediatrics Department in Harlingen," he said. "We look forward to offering the Pediatric Fast Track in our Emergency Room, which is often the front door of our facility."
Vela said that the Pediatric Fast Track Unit, which should be complete in approximately three to four months, also helps Valley Baptist-Harlingen achieve its goal of making sure local residents do not have to leave their community to receive quality healthcare.
"One of our goals at Valley Baptist-Harlingen and Valley Baptist-Brownsville is to be differentiators in regard to the service lines that we offer. Even so, it goes deeper than that. Our goal is to offer services so that members of our community do not have to go north to receive any treatment whatsoever," he said. "We're chipping away at that in a very deliberate and progressive way, and this is just one more example of how we continue in Cameron County to offer an outstanding level of care to our pediatric community. The Pediatric Fast Track is a continuation of our commitment to our youngest residents."
Dr. David Sauceda, Chief of Pediatrics at Valley Baptist-Harlingen, said that providing a safe and separate area for children to receive emergency care demonstrates the hospital's commitment to area children.
"Our children deserve their own space for emergency care, and we look forward to serving the community," he said.
Dr. Douglas Miesen, an Emergency Medicine physician on the Valley Baptist-Harlingen medical staff, told those in attendance that efforts such as the Pediatric Fast Track Emergency Room Unit show a continued upgrade of healthcare services at Valley Baptist-Harlingen.
"The idea of having a separate area for pediatric patients is a great idea, and I am really impressed by it," he said. "I think it is great that (Valley Baptist is) going to have an environment that is more inviting for pediatric patients that is separate from the general ER population. (Valley Baptist-Harlingen) is communicating to the community that (it) is providing a great service."
According to U.S. Census Bureau reports from 2015, more than 31 percent of the population in Cameron County was 18 and younger than 18 years old. Caring for such a large portion of the community is what makes the Pediatric Fast Track project so critical to providing quality healthcare, said Alan Johnson, Valley Baptist Community Advisory Board Chairman.
"This is something that has been needed for a long, long time," he said. "We all know that we have a very young population here in the Valley, and that's all the more reason to open this unit. This is something that we need to take care of the young people in our community."
Once complete, the Pediatric Fast Track Emergency Room Unit will add to the comprehensive pediatric care offered at Valley Baptist-Harlingen. In addition to offering the only Neonatal Intensive Care Unit in Harlingen, Valley Baptist-Harlingen also offers high-quality healthcare at the Matt & Patty Gorges Children's Center. The center, which is filled with colorful artwork and bright décor to help raise children's spirits during their stay, also includes a 14-bed Pediatric Intensive Care Unit.  MDN