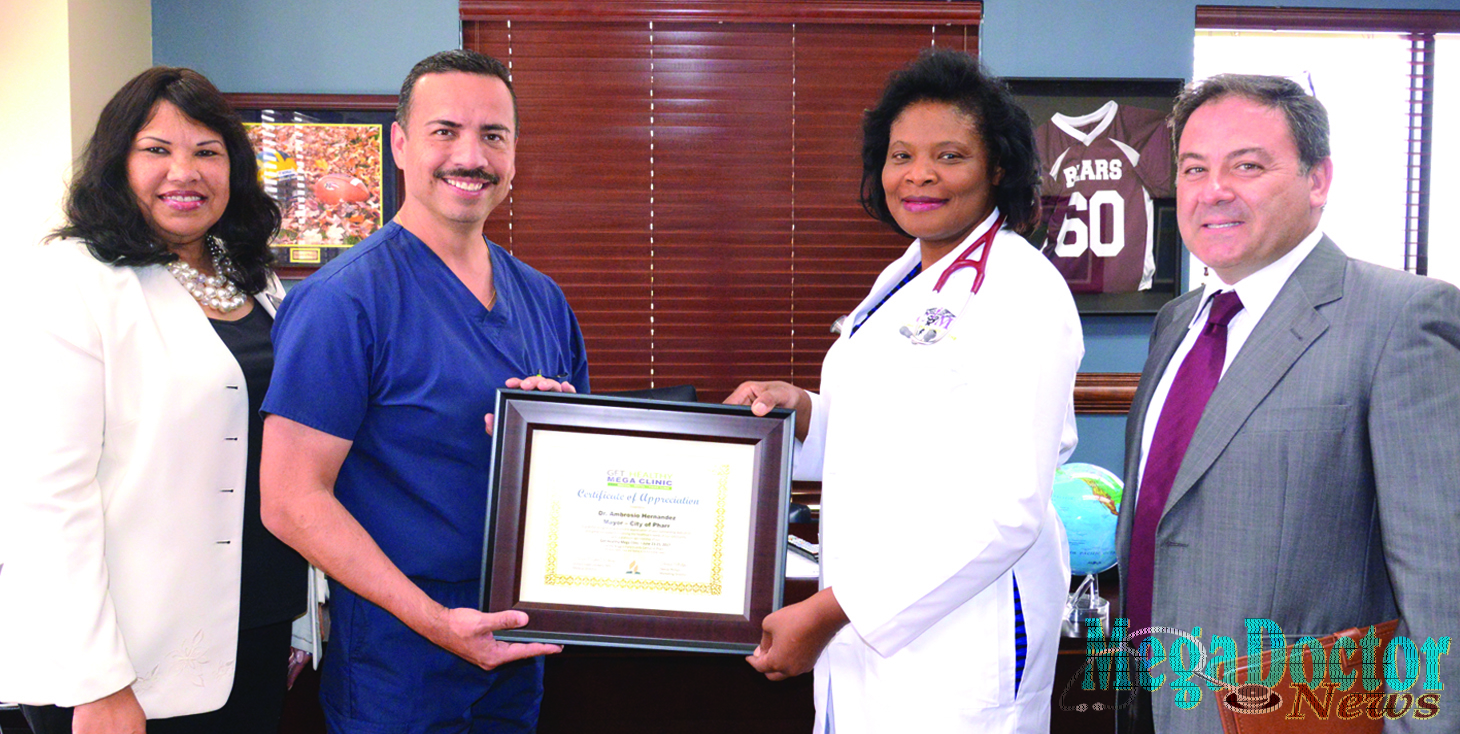 Mega Doctor News
- Advertisement -

Sponsors needed to expand healthcare services:
For sponsorship information, please contact Denise Phillips at 956-240-3463 or email: denphil01@yahoo.com
The Annual Get Healthy Mega Clinic that will be taking place at the Boggus Ford Events Center in Pharr on June 23rd-25th. This event is being hosted by the Seventh Day Adventist churches of the Rio Grande Valley, in partnership with Dr. Dona Cooper Dockery and her network of wellness organizations as well as the Adventist Medical Evangelistic Network (AMEN). This faith-based healthcare initiative offers Free Medical, Dental and Vision Care to the uninsured, under-insured and the under-served members of the community.
Dr. Ambrosio Hernandez, along with the City Commissioners of Pharr, have graciously elected to waive the fees associated with the use of the Boggus Ford Events Center. The organizers told Mega Doctor News that they want to express gratitude to Mr. Eleazar Guajardo, Mr. Roberto "Bobby" Carrillo, Mr. Ramiro Caballero, Mr. Daniel Chavez, Mr. Ricardo Medina and Mr. Mario Bracamontes for their visionary leadership and commitment to improving the quality of life for the citizens of this region.
In addition, they said, that the certificate of appreciation was presented in recognition of their dedicated service and outstanding contribution to the Get Healthy Mega Clinic.
Clinical services will be provided Free of Charge and this event is open to the public.  Patients will be served on a 'First Come, First Served Basis' until maximum capacity is reached. According to Dr. Cooper, the maximum capacity will be based on the number of healthcare professionals who volunteer to offer their services to the community.  The clinic will have general medical staff available for non-emergency examinations, treatment and questions.
Dental care will include Dental x-rays, cleanings, fillings and extractions. Vision care includes eye examinations, prescriptions of eyeglasses and eyeglasses.
- Advertisement -

The Get Healthy Mega Clinic 2016, was an unprecedented, groundbreaking healthcare initiative which required extensive collaboration between a wide range of healthcare organizations, agencies, institutions, business professionals and caring individuals. More than 540 volunteers helped to create a unique clinical environment in which more than 1,400 patients received multiple healthcare services.
The Hidalgo County Health Department Mobile Unit provided immunizations to both adults and children. Doctors Hospital at Renaissance provided laboratory testing for almost 500 patients. More than 350 prescription eyeglasses were provided for patients who requested eye examinations.
In addition to primary services (Medical, Dental and Vision) many auxiliary services will be available such as Lab Analysis, X-rays, Immunizations, Physical Therapy/Massage, Minor Surgical procedures, Medication, Lifestyle counseling, free clothing and shoes, free haircuts and much more.
The Get Healthy Mega Clinic creates a platform of uncommon humanitarian service at the intersection of tremendous need and outstanding generosity.
"We connect the hands and hearts of a hurting community with those who are willing to help." Dr. Cooper added, "We want to roll out the proverbial "red carpet" and provide quality services to a segment of our society who often feels abandoned, neglected and forgotten.  We hope to truly share God's love with each person who gives us the honor of serving them." One volunteer stated, "I volunteer at all kinds of events, but I've never seen this before. I've never seen such a deep and profound demonstration of God's love to the community as I have with the Mega Clinic."
The Get Healthy Mega Clinic has been appropriately named, due to its focus on getting healthy. On Saturday, June 24th our entire schedule will be dedicated to conducting health educational seminars and providing workshops for promoting healthy lifestyles.
Studies show that the Valley ranks among the highest in rates of diabetes and other lifestyle-driven diseases in the nation. It is estimated that 1 out of every 4 residents is either diabetic or pre-diabetic, with many undiagnosed cases.
Sponsorships and Vendor booths are available for your support of this worthy cause. We invite businesses and organizations who share our vision to partner with us in serving our community. The organizer's goal is to be able to reach and serve 2,000 – 3,000 patients with FREE healthcare services.
For general information, please feel free to check out our website at www.gethealthymegaclinic.com or  call our office at 956-627-3106.  For sponsorship information, please contact Denise Phillips at 956-240-3463 or email: denphil01@yahoo.com. MDN