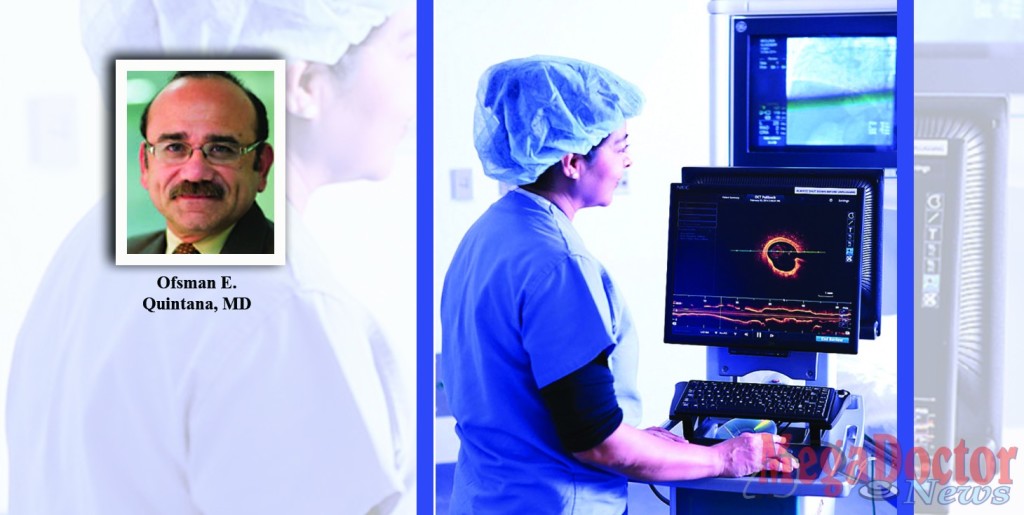 A new "extreme resolution" imaging system at McAllen Heart Hospital is changing the way doctors see —and treat — coronary artery disease.
Mega Doctor News
Doctors at McAllen Heart Hospital have a powerful new weapon in the fight against heart disease — one that sheds new light on the condition of a patient's coronary arteries. Using Optical Coherence Tomography (OCT), the new C7-XR™ imaging system utilizes near-infrared light to capture images inside the artery with 10 times better resolution than older coronary imaging technologies such as ultrasound. The clear and incredibly detailed images allow physicians at McAllen Heart Hospital to visualize and measure important vessel characteristics that were not visible before.
Identifying Artery-Clogging Plaque
Plaque buildup in the arteries is never a good thing, but not all plaque is created equal. The most dangerous type, called vulnerable plaque, can rupture and form a blockage in the artery that can lead to a heart attack. This can occur suddenly and with no warning signs. "The extremely high resolution images can help us to identify a plaque lesion that is prone to rupture," says Ofsman E. Quintana, MD, and Chief of Cardiology for South Texas Health System.
"With this knowledge, we can treat a patient more aggressively to help prevent a heart attack before it happens."
A focus on better outcomes
Some patients with weak or narrow arteries need to have a wire mesh tube, or stent, placed inside the artery to hold it open. The C7-XR system can precisely measure an artery's size and characteristics, helping doctors to determine the optimal size and placement of the stent needed. A more precise stent placement can result in better outcomes for the patient and reduce hospital readmissions and complications.
OCT joins the list of advanced diagnostic and interventional treatments available to patients, strengthening McAllen Heart Hospital's reputation as the premier institute for heart and vascular care in South Texas.
"Until now, no available form of imaging had resolution high enough to detect heart attack-causing plaque," says Dr. Quintana. "I think OCT technology has great potential to be high impact technology in managing cardiovascular disease." MDN