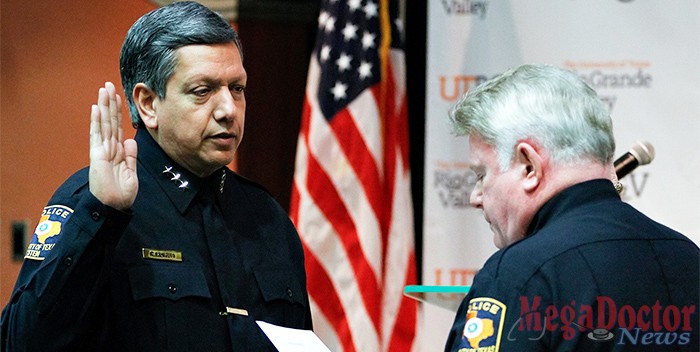 - Advertisement -

Mega Doctor News
HARLINGEN,TEXAS-FEB. 18, 2015 — The University of Texas Rio Grande Valley's inaugural Police Chief Raul Munguia said he credits his former boss, Austin Police Chief Art Acevedo, with his successful three-decade career in law enforcement.
Acevedo made sure his staff received the training and tools they needed to move up in the ranks of the police department, Munguia said. And at his commissioning ceremony Feb. 17 at the Regional Academic Health Center, which will become a part of UT Rio Grande Valley, he said he plans to follow suit with those opportunities for his staff at UTRGV.
"One of the things I want to build on is to be able to get to the point of where we're promoting from within and we're developing the personnel as they come in to become the future leaders of the police department and the Rio Grande Valley," he said.
A room filled with law enforcement personnel representing local, state and federal agencies were on hand to witness the swearing in for the new police chief who will lead campuses in Brownsville, Harlingen and Edinburg.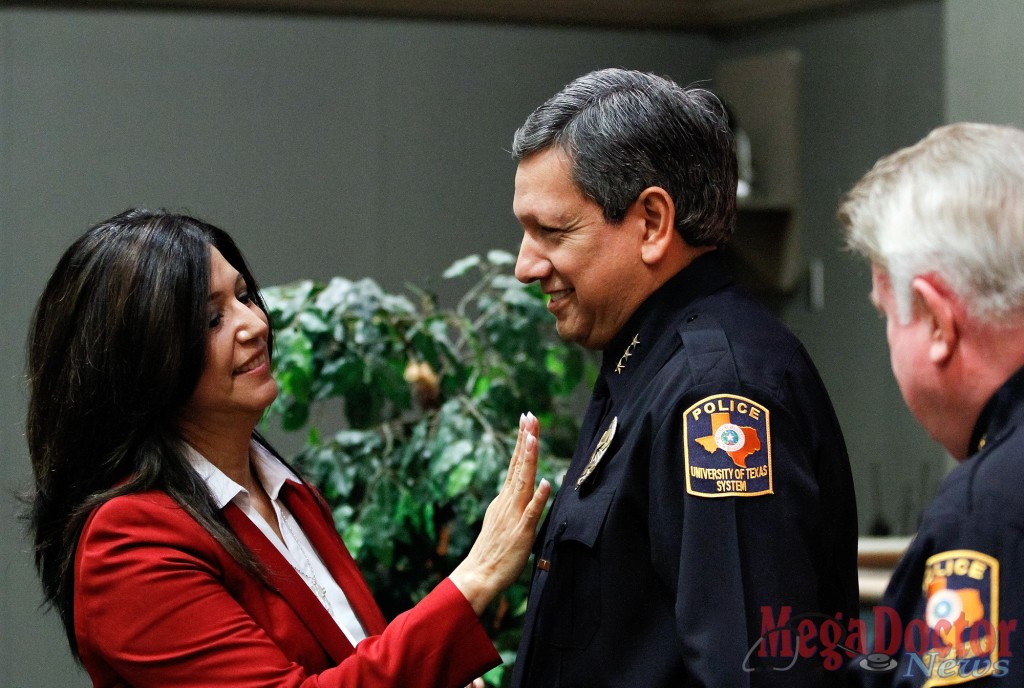 Following the swearing in, Munguia's fiancée Cindy Gonzales pinned on the police badge while his mother, Elisa Munguia looked on.
"In Chief Munguia we have a new leader for the UTRGV police department," said Michael J. Heidingsfiled, director of UT System Police. "We searched long and hard. This was no small task, it was a rigorous process and it demanded that we find a candidate who manifested all that was going to be right about this new leadership role and we looked for a long time and we found Raul."
- Advertisement -

After the ceremony, Munguia said he wasn't ready to leave law enforcement.
"I love this profession," Munguia said. "There's something about this profession …every once in a while you come across a call that truly makes a difference in someone's life and changes their direction and there's nothing else that competes with that. That's the reward and I wasn't ready to walk away from that quite yet."
An Austin native, Munguia graduated from Austin High School in 1978 and earned his Bachelor of Applied Arts and Science degree from Midwestern State University. He joined the Austin Police Department in 1984 and served in various areas of the department including patrol, the motorcycle unit, internal affairs and the narcotics and traffic investigations units. He rose up the ranks and was promoted assistant chief of the department in 2010 and chief of staff in 2013 before retiring on Jan. 20. 
The police chief also said he plans to meet with leadership from the university's respective campuses to learn more about what outreach programs they have and develop region-wide initiatives to engage the Valley's communities. Among his priorities is having outreach opportunities for students, especially incoming freshmen, to help them acclimate to college life.
"The mission of the police department is to foster an environment that's a safe teaching environment, a safe learning environment," he said. "If our students do not feel safe, or a faculty member does not feel safe, that learning that we want to occur will not happen." 
Munguia added that he has always had an interest in working for the UT System and decided to apply to the UTRGV position because of all the growth happening in the Valley. He joined UTRGV just three days after retiring from the Austin Police Department.
I do appreciate the warmness that I have felt in coming to the Valley and it's going to be easy to call this home," Munguia said.
Ben Reyna, associate vice president for security and campus affairs for UTRGV, said Munguia's extensive experience in all facets of law enforcement, including management, made him the ideal candidate.
"We're delighted that he decided to continue his career at UTRGV," Reyna said.