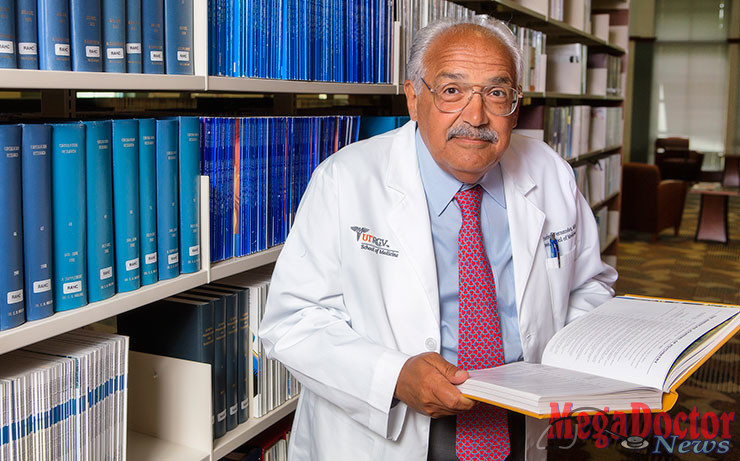 - Advertisement -

Mega Doctor News – 
By Dr. Francisco Fernandez, Dean
Better known as George Santayana, this philosopher and essayist appears to have captured the UTRGV School of Medicine with his words. It certainly was true on a very recent weekend, as we welcomed 47 medical students-to-be and their families to the Edinburg Campus of The University of Texas Rio Grande Valley for a mini-orientation, before they formally join us in June for classes.
The entire weekend was like being at Times Square on New Year's Eve! People from all over Texas – and all over the country – had come together, instantly connecting and already making plans for the next four years. Some even went beyond those four years, planning ahead to their eventual residency training.
Emotions ran high – hugs, laughter, joy and tears of happiness from students, families, faculty, and staff – all signs of excitement, and an incredible high. The kind of high a marathoner experiences, one that no other serious mental or physical accomplishment can provide.
These students will be our first UTRGV medical students. Some call them the inaugural class or the charter class. But for those of us at the weekend gathering, it felt like family. Our first born.
They are the heart and soul of the UTRGV School of Medicine. They gathered in the Rio Grande Valley with friends and family to meet their new family – their medical school family. We will be with them forever through this journey. It is a journey like no other – a fantastic journey.
All of us at the School of Medicine are incredibly proud and grateful that these outstanding young men and women will join us at UTRGV. Think of it: They are coming to a brand new school, uncharted territory, if you will. We think of them as "alcanzadores." Achievers. Admittedly, joining us is the first finish line of many in their medical education and career, yet no less an accomplishment. We are proud of their accomplishments to this point, even as we look forward to their continued success as Vaqueros and Vaqueras in their professions and in our Valley communities.
- Advertisement -

There were many reasons to come together once before classes begin. We had a chance to introduce ourselves, our curriculum – SUCCESS (Students Uniting Culture, Care, Empathy, Science and Skills) – our digital anatomy program, the colonias, the Rio Grande Valley, and the many research and service opportunities available to them here. And, we measured all the students for their white coats.
And in this process, something else happened. Something beyond reason.
For different reasons, very individual reasons, the dream was no longer a dream. We all had put in long hours, as the faculty put together the curriculum, and the students had done the same, applying and interviewing all over Texas and the country.
Yet no matter our reasons, it all, suddenly, was real. Everything had fallen into place, from the curriculum, to their admission, to the medical school building – everything. Because we all shared one thing: We all believe we are in the right place, at the right time, doing the right thing,  in and for the Rio Grande Valley.
As John Lennon put it, "I believe in everything until it's disproved." There is no disproving it now – we are The UTRGV School of Medicine.
Dr. Francisco Fernandez is Inaugural Dean, School of Medicine & Vice President for Medical Affairs.