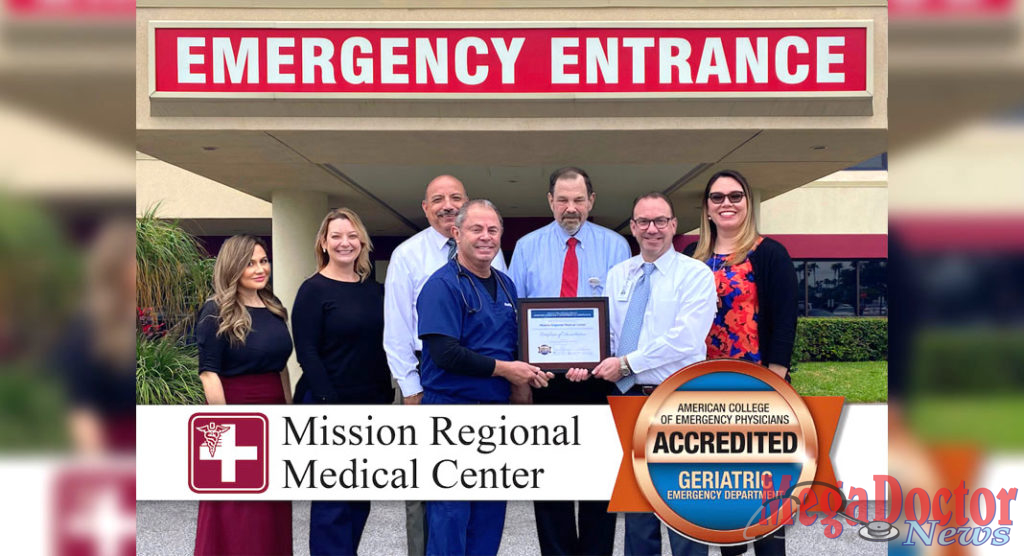 Mega Doctor News
Mission Regional Medical Center takes senior emergency care to the next level in Hidalgo County by announcing today that they are now accredited as a Geriatric Emergency Department by the American College of Emergency Physicians (ACEP). Mission Regional Medical Center is the only institution in the entire Rio Grande Valley with this accreditation which recognizes that this institution is focused on the highest standards of care for our communities' older adults.
The Geriatric Emergency Department Accreditation (GEDA) program is the culmination of years of progress in emergency care of older adults. In 2014, ACEP along with Society for Academic Emergency Medicine, Emergency Nurses Association, and American Geriatrics Society, developed and released geriatric ED guidelines, recommending measures ranging from adding geriatric-friendly equipment to specialized staff to more routine screening for delirium, dementia, and fall risk, among other vulnerabilities.
"Prime Healthcare is focused on ensuring seniors have the best experience possible when coming to our hospitals, including shorter wait times when visiting our emergency department, so GEDA was the logical next step for Mission Regional Medical Center said Kennetha Foster, Chief Nursing Officer at Mission Regional Medical Center. "We are committed to being leaders in the healthcare community with our senior focused service line, which provides tailored, well-coordinated care for older adults throughout their entire hospital experience.
The voluntary GEDA program provides specific criteria and goals for emergency clinicians and administrators to target. In order to receive accreditation, an emergency department must incorporate a number of best practices for geriatric care, along with inter-disciplinary geriatric education, and have geriatric appropriate equipment and supplies available.
Some of the best practices embraced by the geriatric emergency departments include:
Ensuring geriatric-focused education and interdisciplinary staffing
Providing standardized approaches to care that address common geriatric issues
Ensuring optimal transitions of care from the ED to other settings (inpatient, home, community-based care, rehabilitation, long-term care)
Promoting geriatric-focused quality improvement and enhancements of the physical environment and supplies
Highly skilled Pharmacists readily accessible at our patient's bedside to answer any questions on their medications.
"Senior Care has been an important focal point for our healthcare system for a number of years and becoming accredited as a geriatric emergency department is another step in that direction," said Kane Dawson Chief Executive Officer of Mission Regional Medical Center. "We are committed to being an industry leader in this space ensuring that our older patients receive well-coordinated, quality care at the appropriate level at every emergency department encounter."
In addition to GEDA, Mission Regional Medical Center is a recent recipient of the
2018- 2019 – MRMC has achieved straight A's for Hospital Safety Grade of "A" from The Leapfrog Group consistently for the past two years. Leap Frog is a national nonprofit organization driving a movement for giant leaps forward in the quality and safety of American health care. This focuses on measuring and publicly reporting hospital performance through an annual survey and data collection on infections, surgical issues, practice errors, safety, staff and leadership.
Recipient of the Healthgrades Orthopedic Surgery Excellence Award™ 4 Years in a Row (2017-2020)
Named among the Top 10% in the Nation for overall Orthopedic Services 4 years in a row (2017-2020)
Five-Star Recipient for Total Knee Replacement 5 years in a Row (2016-2020)
Five-Star Recipient for Hip Fracture Treatment in 2019 and 2020
Five-Star Recipient for Spinal Fusion Surgery 4 years in a row (2017-2020)
Recipient of the Healthgrades Patient Safety Excellence Award™ two years in a row 2019-2020
Visit the GEDA website for accreditation criteria.