DHR Health continues to show its commitment to providing patients with the most advanced technology south of San Antonio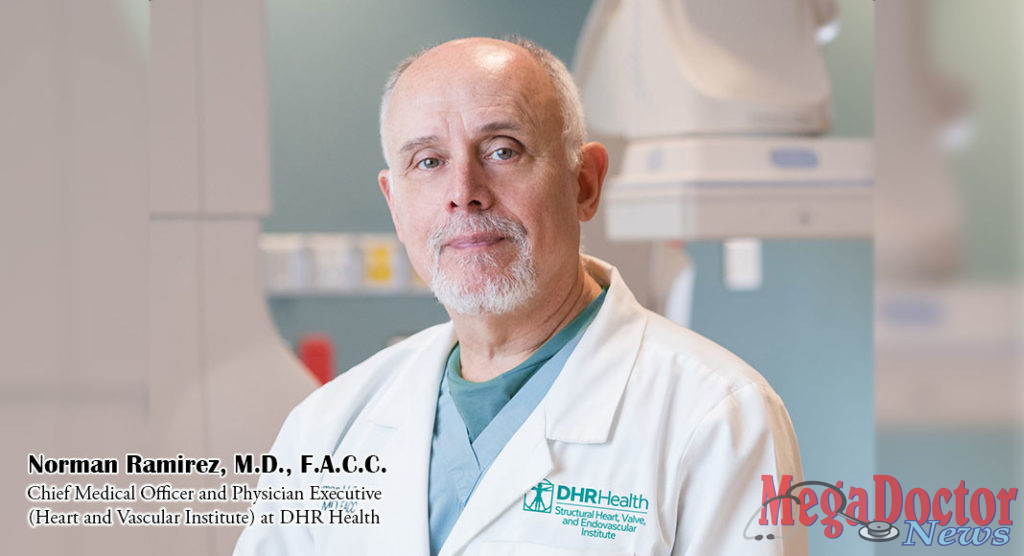 Mega Doctor News
Edinburg, Texas — DHR Health is expanding its expertise in cardiac care through the formation of the DHR Health Structural Heart, Valve and Endovascular Institute, the first in the Rio Grande Valley to offer comprehensive treatments, including Transcatheter Aortic Valve Replacement (TAVR), Endovascular Aneurysm Repair (EVAR), Transcatheter Mitral Valve Repair (MitraClip Procedure) and the Left Atrial Appendage Closure (WATCHMAN).  With heart disease affecting 48 percent of adults in America, Norman Ramirez, M.D., F.A.C.C., Chief Medical Officer and Physician Executive (Heart and Vascular Institute) at DHR Health, is pleased that individuals in the Rio Grande Valley who suffer from AFib, Mitral Regurgitation, Severe Aortic Stenosis, will now have a variety of options for treatment.  
"DHR Health continues to show its commitment to providing patients with the most advanced technology. We are the only hospital south of San Antonio that offers these procedures," states Ramirez. "The impact of this new technology being utilized in the RGV will benefit many patients in our community who are at high risk, or even intermediate risk, for open heart surgery."
Focused on reducing and minimizing procedure and device-related complications and costs along with eliminating the need for open heart surgery, DHR Health's Structural Heart Institute provides patients a combination of medical and surgical programs that use the most minimally invasive interventions to repair and replace valves in the heart. Ramirez leads a team of cardiologists that work closely with referring physicians to evaluate the needs of each patient and develop a specific treatment plan. The goal is to find the best possible treatment for each patient they come in contact with and improve their quality of life. Each patient is provided with innovative, effective and comprehensive cardiovascular care here, in the Rio Grande Valley, without the need to leave home.
The DHR Health Heart Institute, the largest heart hospital in the Rio Grande Valley, and DHR Health Structural Heart, Valve and Endovascular Institute have joined their teams of interventional cardiologists and cardiovascular surgeons in order to provide patients these minimally invasive treatment options that have faster recovery times.
Elizabeth Fuentes, one of Ramirez's first patient's in the Rio Grande Valley to undergo surgery, arrived at DHR Health on August 12, 2016 to receive treatment via the TAVR procedure. "I was experiencing symptoms of a heart condition– shortness of breath and dizziness. It was at that time that I was referred to Dr. Ramirez at the DHR Health Heart Institute," states Fuentes. "I knew I was going to be the first patient undergoing this procedure, but I wasn't hesitant, I knew I was in good hands and I knew I wouldn't be the last."
About the Procedures
The TAVR allows for the replacement of a diseased aortic heart valve through a minimally invasive procedure without open-heart surgery and without surgical removal of the diseased valve. The device is typically inserted via an artery in the leg and then guided through the arteries into the heart. Once in place, the device expands and takes over the original valve's function to enable oxygen-rich blood to flow efficiently out of the heart. The TAVR allows patients to see results right away. Patients usually see immediate improvement in energy, breathing and their overall daily activities.
The MitraClip helps restore normal blood flow through the heart for patients who have mitral regurgitation, which occurs when blood leaks backwards through the mitral valve each time the left ventricle contracts. When the leakage is severe enough, a person may experience palpitations, shortness of breath, coughing, and swelling of the legs and feet. To correct this, a small device is attached to the mitral valve allowing the valve to close more completely. This procedure is less invasive than traditional open-heart surgery and may vary from person-to- person, however patients are usually released from the hospital within one-to-two days. Improvement is experienced immediately allowing patients to have a better quality of life soon after this procedure. If not treated, mitral regurgitation can cause other, more serious heart problems such as heart failure or death.
With 2.7 million Americans living with Atrial Fibrillation (AFib), patients and providers are now more hopeful with the availability of WATCHMAN, a permanent implant that closes off an area of the left atrial appendage of the heart to keep blood clots from forming and entering the blood stream and that can potentially cause a stroke. Ramirez recommends this implant for patients who suffer from AFib, a heart condition involving a quivering or irregular heartbeat (arrhythmia) that can lead to blood clots, stroke, heart failure and other heart-related complications and who cannot tolerate long term use of a strong oral blood thinner. Once the WATCHMAN device is implanted, blood thinners can be stopped minimizing risk of bleeding. The procedure is done under general anesthesia and takes about an hour. Patients commonly stay in the hospital overnight and leave the next day allowing them to get back to their daily activities.
If you would like more information on any of these procedures, please call the DHR Health Structural Heart, Valve, and Endovascular Institute at (956) 362-8590.
---
About DHR Health
DHR Health is one of the largest physician-owned facilities in the United States and offers some of the most comprehensive medical care on the U.S. Southern Border.  U.S. News & World Report named DHR Health as one of the "Best Hospitals in America," with recognition in twelve areas, including cancer, cardiology and heart surgery, diabetes and endocrinology, ear, nose, and throat surgery, gastroenterology, geriatrics, gynecology, nephrology, neurology and neurosurgery, orthopedics, pulmonology, and urology. In addition to this recognition, DHR Health was named as one of the "Most Connected Hospitals in America" for its electronic medical record (EMR) adoption success. U.S. News & World Report also named DHR Health as the "Best Hospital in McAllen-Edinburg Metro Area." DHR Health continues to be the premier healthcare provider in South Texas.  For more information, please call (956) DOCTORS (362-8677) or visit our website at www.dhrhealth.com. 
---
About Dr. Norman Ramirez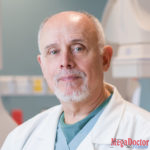 Since 2016 Ramirez and his team have completed a total of close to 400 TAVR procedures, his first Mitraclip was performed in July 2019 and he has now completed a total of 30 procedures. His first two WATCHMAN procedures were performed on January 8, 2020, and he has done several more since then.
Ramirez has over 30 years of experience in the field of medicine. The study of cardiology care is the foundation of his experience in healthcare. Raised in Rio Grande City, TX and by a physician, he was exposed to medicine at a very early age. Ramirez earned his Bachelor of Arts degree in Biology as Magna Cum Laude from Yale University. He graduated from medical school at Stanford University and began his career as a resident at the University of Texas Southwestern Medical School Parkland and VA Medical Center in Dallas, Texas in 1981. He completed his cardiology fellowship at Duke University Medical Center in Durham, North Carolina where he did extra training in interventional cardiology and electrophysiology. His professional experience includes being on the medical staff as a cardiologist at the prestigious Mayo Clinic before returning to the Rio Grande Valley to open up his private practice. He worked for Rio Grande Heart Specialists before joining DHR Health Heart Institute in 2015. Ramirez currently practices at the Structural Heart, Valve and Endovascular Institute and is the Chief Medical Officer and Physician Executive (Heart and Vascular Institute) at DHR Health in Edinburg, TX.
In addition to his extensive role in medicine, Ramirez has been named McAllen Monitor People's Choice for Favorite Cardiologist for many years, he also has professional associations with the American Heart Association, Texas Medical Association, and Hidalgo County Medical Society and is currently on the DHR Health Medical Board Committee. 
Related: