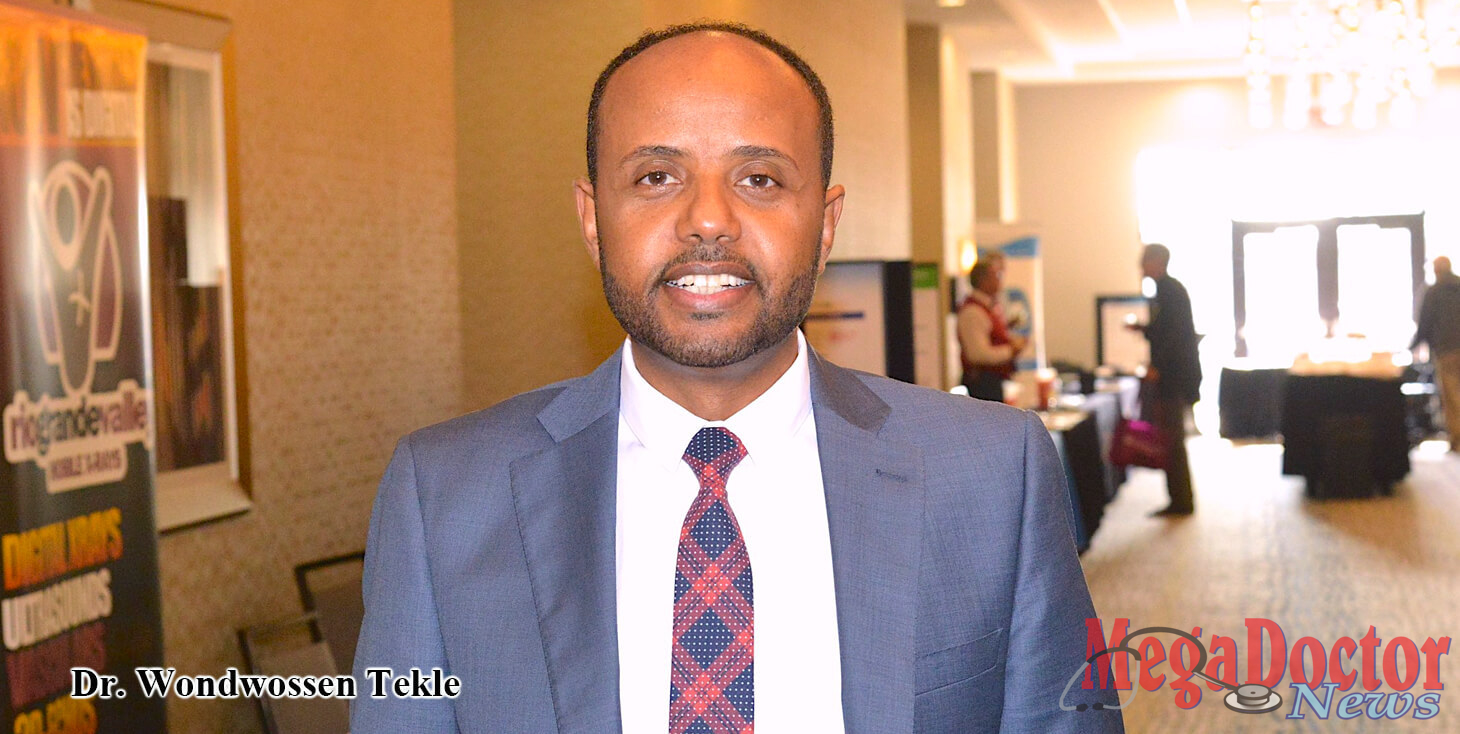 By Roberto Hugo Gonzalez
- Advertisement -

As originally published by Mega Doctor News in its newsprint edition June 2018
It is indeed an honor and an educational opportunity to meet and talk to physicians with unique specialties and treatments that save lives. Dr. Wondwossen G. Tekle is one of those extraordinary professionals who use state-of-the-art technology to save lives.
Dr. Tekle is a dual board-certified neurologist that specializes in Stroke and Neurocritical Care and Endovascular Surgical Neuroradiology.
He was a member of the faculty that participated in the 26th Annual Rio Grande Valley Medical, Education Conference & Exposition designed for primary care physicians. The event was sponsored in part by Knapp Medical Center at the Embassy Suites at the McAllen Convention Center.
During his lecture, he emphasized that he had big news to share.  "We now have an expanded window for treatment of acute ischemic stroke." He said, "What it means is that we only had up to six hours to go to the brain and extract blood clots that are blocking a major artery and resulting in a large or severe stroke." He continued, "But as January 2018, we are now able to go to the brain and extract the blood clot up to 24 hours after a stroke." He pointed out that this can be done only in a select group of patients who qualify for this treatment and take advantage of the expanded window based on specific imaging criteria.
According to Dr. Tekle, the new guidelines were published by the American Heart Association and the American Stroke Association; as of January 2018, now recommending mechanical thrombectomy, which is the physical removal or extraction of a blood clot from the brain using particular devices called the stent retrievers. He furthered explained, "These are retrievable stents that are deployed in the head and then after a few minutes they are retrieved after they have caught or captured the clot."
He pointed out that the stent retrievers have been out since approximately the year 2011. "We've been using them, and the technology has been getting better over time." He said, "But it's essential to note that the technology has gotten much better, and we are using these stent retrievers, and also the advanced imaging techniques to assess how much brain tissue is dead versus how much brain tissue is still alive. That is why we're able to take some patients and treat them all the way up to 24 hours."
- Advertisement -

He told Mega Doctor News (MDN) that the outcomes are outstanding. "Valley Baptist Medical Center was part of the clinical trials performed by Dawn trial, the results were published by the New England Journal of Medicine."  When these new findings were announced, it was all over the world. Dr. Tekle said, "So that's really the big, big news."
A few years ago, MDN published the old procedure, because in the past there was only stroke treatment for up to three to four and a half hours using a clot buster drug administered through the IV. Secondly, the mechanical thrombectomy expanded that window to six hours as of 2015, and as of January 2018, the window extended to 24 hours. He said, "This is a major, major advancement in the stroke care."
Technology is transforming the world, medicine is not the exception. Dr. Tekle said, "The other advancement in stroke care is the imaging criteria being used to select patients because not everybody benefits from this treatment. It's only a select group of patients who still have a substantial amount of the brain tissue that's not dead; those are the ones who can benefit."
As Dr. Tekle continued, the more interesting the conversation became. He added, "In other areas, they are also advancing in detecting one of the main sources of a blood clot to the brain which is called atrial fibrillation." He continued, "Detection of that disease has increased significantly because of what is called implantable loop recorders that cardiologists use to monitor the heart rhythm for a long period of time, up to one year or beyond."
Dr. Tekle also said that because of this continued monitoring of the heart it is possible to detect a lot more causes of stroke than ever before. "Those detectors have changed the field significantly," Dr. Tekle said.