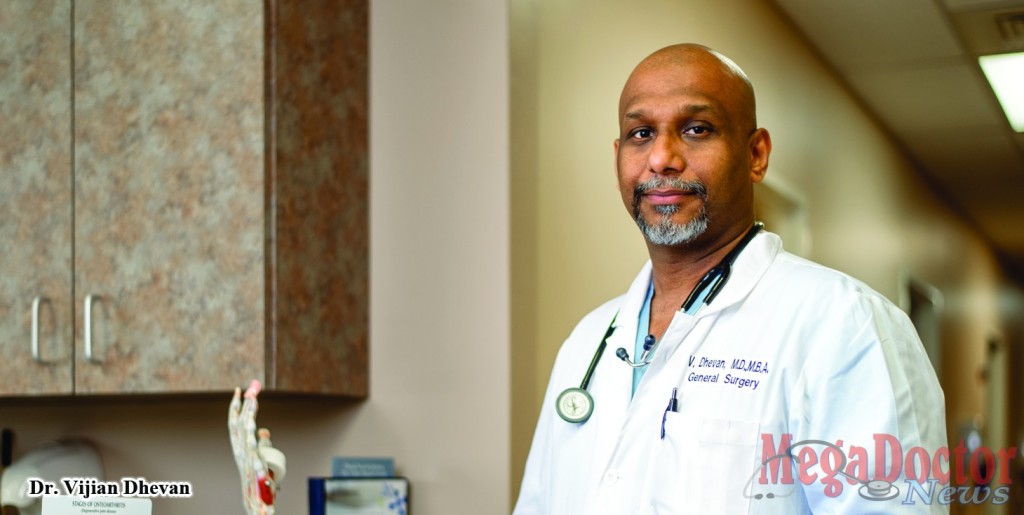 Mega Doctor News – 
Harlingen –Dr. Vijian Dhevan a surgeon, recently spoke at Valley Baptist Medical Center in Harlingen on "breast-conserving" surgery for breast cancer patients.
Dr. Dhevan said the breast-conserving surgery seeks to remove the cancer and surrounding tissue, taking enough tissue to minimize the risk of the cancer recurring — while also seeking to preserve the healthy breast tissue, including the nipple, as much as possible.
For some women with "early-stage" breast cancer, this "partial mastectomy" procedure provides an alternative to the older method of removing the entire breast, Dr. Dhevan said.
"For breast cancer treatment, the gold standard today is partial mastectomy, in which most of the breast is preserved," Dr. Dhevan added.
Dr. Dhevan cautioned that the breast-conserving surgery isn't appropriate for all patients, including certain women who have larger tumors or who have "multicentric" breast cancer or "connective tissue disease", as well as those who previously had radiation treatments.
Dr. Dhevan spoke and answered questions on the latest developments in breast cancer surgery and various options available to patients, as part of the popular "Dessert with the Doctor" talk series at Valley Baptist.
Dr. Dhevan performs a wide variety of general and trauma surgeries, including minimally-invasive laparoscopic and robotic-assisted surgeries, using Valley Baptist's da Vinci® 'Si' Robotic Surgical System.  He has a special interest in surgery to treat breast cancer and other types of cancer, as well as surgery of the gastrointestinal tract, including the esophagus, stomach, small intestine, and large intestine.
Dr. Dhevan previously was in private practice in Lubbock and served as a Clinical Assistant Professor in the Department of Surgery at the Texas Tech University Health Science Center School of Medicine in Lubbock.  He completed a residency in surgery at Southern Illinois School of Medicine, serving as Chief Surgery Resident from 2011 to 2012.
Dr. Dhevan received his Doctor of Medicine from the Texas Tech University School of Medicine and a Master of Business Administration degree in Health Organization Management from Texas Tech University.   He also received Master of Science and Bachelor of Science degrees in Biology from Stephen F. Austin University.
Dr. Dhevan has authored or co-authored several articles in national journals.
While new to living in the Valley, Dr. Dhevan said he previously visited the Valley during annual summer vacation trips to South Padre Island.  He and his wife June have two sons (ages two and eight).
"We are very happy to be here in the Valley," Dr. Dhevan said.  "Valley Baptist is a great hospital; there are great people working at the hospital, and they take care of their community."
Dr. Dhevan is now part of the Valley Baptist Physician Network, with offices in the Valley Baptist Medical Arts Pavilion, adjacent to the hospital.
Dr. Dhevan also sees breast cancer patients at RGV Women's Health Center (formerly Harlingen Obstetrics and Gynecology Associates).
Dr. Dhevan was our Mega Doctor in May 2015. MDN