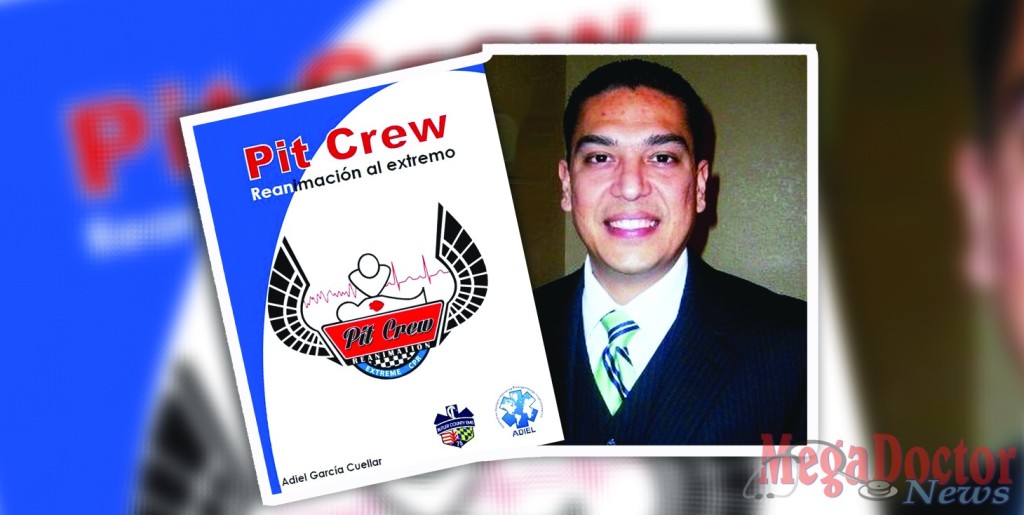 - Advertisement -

Mega Doctor News – 
San Benito, Texas – Adiel Garcia, M.Ed., health science technology instructor at South Texas Academy for Medical Professions (Medical Academy) in San Benito, makes Pit Crew CPR methods accessible to Latin America through the release of his latest book—"Pit Crew Reanimation."
The "Pit Crew Reanimation" application for CPR is a design that transfers the same team approach found in an actual motor sports pit crew to resuscitation medicine in an effort to save the life of a patient.
Garcia's vision for "Pit Crew Reanimation's" reach went beyond making it available for large agencies within the U.S., as suggested by an Emergency Medical Service (EMS) agency from Kansas who contacted Garcia for guidance on how to deploy the 'new' CPR application to other large agencies.  Instead, Garcia sought to share his efforts with people in Latin America, where new findings and developments in medicine typically take years to arrive, due to the lack of resources needed to translate and publish to the region.
Regarding this project, Garcia says, "Seeing your name on a publication and knowing that people will use the knowledge within to save lives is definitely humbling. I see it as a huge responsibility to write the most up-to-date, evidence-based, pedagogically friendly educational and training material."
Garcia's research shows the results with traditional CPR worldwide being anywhere between a 2-11 percent survival rate, while the pit crew CPR method is yielding survival rates around 50 percent, with the highest reported rate in the country being at 62 percent in King County, Washington.
The writing process for "Pit Crew Reanimation" began in February 2014.  It took a little over a year to complete the entire book, which shows how to offer pit crew CPR to adults and pediatric patients. During that time, Garcia allowed colleagues the opportunity to provide training courses in Mexico, Columbia and Chile on this 'new' CPR application, using copies of his algorithms and protocols.
He has made it a point to use his knowledge and experiences gained as a combat medic, critical care emergency medical transport paramedic, national certified EMS educator and more, to expand this method of CPR to Latin America.  He recently traveled to Mexico City to train 56 instructors on "Pit Crew Reanimation," so they, too, can continue teaching courses using this CPR training throughout Mexico and Latin America.
- Advertisement -

Garcia is a graduate of the Class of 1995 from South Texas High School for Health Professions (Med High) in Mercedes, part of South Texas Independent School District.  He has been an educator for 12 years, with the current school year being his first at Medical Academy.
"Pit Crew Reanimation" is now printed in Spanish, and available for purchase since May 6, 2015.
Medical Academy is a tuition free, public, magnet high school offering specialized studies in the careers of medicine to students from Cameron, Hidalgo and Willacy Counties. For additional information, visit medicalacademy.stisd.net or call (956) 399-4331. MDN