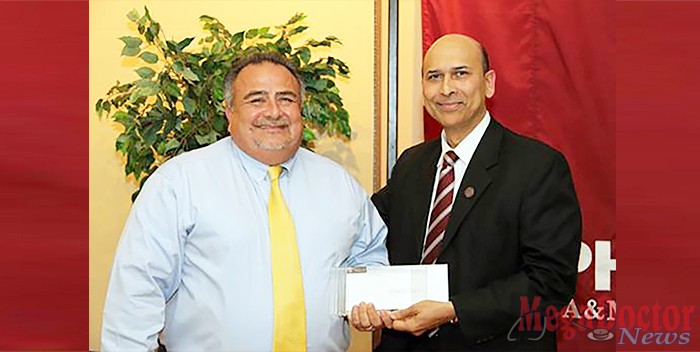 Mega Doctor News
- Advertisement -

Gavino "Gabby" Garza, R.Ph., was awarded Preceptor of the Year at May 20th Texas A&M Health Science Center Irma Lerma Rangel College of Pharmacy Awards Banquet
Edinburg, TX—On senior career day at Mission High School, he decided to pursue pharmacy because of his love for math and science. After more than 30 years of practicing and teaching pharmacy, he was chosen by the Class of 2015 as the Preceptor of the Year for the Texas A&M Health Science Center Irma Lerma Rangel College of Pharmacy. The award was presented to him on May 20, 2015 at the College Awards Banquet in Kingsville, Texas.
Gavino "Gabby" A. Garza, R.Ph., has been the director of pharmacy at Doctors Hospital at Renaissance (DHR) in Edinburg, Texas, since 2007. Students said he individualizes rotations, so each student has a unique rotation experience.
"He is a well-educated, experienced pharmacist who directs his students to learn about the pharmacy professional as a whole through experience in multiple areas," said Alison Leigh Saenz of San Isidro, Texas, who had Garza as a preceptor this year. "He is a strong role model and an avid advocate for the growing pharmacy profession in the Rio Grande Valley."
Garza said that if he hadn't been a pharmacist, he would have been a coach or athletic director for mentoring youth.
"As a preceptor, not only am I giving back to the profession, I am also fulfilling my aspiration of coaching and mentoring others," Garza said.
"Mr. Garza treated me like family and instantly became my mentor," said Melissa A. Hinojosa of Mission, Texas, who had Garza as a preceptor during her second and fourth years. "Mr. Garza is one of the most kind and genuine people I have ever crossed paths with in my life."
- Advertisement -

Garza manages the DHR pharmacy department with an operating budget of over $20 million. One of his goals is to advance the department in terms of patient safety through integrated hospital pharmacy systems, pharmacy automation, barcode scanning at the bedside, and computerized physician order entry.
More than 1,000 pharmacists across the state serve as preceptors for the Texas A&M Rangel College of Pharmacy. Preceptors are licensed pharmacists who have at least a year of experience or six months of American Society of Health-System Pharmacists certified residency training.
As a preceptor, Garza teaches students about hospital pharmacy, specifically the DHR facility. He assigns tasks that touch all phases of hospital pharmacy, patient care and safety. He assigns projects for weekly presentations and evaluates student progress.
"Moreover I encourage them to work hard, enjoy the profession and believe in themselves and others," he said.
Students said if there is anyone who should be recognized for their hard work and dedication to the pharmacy profession, it should be Garza.
"It was an honor and a privilege working alongside Mr. Garza. I owe it to him for inspiring me to be a hardworking and caring pharmacist," Hinojosa said.
It is important for Garza to give back as a preceptor because he believes everyone benefits from mentoring and teaching.
He said he remembers a Chinese proverb he heard from a retiring pharmacy professor: "If you want one year of prosperity, grow grain. If you want 10 years of prosperity, grow trees. If you want 100 years of prosperity, grow people."
Garza wants to continue to grow people as a preceptor and by leading the postgraduate year one-pharmacy residents at DHR where interdisciplinary interactions will take place in all facets of medical education.
He sees pharmacists continuing to manage, educate and recommend medications for hospitalized patients playing a significant role in the management of medication costs and transition of care. He also expects to see pharmacists' role increasing in clinical management of patient care.
Garza became a registered pharmacist and received a Bachelor of Science in pharmacy from the University of Houston in 1981.
Garza is an active member of the American Society of Health-System Pharmacists, Texas Pharmacy Association and is also a University of Texas College of Pharmacy clinical preceptor and faculty member.