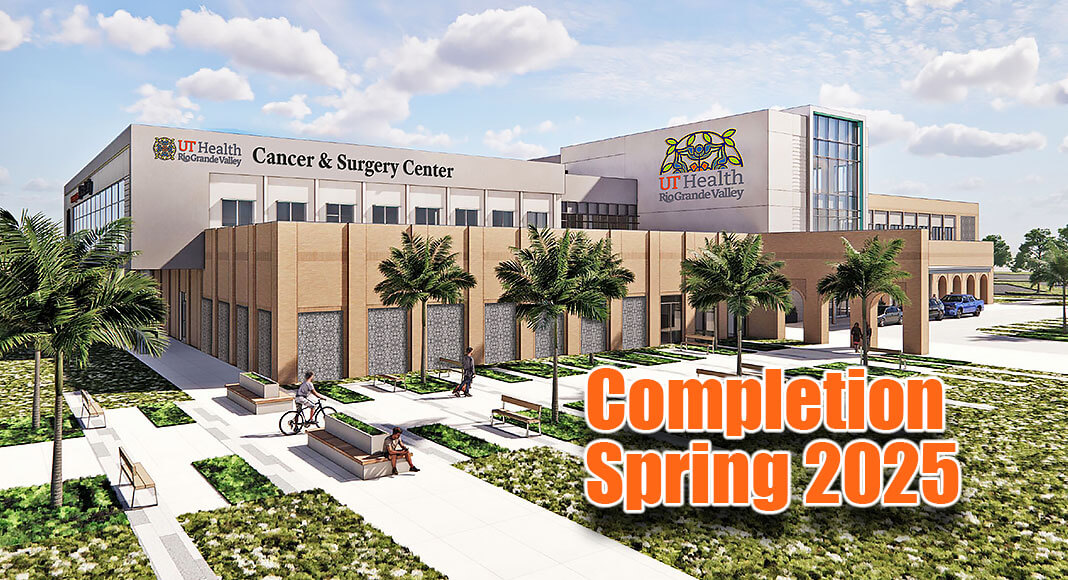 - Advertisement -

Mega Doctor News
By Dimitra Trejo
RIO GRANDE VALLEY, TEXAS – UT Health RGV, the clinical arm of the UTRGV School of Medicine, celebrated a groundbreaking ceremony on Oct. 14 launching the construction of its new UT Health RGV Cancer and Surgery Center.
The cancer center is part of the Phase 1 development of UTRGV's McAllen Academic Medical Campus, centrally located off Pecan Boulevard between Jackson and McColl roads in the 495 Commerce Center development.
The three-story facility will include access to underserved specialties and clinical services in medical, radiation and surgical oncology, and with additional opportunities to expand the cancer research already being conducted at UTRGV and at its School of Medicine.
The center also will include outpatient surgery and imaging spaces to support continuity of care for patients through the full spectrum of their care.
The University of Texas MD Anderson Cancer Center will provide oncology and advisory services to UT Health RGV for the center.
UTRGV President Guy Bailey said the Cancer and Surgery Center will help fill healthcare gaps in the region, as well as bring innovation to the field of cancer research.
- Advertisement -

"This is a pivotal moment in our commitment to expand healthcare services in the Rio Grande Valley and well beyond," Bailey said. "We look forward to the many medical services we will be able to offer the community, as well as to the opportunities for growth and development this will provide for our UTRGV medical students, faculty and staff."
The UT System Board of Regents recently approved more than $145 million to help fund the new center, and the City of McAllen has provided an additional $1 million in monetary funding.
Dr. Michael B. Hocker, MD, MHS, dean of the UTRGV School of Medicine and senior vice president for UT Health RGV, said the Cancer and Surgery Center is a prime example of the type of high-quality, patient-centered care that will advance the Valley's healthcare landscape.
"Our new Cancer and Surgery Center is part of UT Health RGV's commitment to transform healthcare in the Rio Grande Valley," Hocker said.
"We hope to administer leading-edge medical services for our South Texas community right here in McAllen so that cancer patients and their families no longer will have to travel outside of the Valley to receive world-class healthcare. This is revolutionary for UTRGV and the Rio Grande Valley."