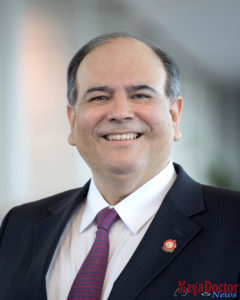 Mega Doctor News
- Advertisement -

St. Louis — Fred Farias III, O.D., F.A.A.O, Chief Executive Officer of 20/20 Vision Care in McAllen, Texas, has been elected to serve on the American Optometric Association's (AOA) Board of Trustees. The AOA represents more than 44,000 doctors of optometry and other eye care professionals. Dr. Farias was sworn into office on June 24, 2017, in Washington, DC, during the association's annual Optometry's Meeting®.
Over the coming year, Dr. Farias will serve as liaison trustee to the AOA's Ethics and Values Committee, Multi-Disciplinary Advisory Team, Research and Information Resource Team, Paraoptometric Resource Center Committee, and the Vision Rehabilitation Committee. He'll also be the Board of Trustees' representative to affiliate associations in the states of Alaska, California, Hawaii, Nevada, and Oregon.
In 2016, Dr. Farias was named the American Optometric Association's Optometrist of the Year, and will be this year's recipient of the Southern College of Optometry (SCO) Lifetime Achievement Award – the highest honor bestowed by the college to one of its alumni. In addition, he is a past president of the Texas Optometric Association, and was its optometrist of the year in 2015. Additionally, he has served as president of the Rio Grande Valley Optometric Society.
Dr. Farias has made numerous contributions to state and national optometric organizations, as well as to communities in South Texas, organizing and sponsoring vision screenings for underserved individuals and families.