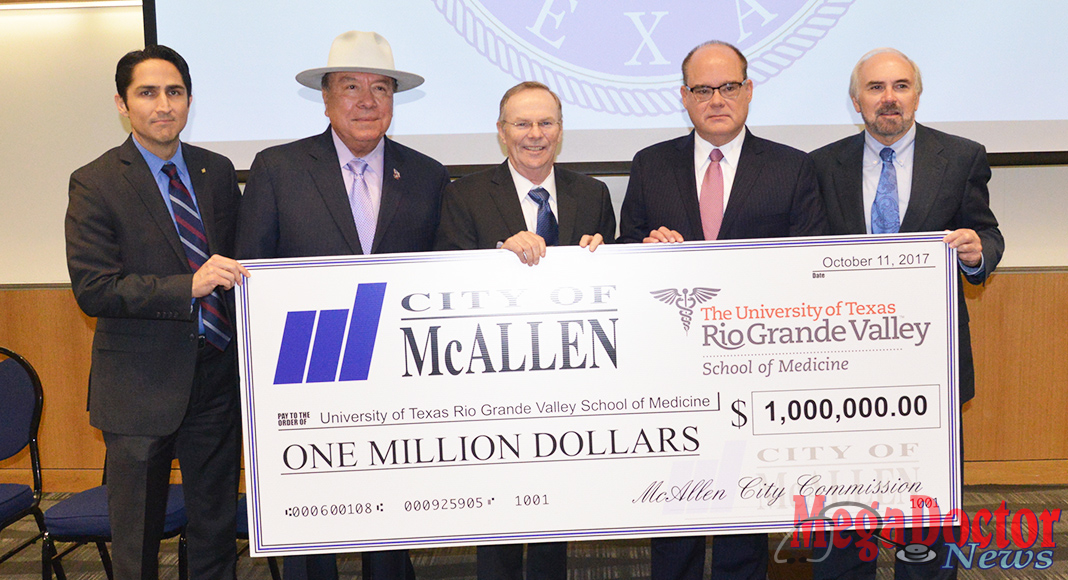 Mega Doctor News
By Jennifer L. Berghom 
EDINBURG, TEXAS – OCT. 11, 2017 – The City of McAllen presented a $1 million check to The University of Texas Rio Grande Valley School of Medicine on Wednesday, in support of the school's mission to educate students and residents and provide increased access to healthcare.
The payment is part of a memorandum of understanding UTRGV signed with McAllen and other Valley cities to support and ensure the success of the School of Medicine.
"We are grateful for the City of McAllen's support of the School of Medicine," said UTRGV President Guy Bailey. "These funds will support UTRGV and the School of Medicine in its mission to engage in innovative research, clinical care and the training of the next generation of physicians for the Rio Grande Valley."
McAllen Mayor Jim Darling said the payment by the City of McAllen is its contribution to help improve the health and prosperity of the region.
"In order to help the entire Rio Grande Valley grow and improve – as a community, in business, and most importantly, in our health – then a strong and vibrant UTRGV School of Medicine is tantamount to help make that possible," he said.
Dr. John H. Krouse, dean of the School of Medicine and vice president for Health Affairs, said McAllen's support further solidifies the partnership between the UTRGV School of Medicine and the communities it serves.
- Advertisement -

"It will allow our faculty, medical residents and students to continue providing healthcare to those who otherwise would not have access to care," Krouse said, "and it will help fund the innovative research that addresses the healthcare needs of the Valley community."