Presenting the Brightest Lights at Santa's Circle in The South Pole of Texas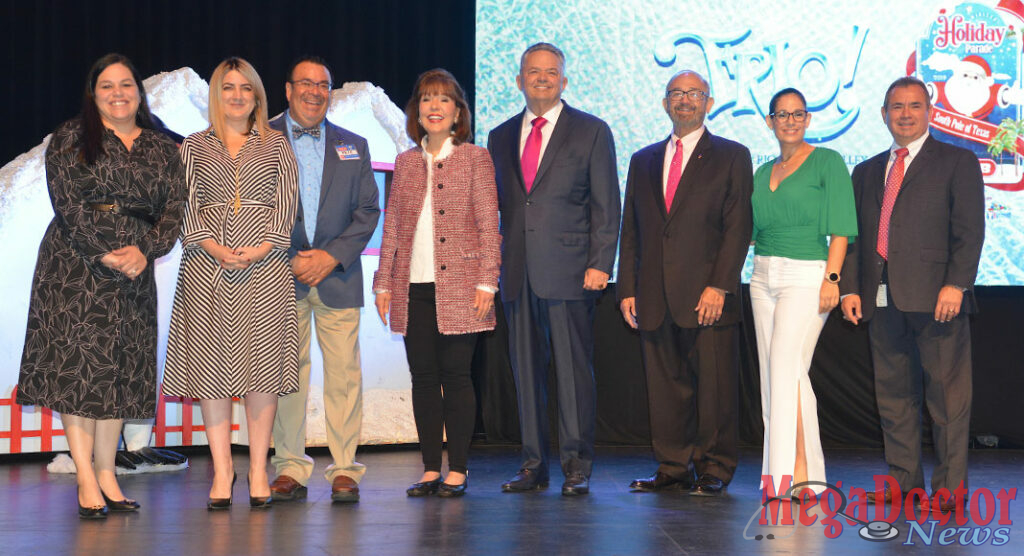 Mega Doctor News
Earlier today, McAllen Holiday Parade officials, hosted a special announcement, where they unveiled the next big thing for the internationally-acclaimed event, presented by H-E-B: the Brightest Lights at Santa's Circle in the South Pole of Texas, the theme for this year's event. Giant, illuminated holiday and character displays will transform Oval Park at the McAllen Convention Center into Santa's dazzling new winter home for Christmas with light displays that people will be able to walk into for photos or a magical experience unlike any other.
The Brightest Lights at Santa's Circle will just be the perfect way for families, teenagers, couples young and old, or just anyone who loves the festive atmosphere of twinkling, glittering, glowing blazing lights under a winter sky, to celebrate the most wonderful time of the year," said Yajaira J. Flores, Director, McAllen Convention Center Facilities. "Santa's Circle is THE place to enjoy the holidays in McAllen… I mean, the South Pole of Texas."
McAllen City Manager Roel "Roy" Rodriguez, P.E., who was on hand to celebrate McAllen's new unique winter moniker, agreed and is excited to see families and young children just enjoying the big glittering illuminated light displays. "And the best part is that the Brightest Lights at Santa's Circle will be free for everyone to enjoy. I can't wait to see you there!"
Light displays will include Santa's giant castle home, his village and penguins around the pond. Other more traditional elements will include an illuminated nativity scene, while others will be glittering lanterns of orchids floating in the pond, or a bright, luminous field of light tulips that all change colors. The displays will debut on Wednesday, November 27 and run throughout the 40 days of Christmas in McAllen celebration and complement FRIO!™, a winter wonderland of frozen fun and delight with real snow activities all taking place inside of the McAllen Convention Center.
FRIO! ™ includes ice skating under the stars; gingerbread decorating in a life-sized gingerbread house; a Penguin Plunge Toboggan Run ice hills; a Christmas Story™ Escape Room; and much, much more.  Organizers of the frozen experience are offering opportunities for school field trips; church group outings; company Christmas parties and more as well as special pricing packages for families and individuals.  Prices range from $4.95 to $24.95 for the individual 10 elements that are all a part of the FRIO! ™ experience, with package rates starting at $25.95 and going up to $49.95, that includes a virtual reality option.  There is even a Fast Pass ticket for those individuals who just can't wait to experience the frozen winter wonderland fun. Additionally, tickets for FRIO! ™ go on sale this Friday, October 11 at 10:00 a.m. and, if  anyone wishing to get an exclusive and one-day only special pre-sale price code needs to text Southpole to 797979 to receive a special one-time discount code valid for FRIO! ™ ticket purchases and other sneak preview information. 
But act fast; the pre-sale code is only good from this Thursday, October 10, at 10:00 a.m. through 10:00 a.m. on Friday, October 11, 2019, before they go on sale to the public at regular price.
For information on activities, hours of operation, pricing and reservations, visit at  http://friomcallen.com.
This year's McAllen Holiday Parade, presented by H-E-B will be held on Saturday, December 7, 2019, kicking off at 6:00 p.m. from McAllen Veterans Memorial Stadium, 2001 North Bicentennial Boulevard and this year, it is marching down the mile and a half route with additional hardware, including the recently acquired Best Parade in the World from the International Festival and Events Association. This is the third year in a row the illuminated parade has earned this distinction in its budget category, along with 10 gold, 11 silver and seven bronze awards for marketing, publicity and communication at the event industry's annual Haas & Wilkerson awards presentation.
"The awards earned by the McAllen Holiday Parade are a wonderful testament to the dedicated, professional team who each have a part in creating this wonderful parade that in its five short years, is now the largest attended single day event in the state of Texas. It is truly and simply the best parade," said Joe Vera, McAllen Assistant City Manager, who spearheaded the creation of the signature destination event for the city.
Anyone wanting to experience the McAllen Holiday Parade can do so as a spectator or in a unique, behind-the-scenes view as a volunteer.  This year, anyone 16 and older who wants to be a part of the McAllen Holiday Parade and see how it comes to life can sign up at www.volunteersotx.org. For more information, call the McAllen Parks & Recreation Department at 956-681-3333.
"Volunteering is an exciting and unique way to enjoy this magical event. In fact, one of the most important volunteer roles for the parade are the balloon handlers who bring the now legendary vuelta or turn, to life, a unique phenomen that only happens here at the McAllen Holiday Parade, where the giant balloons are turned 360 degrees in each of the vuelta zones along the parade route as the crowd chants, " said Carina Jimenez, marketing coordinator for the McAllen Parks & Recreation Department. "Overall, the hope for all members of the City of McAllen volunteer core is that they have an experience like no other and truly feel a sense of pride in being part of creating the opportunity for residents and visitors of our community to build lasting memories. "
Of course, if a more relaxed experience is what spectators are looking for, VIP stadium seating tickets will soon be available with special pricing and promotion.  The stadium seats 13,000, so join neighbors, friends and visitors to McAllen for the best seats in the house to see the parade floats and the stars as they ride by or enjoy the magical snow that will be falling in the stadium. Go to www.mcallenholidayparade.com for ticket prices.
However, for attendees who prefer to view the parade from the merriment of the route as it travels south along Bicentennial Boulevard, there are VIP Chairs along the route that will go on sale, starting on Monday, October 14, 2019 at the McAllen Parks & Recreation Department, 1000 S. Ware Road. Ticket prices are $8.
In fact, non-profit organizations in McAllen are invited to host a fundraiser with the sale of a section of VIP Chair seating. Organizations interested in this opportunity should contact Marcello Langoni at the McAllen Parks & Recreation Department to reserve those tickets.
Additional VIP Chair tickets along the parade route will be available for sale at the three community centers: Lark Community Center at 2601 Lark Avenue; Las Palmas Community Center at 1921 N. 25th Street; and Palm View Community Center at 3401 Jordan Road West. Sales at these loations will benefit the programs and activities for McAllen's senior citizens who visit the community centers throughout the year. Of course, there is free seating on a first come basis in other areas along the parade route, as well.
The McAllen Holiday Parade is presented by H-E-B and powered by Bert Ogden & Fiesta Dealership, as well as Budweiser, Driscoll Health System and Reliant. Other sponsors include: McAllen Public Utility; McAllen International Bridge System; Peña Eye Institute; Linebarger, Goggan, Blair & Sampson; McAllen Chamber of Commerce; McAllen International Airport; Sprint; Metro by T-Mobile; IBC Bank; Doña Tota; AEP Texas Central; PepsiCo.; McAllen I.S.D.; McAllen Economic Development Corp.; Metro McAllen; 7-Eleven; Tres Lagos; Lacks; McAllen Recycling; Raising Cane's Chicken Fingers; Carollo Engineers; Palenque Group; KSA Engineers; Macy's; University of Texas-RGV; BBVA Compass; South Texas College; Med-Care EMS; Favor Delivery; Plains Capital Bank; Ambetter Superior Healthplan; Raba Kistner Consultants, Inc.; Texas Lottery; Chick-fil-A; Cigna HealthSpring; Halff Associates, Inc.; Melden & Hunt; S&B Infrastructure, Ltd.; and Juanita's Foods.
Media partners for the event include: Telemundo 40 and TeleXitos; KGBT-Ch. 4 Valley Central and TV-Azteca; KRGV-Ch.5 and Somos del Valle; Entravision TV and radio stations, including home of Q 94.5 THE ROCK STATION FM; 107.9 MIX FM; La TriColor 99.5 FM; La Suavecita 101.1 FM and television stations FOX-South Texas, The Valley's CW 212, UniMas and of course, Univision-Valle del Rio Grande; R Communications stations including, Digital 101.5, Super Tejano 102.1, La Ley 102.5, KURV-710 AM and La Lupe 89.1; Wild 104/KISS 106 and KTEX from IHeartRadio; Univision Radio, including KGBT LA JEFA 98.5 / RECUERDO, 96.1 / UNIVISION DEPORTES 1530 AM; Más Music Radio; Advance News-Journal; El Periódico, U.S.A.; Revista Expresión; and The Monitor.